Betterment vs. Robinhood: Which One Gets Your Financial Goals?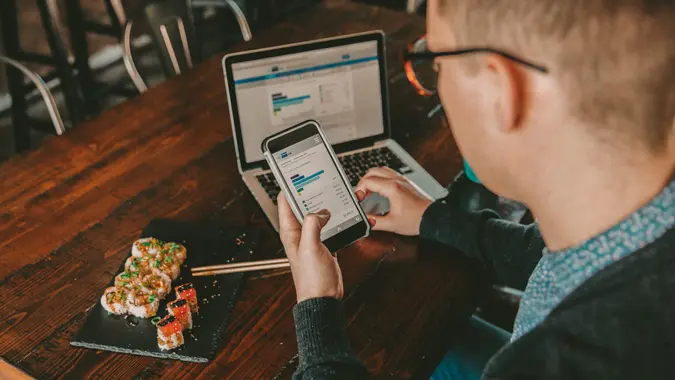 RichVintage / Getty Images
As many Americans begin to emerge from the COVID-19 pandemic and re-assess their lives, one of the goals they're setting their sights on is better financial health in the years to come. Almost two-thirds of Americans, or 64%, self-identified as savers in 2020 — but 80% say they plan to step up their savings efforts in 2021.
A study about how consumers were saving revealed that regardless of income level, stock purchasing increased by 50% to 90% during the pandemic. Lower-income households reflected the greatest numbers of buyers.
Betterment vs. Robinhood: What Are They and What Do They Do?
Enter Betterment and Robinhood. They are two well-known names in the financial services industry, with different yet overlapping areas of focus.
Betterment is a robo-advisor, which is a product aimed at utilizing automation and algorithms to automate the investing and portfolio management process. Robo-advisors offer a low-fee, streamlined approach and an easy sign-up process to help make investing fuss-free and affordable for everyday consumers. Robo-advisors tend to offer a breadth of account options, from banking to brokerage.
In contrast, Robinhood is a self-managed investing app. It's best-known for its pursuit of commission-free trading, a disruption that changed the financial services industry and made it possible for more people than ever to purchase stocks and other investments.
Features and Services
At Betterment, you start with a money goal and build from there. It could be short-term savings, long-term savings, retirement, or spending changes. Betterment will recommend an account type and from there, you decide what to open. You can set up automatic deposits and use the two-way sweep feature to balance your cash between your checking account and cash reserve, or as a way of dollar-cost averaging into the stock market.
With Robinhood, you start with a desire to invest. Since its founding in 2013, disruptor Robinhood has introduced zero-fee stock trading to the financial services industry. More recently, the firm introduced early IPO access with no restrictions — no minimum account balance needed and no status requirements. Robinhood also offers fractional shares, allowing its users to take a single dollar and use it to purchase a portion of whatever stock they're interested in.
Fee Comparison
What do Betterment and Robinhood charge? Here's a look at the cost, or lack thereof, of doing business on each of these apps.
Betterment's Pricing Plans
Betterment has three pricing plans:
No fee. With this plan, which is a banking program, there's no required minimum balance. You'll have access to a series of products intended to protect your cash reserve, from a high-yield cash account to buckets for your money goals and FDIC insurance up to $1 million via multiple banks. You'll also benefit from a series of planning tools that will help you set goals, assess decisions, plan for retirement, and get input about other financial accounts you hold.
0.25% annual fee. There's no required minimum balance with this account, which aims to help with your investing strategy. There is a fee, which amounts to approximately $2.50 per year for every $1,000 held in your investing account. You'll get a low-cost portfolio rooted in your financial needs and priorities and several account options, from joint accounts to Individual Retirement Accounts and trusts. Betterment's robo-advising capabilities will work to rebalance your portfolio as needed, including the deployment of tax-savings tactics such as tax-loss harvesting and asset location. If you want banking products, such as Betterment's Checking and Cash Reserve options, you can add those at no charge.
0.40% annual fee. This more advanced investment account requires a minimum balance of $100,000. The fee is approximately $400 per year for every $100,000 held in your account. You'll get all of Betterment's digital investing features, unlimited calls and emails with the company's team of certified financial planners, detailed advice on your accounts held outside of Betterment and Checking and Cash Reserve at no charge.
Robinhood's Fees
With Robinhood, several types of transactions are possible — from the purchase of stocks, options and ETFs to buying on margin and making wire transfers. For the most part, Robinhood takes a no-fee approach, meaning that you won't pay for most of its services.
You can buy stocks, options and ETFs without paying a commission. You can also transfer money out of your account for free except for certain outgoing transactions and domestic overnight check delivery. Anything you need sent via domestic overnight mail will cost you $20 and anything sent via international overnight mail will run $50. Paper statements are $5 each and paper confirmations are $2 each. For a more detailed breakdown of Robinhood's fees, visit the Fee Schedule page on its website.
Who Should Use Betterment?
Betterment is a useful tool for those who want to integrate their banking and investing functions, or who would benefit from guidance about their overall money management practices. Since Betterment users have access to an entire suite of tools, from checking to savings and investment accounts, there's a greater opportunity to centralize your goals and get help managing all of them holistically.
Who Should Use Robinhood?
If you already have a good system for managing cash flow but would value the opportunity to be more hands-on with your investments, or you need a comfortable way of easing into a low-fee investment portfolio, Robinhood may be a good fit for you. Although the platform has come under fire more than a few times, it's still one of the easiest, most accessible tools out there.
Good To Know

Regardless of which investing platform you choose, you'll need to craft a strategy on how you'll invest your money. One popular approach is dollar-cost averaging, in which you direct a fixed sum of money into investments every month. By doing this consistently, you'll ensure that sometimes you're buying at a low and sometimes at a high — which, when averaged out, means that you end up at a middle point. Do you have a 401k through your employer that invests a portion of each paycheck automatically? Then you're already dollar-cost averaging. The same strategy can work well for the rest of your investments.
Betterment or Robinhood? Identify Your Financial Goals
Not all financial services products are created equal, so it's important to know what you're looking for.
You should also know that once you invest money, it's in your best interest to hold it for more than a year. That's because tax rates on capital gains, or earnings on those investments, tend to be higher in the short term and lower in the long term. Plot out your goals, do research and commit to the money management platform that's best suited to your needs — whether that's saving, investing or both.
Betterment will take you by the hand, ask what your goals are, and offer you a suite of products that correspond directly to your needs. Alternately, Robinhood will offer you the freedom to trade stocks and other investments at your discretion, with low fees and little to no red tape.
Our in-house research team and on-site financial experts work together to create content that's accurate, impartial, and up to date. We fact-check every single statistic, quote and fact using trusted primary resources to make sure the information we provide is correct. You can learn more about GOBankingRates' processes and standards in our editorial policy.