Is Robinhood Gold Worth It? Here's What You Need To Know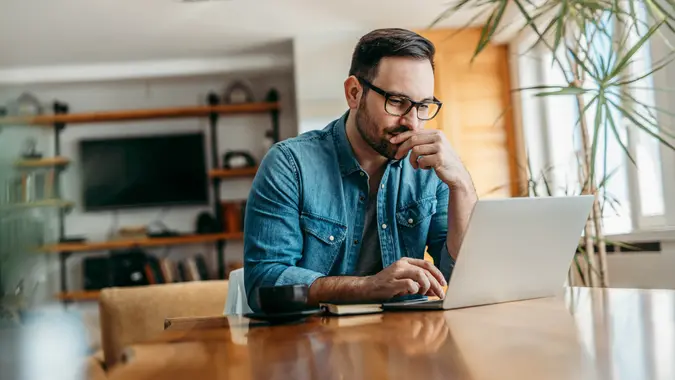 nortonrsx / Getty Images/iStockphoto
Robinhood launched the commission-free stock trading revolution when the no-fee brokerage app debuted in 2013. The platform is still free, but an optional upgrade to Robinhood Gold offers a suite of features and tools that aren't available with a standard membership. 
See: 3 Things You Must Do When Your Savings Reach $50,000
At a cost of $5 a month, is Robinhood Gold worth it? 
It certainly can be, but the value you get from the upgrade depends on your trading style, investment strategy and borrowing needs.
Can You Make Money With Robinhood Gold?
You can make money on Robinhood by investing through the standard platform without paying $5 monthly for an upgraded Gold membership, provided your investments deliver returns instead of losses. But the purchase of a Gold membership might enable you to earn more money. That's because it provides four powerful features that standard members can't access.
1. Bigger Instant Deposits
The Robinhood instant deposit feature gives you immediate access to $1,000 after you deposit money into your account. But Robinhood Gold members get instant deposits of up to $50,000, depending on their account balance and status.
If your portfolio value is less than $10,000, you can access $5,000 instantly.
If your portfolio value is more than $10,000, you can access $10,000 instantly.
If your portfolio value is more than $25,000, you can access $25,000 instantly.
If your portfolio value is more than $50,000, you can access $50,000 instantly.
That means that if the market provides an opportunity, you can take advantage of it right away with much more money than you could without a Gold subscription and without waiting up to five business days for the money to clear. 
2. Advanced Market Data and Research 
Robinhood partnered with Morningstar to offer Gold members unlimited access to the in-depth analysis reports that the investment research company compiles on roughly 1,700 stocks.
Gold membership also comes with Level II market data From Nasdaq TotalView. The data shows multiple bid and ask prices for any security, which helps investors gauge the availability of stocks at a given price.
If you utilize the research and data offerings, that alone justifies the $5 monthly cost — Nasdaq TotalView alone costs $60 as an independent subscription.
3. Cheaper Margin Investing
Margin investing allows users to borrow against the value of their portfolios. By leveraging the value of their holdings, they can increase their purchasing power. It also offers flexibility — margin borrowing gives you instant access to cash if the market presents an opportunity without waiting for a bank transfer. Margin borrowing isn't contingent upon your credit score and doesn't appear on your credit report like a traditional loan — but you do have to pay interest.
Robinhood Gold members can access margin investing at a rate of 7.75% instead of 11.75% without a Gold subscription.
4. Higher Cash Sweep Interest Rate
Users who opt into the brokerage sweep program have their uninvested brokerage funds moved into interest-bearing accounts in a network of partner banks. The deposits are FDIC insured up to a total of $2 million. A Gold membership increases the amount of interest you earn on swept funds, which could be the most important feature of the entire Gold suite, depending on how much you keep in your account. 
How Much Does Robinhood Gold Pay Out?
Standard Robinhood members earn 1.5% on their uninvested brokerage funds. But an upgrade to Gold membership bumps up the cash sweep rate to 4.65% APY, which is an increase of 3.15%. A 4.65% APY is in the ballpark of some of the top high-yield savings accounts on the market today.
It's important to note that both cash sweep and margin investing rates can change at any time.
What Are the Risks of Robinhood Gold?
The features and tools that come with a Robinhood Gold membership can increase your purchasing power — but that power can be a double-edged sword. 
For example, the bigger instant deposits let you wager up to 50 times more capital than you could with a standard account. Since there's no delay, you can invest it all on a whim without conducting research or performing due diligence. That kind of access requires discipline and the ability to resist the temptation of spontaneous decision-making. 
The bigger risk comes from margin investing. 
When you borrow against the value of your portfolio, your holdings are your collateral. If the value of your portfolio drops, you can receive a margin call — a demand from your broker to deposit more cash to cover your loan.   
Does Robinhood Gold Give You $1,000?
Robinhood Gold doesn't give you $1,000. But you can earn up to $1,500 in free stocks per year through the Robinhood referral program. When a new user you refer signs up and links a bank or debit card, both you and your friend get a stock gift worth between $5 and $200 up to $1,500 annually. Robinhood advises that roughly 99% get $5 worth of shares.
In Closing
If you plan to have at least $1,904.76 in cash in your account throughout the year, the Gold membership will pay for itself. That's because the bump from 1.5% to 4.65% interest on uninvested brokerage cash gives you an extra 3.15% APY.
At $5 a month, a 12-month membership costs $60 — $55 for the first year since you get the first month for free. 
Since $1,904.76x 0.0315 = $60, the higher rate pays for the $5 monthly fee spread out over 12 months. Also, you can cancel at any time, and the 30-day free trial gives you a month to decide if you like it before you commit.
Information is accurate as of June 18, 2023.
Editorial Note: This content is not provided by any entity covered in this article. Any opinions, analyses, reviews, ratings or recommendations expressed in this article are those of the author alone and have not been reviewed, approved or otherwise endorsed by any entity named in this article.