How To Buy Bitcoin Cash: A Complete Guide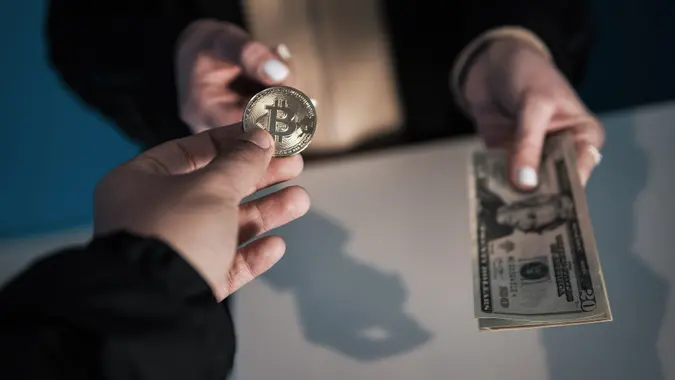 Alihan Usullu / iStock.com
Most people are familiar with bitcoin, but fewer people have heard of bitcoin cash, which was created as an alternative to bitcoin.
While it may share part of the same name as bitcoin, these two crypto assets are very different. Bitcoin cash operates on a separate blockchain and aims to be a faster and more efficient digital cash system than bitcoin.
Read: 3 Things You Must Do When Your Savings Reach $50,000
What Is Bitcoin Cash?
In 2017, some of the original bitcoin developers believed that the Bitcoin blockchain was too slow and inefficient. They wanted to build a more scalable alternative. 
As a result, they modified the code and the original Bitcoin blockchain was split into two separate blockchains — Bitcoin and Bitcoin Cash. This event is referred to as a "hard fork" and resulted in the creation of a new cryptocurrency, bitcoin cash (BCH).
BCH operates on a decentralized network and can be used to make peer-to-peer transactions without the need for intermediaries like banks.
According to its developers, the Bitcoin Cash blockchain offers several benefits to users, including:
Ultra-low fees: The network fee for a typical BCH transaction is less than $0.01.
Speed and reliability: BCH transactions are smooth and take just seconds.
Security: BCH operates on a proof-of-work blockchain, which is considered one of the safest blockchain protocols in the world.
Fixed supply: BCH has a cap of 21 million tokens, which ensures that the supply is limited and therefore more resistant to inflation.
Privacy: Using BCH can offer more privacy than traditional banking methods, as blockchain transfers are conducted anonymously.
How Can I Buy Bitcoin Cash?
Like other cryptocurrencies, there are multiple ways to buy bitcoin cash such as using cryptocurrency exchanges, peer-to-peer networks or crypto ATMs.
Cryptocurrency Exchanges
A cryptocurrency exchange is an online platform where users can buy, sell and trade cryptocurrencies like bitcoin cash. These exchanges act as intermediaries between buyers and sellers, and they make money by charging fees on transactions.
A good crypto exchange has a good reputation, high security, features an intuitive user interface, offers low fees and has high liquidity for your preferred crypto assets.
For example, Coinbase is a popular cryptocurrency exchange that supports bitcoin cash. You can buy, sell and store bitcoin cash on Coinbase, along with many other cryptocurrencies. Other reputable cryptocurrency exchanges include Binance, Kraken and OKX.
To buy bitcoin cash on a crypto exchange, you'll have to create an account, verify your identity and deposit funds. Once you have funds in your account, you can place an order to buy BCH.
P2P Networks
It's also possible to buy cryptocurrency directly from other people on peer-to-peer exchanges. Some benefits of P2P networks include multiple payment options, no trading fees and greater flexibility in terms of legal restrictions.
However, P2P trading can also be risky. There are plenty of scammers on these networks who take advantage of the lack of a central authority to govern transactions. In addition, there is often lower liquidity on P2P marketplaces so trades may take longer to complete.
Crypto ATMs
Crypto ATMs are convenient options if you happen to have one in your area. They allow you to purchase bitcoin cash and other cryptocurrencies with cash, debit cards or credit cards.
One benefit to crypto ATMs is that they offer a high degree of anonymity, especially for users who buy with cash. However, they typically have much higher fees than online exchanges. In addition, they may not offer access to as many cryptocurrencies as online exchanges.
Is Bitcoin Cash Safe To Buy?
As with any investment, buying bitcoin cash involves risk. As shown by BCH's price history, it's a highly volatile asset that has experienced many sudden increases and decreases in price. BCH's value may follow events in the cryptocurrency market and the economy as a whole or be directly related to its own development as a digital asset.
Before deciding whether to buy bitcoin cash, it's essential that you do your research and fully understand the potential risks.
If you're comfortable with the risks involved and have done your due diligence, there are steps to ensure the safety of your investment. For example, purchasing bitcoin cash on a reputable cryptocurrency exchange or P2P network with strong security measures in place helps mitigate the risk of fraud or hacking.
It's also important to store your bitcoin cash in a secure wallet, such as a custodial wallet offered by a reliable crypto exchange or an offline hardware wallet. Research different options to protect yourself against potential theft.
Is It Better To Buy Bitcoin or Bitcoin Cash?
When it comes to deciding whether to buy bitcoin or bitcoin cash, there's no right answer as it ultimately will depend on your investment strategy and financial goals.
Both bitcoin and BCH have advantages and disadvantages, so you should do your research and consider factors such as transaction speed, fees and overall market performance before making a decision.
On one hand, bitcoin is the more widely recognized cryptocurrency and has a much larger market capitalization and mainstream adoption than bitcoin cash. With a current market cap of over $400 billion, it's the world's most valuable cryptocurrency and may have greater potential for preserving its long-term value.
On the other hand, bitcoin cash has some technical advantages over bitcoin, such as faster transaction times and lower fees. So if your goal is to use cryptocurrency as a secure digital payment method rather than a long-term investment, bitcoin cash may be a better option.
Key Takeaways
Bitcoin cash is an established cryptocurrency that shares many of the same characteristics as bitcoin, with some notable improvements to its technical capabilities. If you're interested in buying bitcoin cash for the first time, make sure you know how to securely conduct transactions and store your crypto assets.
By taking these precautions and staying informed about the cryptocurrency market, you can make an informed decision about whether buying bitcoin cash is a safe investment for you.
Information is accurate as of March 7, 2023. 
Our in-house research team and on-site financial experts work together to create content that's accurate, impartial, and up to date. We fact-check every single statistic, quote and fact using trusted primary resources to make sure the information we provide is correct. You can learn more about GOBankingRates' processes and standards in our editorial policy.