These 6 Cryptos Have Really Burned Investors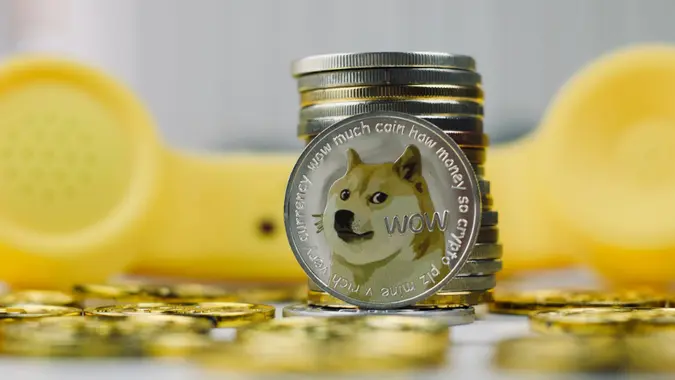 Adrian Black / Getty Images
Cryptocurrency has often been touted as a way to decentralize our finances (DeFi), freeing money from the throes of government control. And while crypto does have its benefits, it can also be incredibly sensitive to market forces and to negative sentiment in the media.
For example, when Elon Musk called Dogecoin a "hustle" on "Saturday Night Live" in May 2021 and the cryptocurrency's value dropped by 36% the next day. One can hardly imagine what would happen if the U.S dollar lost that much value so quickly.
But for cryptocurrencies, such extreme volatility is hardly outside the norm. Indeed, Dogecoin is not the only crypto to have seen a big drop. Many popular cryptos have burned investors — often more than once — causing their investments to nearly vanish overnight. Here's a look at some of the most notorious offenders so far.
Bitcoin
Bitcoin (BTC) has been the most popular cryptocurrency for years, with a market cap in the hundreds of billions. But that hasn't shielded investors from volatility; in fact, its longstanding market dominance has only meant that Bitcoin investors have seen more ups and downs.
At the end of 2017, BTC was priced at about $19,000. But by the end of 2018, it had fallen to under $3,400. In mid-2021, it fell from its then-peak of about $63,500 to less than $30,000 a few months later. It hit a new peak of about $67,500 in late 2021, only to fall to below $20,000 once again in the middle of 2022.
BTC's one-year change is -43.49%.
Ethereum
Ethereum (ETH) is the second-largest cryptocurrency, running on the Ethereum blockchain. This blockchain has some notable advantages compared to Bitcoin, such as smart contract functionality. But this hasn't prevented some Ethereum investors from seeing their investments decline dramatically.
In early 2018, ETH declined from its peak at the time of $1,396 all the way down to about $85 in late 2018. Lately, the coin has been more volatile. It was priced at about $4,800 in late 2021 but then lost half of its value in just a few months. It rebounded slightly, reaching $3,500 in April 2022, but dipped below $1,000 by June 2022.
ETH's one-year change is -50.87%.
Dogecoin
One could argue that Dogecoin (DOGE) encapsulates the deregulation aspect of cryptocurrency. A so-called "memecoin," DOGE was inspired by the joke that circulated the internet in the early 2010s depicting a Shiba Inu dog. The meme quickly became wildly popular; it even has several of its own subreddits.
But it hasn't been all fun and games for DOGE investors. Instead, this coin has had one of the most precipitous rises followed by what can only be described as a crash. In April 2021, DOGE was priced at about $0.06. The next month it skyrocketed — on May 6th, 2021, it was priced at $0.68.
The SNL episode in which Musk, who was hosting, called DOGE a "hustle" was just two days later, and the coin dropped almost immediately. By mid-June 2021, it had dropped to just $0.17. The coin hasn't rebounded noticeably; its current price is about $0.06, right back to where it was before its rapid escalation in 2021.
DOGE's one-year change is -78.76%.
TerraClassicUSD
TerraClassicUSD (USTC) is the stablecoin that runs on the Terra blockchain. As a stablecoin, the value of Terra is pegged to the U.S. dollar, meaning it should always be priced as close to $1.00 as possible. For the most part, that had been true going back to the last quarter of 2020.
However, in May 2022, there was a huge selloff of USTC (UST at the time), causing a steep drop in the price. Less than one month later, the price of USTC had fallen to around one cent — yes, it declined by 99% in just one month.
USTC's one-year change is -99.16%.
Polkadot
Polkadot (DOT) is one of the largest cryptocurrencies, operating on its own blockchain of the same name. DOT has a market cap of several billion dollars; however, like most of the popular cryptocurrencies, that hasn't stopped its price from dropping. It declined from $48 in May 2021 to less than $11 in July 2021.
The crypto rebounded, reaching a new high of $53.44 in November 2021, only to see an even bigger drop. This time, the coin fell below $10 by May 2022, and it even dripped below $7 in June.
DOT's one-year change is -62.33%.
Litecoin
Litecoin (LTC) is among the most popular cryptocurrencies, as it was one of the first altcoins, launched in 2011. While its price has increased overall during that time, it has had its share of ups and downs. For instance, its price topped $358 in late 2017, only to fall to less than $24 by the end of 2018. It peaked again at $386 in May 2021 before falling to $113 in July 2021. It saw one last peak, selling for $278 in November 2021, and has been on a steady decline ever since, most recently selling for around $50.
LTC's one-year change is -66.52%.
More From GOBankingRates