Why Is Crypto Down Today? The Factors Behind Crypto Values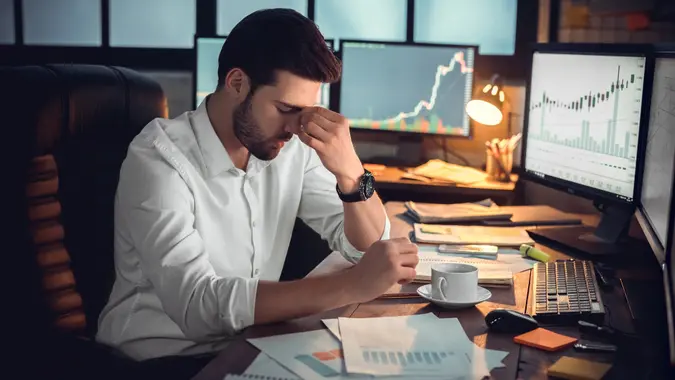 Victoria Gnatiuk / iStock.com
The price of bitcoin, ethereum and other cryptocurrencies fell on Oct. 13. For those new to the digital money trading market, the swings in prices can be mystifying. But a few factors between crypto and traditional investment markets may answer the question: why is crypto down today?  
Read: 5 Things You Must Do When Your Savings Reach $50,000
What Is Crypto?   
A cryptocurrency is a form of digital money, which can be used in transactions governed by a system known as a blockchain. A blockchain is a public online ledger that keeps a record of all transactions that take place using a single cryptocurrency such as bitcoin. The blockchain operates outside the normal channel of government and central banks, which control the creation and flow of fiat money in the financial system.   
Cryptocurrencies are also a vehicle for speculation and investment. They trade 24/7 and their value rises and falls with supply and demand. Bitcoin reached its highest-ever value of about $65,000 in November 2021. By October 2022, it had fallen to under $20,000.
The demand for crypto is related to its perceived usefulness as a legitimate medium of exchange. Can you use it to buy or sell things? Can you use it to save? Can you turn a profit trading it? These questions are posed and answered every day by news and events in the financial world.  
The news of a large company accepting bitcoin as payment for its goods, for example, would tend to boost crypto values. By contrast, the news of a country banning bitcoin would impact the price negatively. In addition to this, the performance of traditional stock markets and the economy have an impact. 
Why Did Crypto Values Fall?
The main drivers of financial markets in 2022 have been persistent high inflation and rising interest rates. Inflation is another word for rising prices, caused by imbalances in the supply of and demand for goods and services. The rate of inflation is measured and announced each month by the Bureau of Labor Statistics. At 8.2%, the inflation rate, as measured by the Consumer Price Index, was up .4% from August to September making it slightly higher than expected. 
On the day of the announcement, the largest crypto by market value, bitcoin, fell more than 4%. Runner-up ethereum dropped more than 6%. Other major coins followed suit, with cardano down 7%, solana dropping 8% and ripple shedding 5% of its value. The current values of these digital assets are down considerably since reaching their high-water marks late last year. Ethereum, for example, is trading around $1,200 after reaching $4,900 in November 2021.  
Interest Rates
Another key driver of the drop in crypto values has been rising interest rates, which are also a negative factor for stocks. With inflation still running high, the United States Federal Reserve has been raising its benchmark federal funds target rate. The goal is to slow the economy by making it more expensive to borrow; the lower demand that results is supposed to temper inflation. 
The federal funds rate stood at 3.25% in October 2022, after a series of hikes raised it from 0.5% in March. Interest rates are projected by many observers to remain high or rise even further in 2023.    
There are other reasons for a fall in crypto values. Through the first half of 2022, the correlation between crypto prices and the stock market remained relatively strong. When the stock market falls, crypto follows. Why? When investors lose their interest in risky investments, they generally turn away from crypto as well as stocks. Both are generally considered riskier than savings accounts, U.S. government bonds or cash. 
Volatility and Correlation Falling
The cryptocurrency market is known for volatility, with prices rising sharply and dropping just as fast. Since early 2020, the average range between a top and bottom in crypto prices over a month was 80%. But late 2022 saw this choppy trading calm down, with the price range contracting to just 23%.
It was a hallmark of 2022 that crypto followed the markets. The bear market in stocks brought bitcoin down sharply from its 2021 highs. But the correlation between the crypto market and stock indices such as the S&P 500 seems to be lessening.  
A "correlation coefficient" that measures how closely bitcoin follows the S&P 500 moved down from .70 to .61 in October. While corporate earnings announcements moved the stock markets, bitcoin and other cryptocurrencies were not similarly affected. 
Regulation
A longer-term factor weighing crypto values is government regulation of the market. As a new and innovative financial system, the cryptocurrency market will be subject to control and rules imposed by governments. These are constantly changing with new rules replacing old or being written for the first time. 
Governments that make the rules about the financial system are seeing their monopoly over the creation of new money threatened. It's uncertain what final form their regulation will take, however, China and several other countries have banned crypto ownership entirely. The United States allows crypto trading as well as mining, the process of creating a new cryptocurrency. El Salvador and the Central African Republic have adopted bitcoin as a legal currency.   
A confusing patchwork of different regulations around the world will slow the growth of the crypto markets and keep investors wary of committing money to them.    
Starting a Crypto Investment
Even with lessening volatility, crypto prices often fluctuate at a higher rate than stocks or bonds. That's what makes them risky. But volatility also presents an opportunity for high-percentage gains. 
Before leaping into crypto investing, it's wise to explore options. There are hundreds of crypto coins available to buy and sell. Some are more widely used and traded than others and some have better prospects for future growth.  
Check the stats on total market value and the number of daily transactions in the crypto. Also check the trading volume, the number of coins in existence and whether or not there's a hard cap on the number of coins — as there is with bitcoin. As with any other asset, a limit on supply will tend to boost demand and value. 
It's also wise to formulate an ultimate goal. Do you want to make profits on short-term price swings or to take part in the future of a "decentralized finance" system? The former demands a constant flow of current information; the latter, patience and knowledge gleaned through research.    
Information is accurate as of Nov. 4, 2022. 
Our in-house research team and on-site financial experts work together to create content that's accurate, impartial, and up to date. We fact-check every single statistic, quote and fact using trusted primary resources to make sure the information we provide is correct. You can learn more about GOBankingRates' processes and standards in our editorial policy.