Terra 2.0 (LUNA) Price Prediction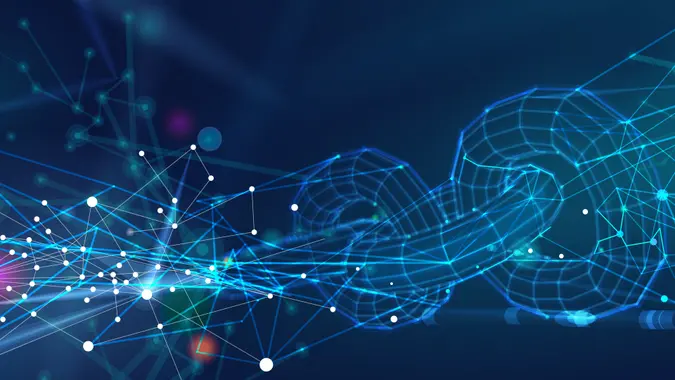 AF-studio / Getty Images
Terra 2.0 (LUNA) is the newest iteration of cryptocurrency on the Terra blockchain. In May 2022, the Terra blockchain experienced a hard fork prompted by founder Do Kwon and voted on by the community. This created the new Terra 2.0, with a new cryptocurrency, dubbed LUNA or LUNA2, while the original blockchain and coin took on the moniker LUNA Classic or LUNC. Both blockchains still exist and operate separately, which can cause confusion for new investors.
Why Did the Terra Blockchain Fork?
The Terra blockchain, prior to the hard fork, had two cryptocurrencies associated with it: LUNA — now called LUNA Classic, or LUNC — and terra. Terra was deemed a stablecoin. Its value was pegged to the value of LUNA and it was designed to help stabilize the crypto market.
Terra Crash
The problem was that terra (UST), an algorithmic stablecoin, wasn't tied to a stable asset like gold or even the U.S. dollar, which has remained relatively stable over long periods of time. Instead, it was pegged to a coin as volatile as any other crypto, LUNA.
When LUNA crashed, it fell from a high of roughly $116 to less than a penny and, finally, was delisted from crypto exchanges. UST went with it. As a result, the whole crypto market saw losses, as well.
The Fork
To save the blockchain, founder Do Kwon proposed to create a hard fork in the network to permanently de-peg LUNA from UST. On May 28, three days after members of the Terra community voted in favor of the hard fork, LUNA 2.0 was born. The old coin was re-named Luna Classic (LUNC).
LUNC remains pegged to terra UST. But when the price of UST shows volatility, the supply of LUNC is changed to stabilize the UST price. So, if UST rises too quickly or too high, the supply will be burned to mint LUNC. The reverse also occurs.
The new Terra 2.0 blockchain contains no stablecoins.
Terra 2.0 (LUNA) Price Prediction
This article will focus on terra luna 2.0 price predictions, looking at its current worth and where it is predicted to be in 2023, 2024 and 2025.
LUNA Current Worth
LUNA is currently trading at $2.16 as of Jan. 27, 2023, and has been on an overall downward trend. This follows a spike of more than $6 in mid-September of 2022. The average price has stayed consistently near the $2 mark from the end of 2022 into 2023. With the price forecast, if you are looking to buy it today, you may want to hold off. LUNA has a circulating supply of 204.6 million and a market cap of $441.9 million.
What Will LUNA Be Worth in 2023?
CaptainAltcoin.com does not have positive predictions for LUNA this year. They predict the coin will continue to hover below $2 for most of 2023, dipping as low as $1.11. By October 2023, they predict LUNA might hit $1.58 which would represent a decline from today's value and from there it could have a potential high of $1.68 at the end of December 2023.
CoinPedia is even more bullish on LUNA 2.0 for 2023, predicting that the coin could hit a high of $3.63. This price would represent tremendous gains from today's price. The site is predicting an average of $2.59 for the coin, which is also highly optimistic compared to some predictions.
What Will LUNA Be Worth in 2024?
CoinPedia has a 2024 price prediction for terra luna 2.0 averaging around $4.37. It has a potential minimum price of $3.41 with an estimated maximum price of $5.34. These prices trend upward from 2023.
What Will LUNA Be Worth in 2025?
The LUNA price prediction for 2025 would show that it's a smart move to buy and hold LUNA right now. CaptainAltcoin.com sees LUNA hitting a maximum price of $3.31 in 2025.
CoinPedia sees an even brighter future for LUNA in 2025, with a potential minimum price of $4.85, an average price of $5.81 and a maximum price of $6.77.
Final Take: Does LUNA Coin Have a Future?
Many experts believe LUNA could be a good investment, but a lot of factors will play into its success, including regulations and whether or not the Terra blockchain can overcome its prior reputation.
Any investment carries risks, and crypto is a high-risk investment at its best. But there are probably other stablecoins, including bitcoin and ethereum, that might be better to invest in today.
FAQ
Here are the answers to some of the most frequently asked questions regarding LUNA's price prediction.
How much will LUNA be worth in 2025?

According to CoinPedia experts, LUNA potentially could reach $6.77 in 2025, making it a solid long-term investment.

What is terra luna 2.0 worth?

LUNA is currently trading at $2.16 and has been on a largely downward trend. This follows a spike to more than $6 in mid-September of 2022.

What is terra luna 2.0's price prediction?

Terra luna 2.0 is predicted to go up in price, hitting a maximum price anywhere from $3.31 to $6.77 by 2025.
Dawn Allcot contributed to the reporting for this article.
Data is accurate as of Jan. 27, 2023, and is subject to change.
Our in-house research team and on-site financial experts work together to create content that's accurate, impartial, and up to date. We fact-check every single statistic, quote and fact using trusted primary resources to make sure the information we provide is correct. You can learn more about GOBankingRates' processes and standards in our editorial policy.