If You Invested $1,000 in Donald Trump NFTs, Here's How Much They Would Be Worth Now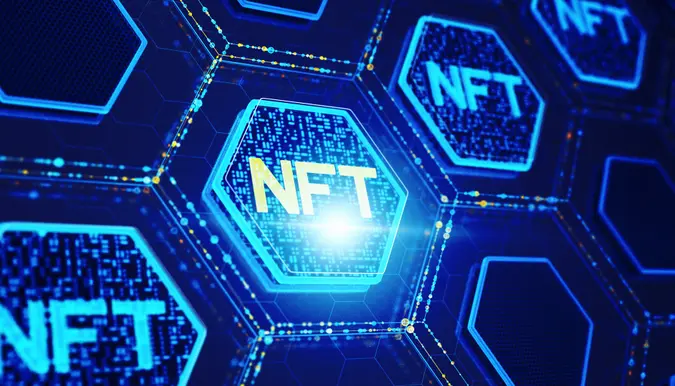 BlackJack3D / Getty Images/iStockphoto
Former President Donald Trump revealed he would be releasing a collection of non-fungible tokens in December of 2022. If the idea of Trump digital trading cards appealed to you, you may be curious as to how they are performing in the NFT marketplace. Despite social media backlash and criticism, it may surprise you how this NFT collection has done.
Trump NFT Cards: Quick Take 
Trump NFT cards are hand-drawn images of Trump in different outfits. Some examples of the images are cowboy Trump, astronaut Trump and business Trump. You can currently find these Trump limited-edition NFTs on the Polygon blockchain or the OpenSea NFT marketplace.
At $99 each, when the first batch of about 45,000 Trump digital trading cards was released, the total value came in at $4.4 million. As for Trump's portion of the profit, it is estimated he made between $100,00 and $1 million. This profit was just from the NFT release of hand-drawn cartoons depicting him in various outfits and scenarios.
Trump NFT Price: How Much Are They Worth?
If you invested $1,000 at the initial price of $99, you would have been able to purchase about 10 Trump digital trading cards. As of Aug. 15, the current floor price is around 0.10 ETH, which roughly equates to $194.83. If you had invested in Donald Trump NFTs, they would currently be worth around $1,948.30. 
The Trump NFT price will vary depending on market performance but here are some current statistics to know: 
Market cap: 4,770 ETH
Floor price: 0.10600 ETH
24-hour volume:

0.65 ETH
Trump NFT Value Today

There was a re-release in April 2023 of a new batch of Trump NFTs "due to the great success" of the last collection. This release was after a gradual downward trend of value, with an all-time low in March 2023 after Trump's indictment by a grand jury. 

Trump announced this new launch on his Truth social media platform. Ultimately the price dropped as there was an increase in newly available merchandise. Though the NFTs have fallen from their highest point of around 0.84 ETH, the investment is still up in value since the digital trading cards went live.
Trump NFTs and the Power of Social Media
Whether it's Instagram or his own Trust platform, Trump and his handlers know how to evoke a response via social media. Love him or hate him, if you get that much traction with anything you post, you are bound to make a buck or two. 
In April 2023, Trump posted on Instagram and Trust, "I am pleased to inform you that, due to the great success of my previously launched DIGITAL TRADING CARDS, we are doing it again." The new batch of NFTs sold out in a day, bringing in over $4 million.
Final Take To GO 
Former President Donald Trump has found ways to monetize his image during and after his time in office. Though he was originally mocked for his announcement to release these digital trading cards, they have turned a small profit. If you invested in these limited-edition NFTs when they first came out, chances are you did as well. 
FAQ
Here are the answers to some of the most frequently asked questions regarding Trump NFTs.
How much did Trump's NFTs sell for?

After releasing and selling out the first batch of 45,000 digital trading cards at $99 each, the total for Trump's NFTs was about $4.4 million.

Did Trump make money on his NFTs?

It is estimated Trump made between $100,00 and $1 million from the NFT release of hand-drawn cartoons of him in various outfits.

What blockchain are Trump NFTs on?

You can find or buy limited edition Trump NFTs on the Polygon blockchain or the OpenSea NFT marketplace.

Does Trump have his own social media platform?

Yes, in Oct. 2021, former President Donald Trump, along with Trump Media & Technology Group, started Truth Social which is an alt-tech social media platform.

How much is a Trump NFT card worth?

Though they are subject to change, here are some current valuations of the Trump NFT Digital Trading Cards:

Market cap: 4,770 ETH
Floor price: 0.10600 ETH
24-hour volume: 0.65 ETH
Data is accurate as of Aug. 15, 2023, and is subject to change.
Our in-house research team and on-site financial experts work together to create content that's accurate, impartial, and up to date. We fact-check every single statistic, quote and fact using trusted primary resources to make sure the information we provide is correct. You can learn more about GOBankingRates' processes and standards in our editorial policy.