Best Undervalued Cryptocurrencies To Buy for 2023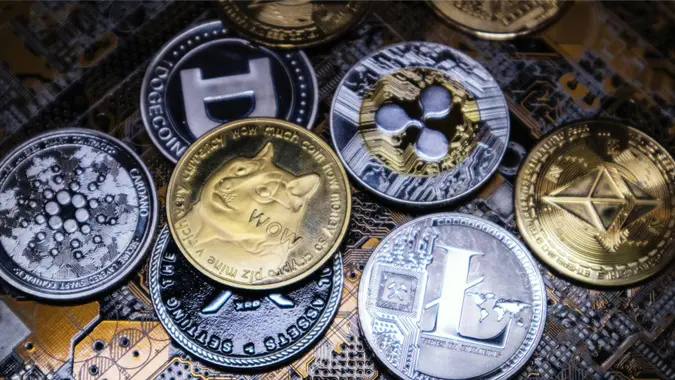 ozgurdonmaz / Getty Images
Most people are familiar with famous cryptocurrencies like bitcoin and ethereum — but the crypto-verse has over 22,000 coins to date. With many options available in the crypto market, it is natural to get confused about which cryptocurrencies to invest in. 
While there is always risk in investing in cryptocurrencies — whether it's a single coin or splitting your investment into multiple currencies — you can reduce risk and maximize profits by identifying undervalued cryptocurrencies. Here's a look at potentially undervalued cryptocurrencies to help you make an informed decision.
Top 10 Undervalued Cryptocurrencies for 2023
Most of these cryptocurrencies barely make it to the media, but they have long-term potential as good investments and could be undervalued at their current prices.
Here are the some of the best undervalued cryptocurrencies.
Chainlink (LINK)
Tezos (XTZ)
Theta (THETA)
Polygon (MATIC)
Filecoin (FIL)
Hedera (HBAR)
Klaytn (KLAY)
PancakeSwap (CAKE)
Quant (QNT)
Algorand (ALGO)
1. Chainlink (LINK)
Chainlink was co-founded in 2014 by Sergey Nazarov and Steve Ellis, both of whom had previous experience with decentralized systems. The network is among the first to connect to off-platform sources to integrate data into smart contracts.
Initially used to aggregate cryptocurrency price data for apps like Aave, the platform now provides data verification services for organizations that include AccuWeather, Federal Express and the Associated Press, according to CoinMarketCap.
Despite precipitous drops in price and market capitalization since last spring, Chainlink is something of a moat in terms of its early entry into the smart contracts space and wide adoption since then.
Price of chainlink as of Jan. 18, 2023: $6.50
Market capitalization of chainlink as of Jan. 18, 2023: $3,297,317,019
Why Chainlink?
Chainlink is a dominant force in a growing market.
2. Tezos (XTZ)
Arthur Breitman, the founder of Tezos and the architect of on-chain governance, first suggested Tezos in a position paper published in August 2014. Later, he published the white paper for this cryptocurrency. The Breitmans founded Dynamic Ledger Solutions in 2015, and DLS was responsible for building the original code for Tezos.
Tezos is a blockchain network similar to Ethereum in that it is based on smart contracts. However, there is a significant difference. Tezos seeks to provide more advanced infrastructure than Bitcoin and Ethereum, which means it may evolve and improve over time.
A number of organizations, including Manchester United, Gap, Red Bull Racing, Honda and Ubisoft, have selected Tezos for NFTs and other projects.
Price of tezos as of Jan. 18, 2023: $0.9775
Market capitalization of tezos as of Jan. 18, 2023: $902,953,806
Why Tezos?
Tezos' recent partnerships could be launching pads for more widespread adoption. In the meantime, several exchanges, including Coinbase and Kraken, let you earn passive income by staking tezos coins.
3. Theta (THETA)
Theta is a blockchain-based network created in 2018 specifically for video streaming. Theta mainnet is a decentralized network where users exchange bandwidth and processing resources on a peer-to-peer blockchain network.
Theta's goal is to upgrade the video streaming industry by improving streaming quality and making it more efficient and cost effective. Because it supports smart contracts, other developers can launch their own decentralized applications on the Theta platform.
Theta has its own native cryptocurrency token, also called theta, and it's used to execute various governance duties within the network.
Price of theta as of Jan. 18, 2023: $0.8892
Market capitalization of theta as of Jan. 18, 2023: $890,801,017
Why Theta?
Theta could improve video streaming not just for consumers, but also for content creators and advertisers. In addition, you can win theta rewards for sharing bandwidth with the network.
4. Polygon (MATIC)
Jaynti Kanani, Sandeep Nailwal and Anurag Arjun, two experienced blockchain developers and a business consultant, co-founded Polygon, which was previously Matic Network, and launched in October 2017.
The projects of Polygon aim to increase the acceptance of cryptocurrency. This is done by improving scalability and adding functionality to the Ethereum network to create a multi-chain system while also reducing fees.
Binance, Coinbase Exchange, Kraken and KuCoin all support polygon cryptocurrency.
Price of polygon as of Jan. 18, 2023: $0.9678
Market capitalization of polygon as of Jan. 18, 2023: $8,458,789,898
Why Polygon?
Although Polygon isn't the only "Ethereum killer" out there, it has few real competitors — for now.
5. Filecoin (FIL)
Launched in 2014, Filecoin is a decentralized data storage system, built on the Interplanetary File System, that keeps your data's integrity intact. Unlike centralized cloud storage providers like Amazon Web Services or Cloudflare, you can supervise your data and have global access to the web.
Filecoin is an open cryptocurrency and protocol with a blockchain that records the network participants' commitments and transactions. Proof-of-replication and proof-of-spacetime are both used in the blockchain.
Price of filecoin as of Jan. 18, 2023: $4.42
Market capitalization of filecoin as of Jan. 18, 2023: $1,613,368,830
Why Filecoin?
Filecoin's unique function has caught the attention of the likes of Lockheed Martin. Lockheed and the Filecoin Foundation are working together to deploy the IPFS in space. If successful, the technology would eliminate delays in transmitting data between Earth and space.
6. Hedera (HBAR)
In August 2018, Hedera Hashgraph raised funds through an initial coin offering for hedera, its token coin, and in September 2019, it opened wide access to its mainnet for the first time.
Hashgraph is an alternative to blockchain that uses a technology called Directed Acrylic Graph. Rather than rely on mining to verify transactions, Hashgraph nodes communicate with each other to share data about the network's transaction history — comparing notes, if you will — to achieve consensus.
Hashgraph claims to be able to process more than 10,000 transactions per second, compared to 5-20 by the most prominent proof-of-work blockchains. Transactions have transaction fees ranging from $0.0001 to $1, depending on the transaction type, and they are usually complete within five seconds.
Price of hedera as of Jan. 18, 2023: $0.05698
Market capitalization of hedera as of Jan. 18, 2023: $1,432,990,241
Why Hedera?
Thanks to Hashgraph's robust technology, it can outperform many blockchain-based alternatives in numerous crucial aspects, including speed, cost and scalability. This non-conventional technology makes hedera unique from other undervalued cryptocurrencies.
7. Klaytn (KLAY)
Klaytn, launched in June 2019, is a public blockchain platform. It aims to provide an accessible user experience and development environment.
While its use cases have spanned a number of industries, Klaytn might be best known for its complete metaverse packages that allow developers to build their own play-to-earn games, create NFT marketplaces and perform other functions on its network.
Through an efficient "hybrid" design, the platform combines the decentralization and governance of a public blockchain with the low latency and high scalability private blockchains provide. A recent shift to a permissionless validator system, which eventually will allow anyone to be a block validator, could make Klaytn more competitive.
Price of klaytn as of Jan. 18, 2023: $0.1885
Market capitalization of klaytn as of Jan. 18, 2023: $581,095,016
Why Klaytn?
Klaytn has already attracted a number of well-known brands from around the world. If it can compete successfully for metaverse market share, it could see significant growth over time.
8. PancakeSwap (CAKE)
PancakeSwap is the most-used decentralized platform thus far, with $3.3 billion in funds staked, or locked, on the platform. It's an automated market-making platform where users can exchange cryptocurrency and stake their tokens for a fee.
To do that, users deposit funds into a liquidity pool and receive special tokens, called liquidity tokens, in return. Liquidity tokens can be used in a number of ways, including as liquidity deposits that earn cake, the native token on PancakeSwap. Cake holders can then use their cake tokens to earn more tokens or enter lotteries.
Price of pancakeswap as of Jan. 18, 2023: $3.62
Market capitalization of pancakeswap as of Jan. 18, 2023: $591,111,126
Why PancakeSwap?
PancakeSwap allows investors to invest in the future of the network and increase their returns, but it all comes with inevitable risks.
9. Quant (QNT)
Quant was founded in June 2018 to connect blockchains and networks globally without compromising the networks' efficiency or interoperability. It is the first initiative to address the issue of interoperability by developing the first blockchain operating system.
Overledger, Quant's operating system, was created to allow any blockchain-based project to reach other blockchain networks. It can also connect an app to other apps in the same blockchain ecosystem, such as Ethereum, Bitcoin and Ripple.
The Quant App Store also supports reading and monitoring transactions from different ledgers.
Price of quant as of Jan. 18, 2023: $136.65
Market capitalization of quant as of Jan. 18, 2023: $1,649,632,933
Why Quant?
Quant's Overledger is a "technologically agnostic" platform, according to Crypto News, which means its users don't have to work with a particular technology partner to use it. Removing that barrier could help Quant gain wider adoption among app developers.
10. Algorand (ALGO)
Algorand is a self-sustaining, decentralized, blockchain-based network that provides a secure, scalable and efficient platform on which developers can create their own applications.
The Algorand mainnet went live in June 2019, and by December 2020, it could process around 1 million transactions each day. The Algorand ICO took place in June 2019, with a token price of $2.40.
Price of algorand as of Jan. 18, 2023: $0.2148
Market capitalization of algorand as of Jan. 18, 2023: $1,543,584,930
Why Algorand?
Algorand is working on making its blockchain compatible with Ethereum, which would give it better access to decentralized apps. Therefore, the network might have more value than the coin price suggests.
The On-Going Trend of Crypto World
Trade volumes can give you insight into how a cryptocurrency might perform. Increasing volume usually indicates a higher degree of liquidity, meaning there are plenty of buyers for the coins owners want to sell. That trend often correlates with increasing prices.
Conversely, falling volume might mean that buyer demand is low, which could leave sellers chasing buyers offering lower and lower prices — driving prices down in the process.
Cryptocurrencies With Increasing Volumes
Among the top 100 cryptocurrencies listed on CoinMarketCap, the following coins had the largest increases in seven-day trade volume:
SingularityNET: 112.4%
Decentraland: 67.7%
Frax share: 64.5%
Cryptocurrencies With Decreasing Volumes
The following cryptocurrencies have seen the largest drops in volume over the last 24 hours:
Fame reward plus: -24.1%
Apecoin: -4.6%
Dydx: -3.9%
Trading volume is only one factor analysts use to come up with cryptocurrency predictions. They also consider fundamental factors such as economic conditions and the usefulness and viability of the coins and the companies behind them, as well as sentiment among traders and others who influence markets.
Takeaways
That cryptocurrency lost over $1 trillion in market value in the first six months of 2022 underscores how risky an investment even the most widely adopted coins are.
However, coins that declined in value simply because of economic conditions and negative sentiment — and not because of a lack of utility or fundamental weaknesses within their projects — could be seriously undervalued right now.
The challenge is knowing the difference at a time when nearly all cryptocurrencies are trading for a fraction of what they were worth 14 months ago. How do you find undervalued cryptos? To determine whether a cryptocurrency might be undervalued, research the following factors:
Look for the founders of the particular technology behind the crypto coin.
Search for the market that deals in the specific cryptocurrency.
Check out the companies partnering with the cryptocurrency.
Finally, look out for the price pattern history of the crypto coin.
The opportunities to invest in the crypto world are increasing day by day, and you can make the best of them by doing your homework and investing only as much as you can afford to lose.
Scott Jeffries contributed to the reporting for this article.
Data is accurate as of Jan. 18, 2023, and subject to change.
GOBankingRates' Crypto Guides
Our in-house research team and on-site financial experts work together to create content that's accurate, impartial, and up to date. We fact-check every single statistic, quote and fact using trusted primary resources to make sure the information we provide is correct. You can learn more about GOBankingRates' processes and standards in our editorial policy.