Why Is Crypto Crashing? Here's What to Know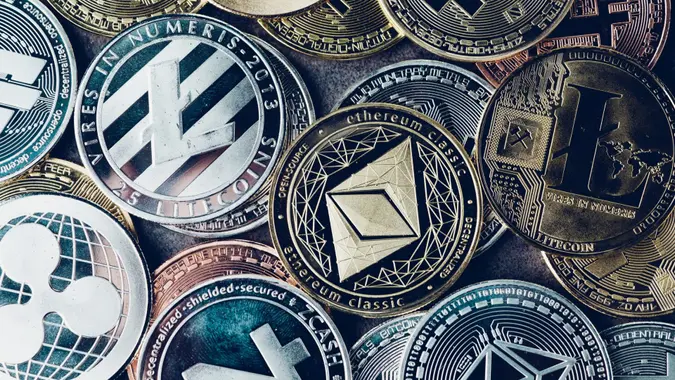 Nuthawut Somsuk / Getty Images
Most people have undoubtedly heard of cryptocurrency even if they haven't dipped their toes in the investment waters. Now that the prices of Bitcoin, Ethereum and other cryptocurrencies are possibly recovering from their plummet, is it time to invest? Will crypto survive the crash and emerge stronger?
Why Did Crypto Crash?
Record-high inflation, fear, rising interest rates and a loss of confidence in crypto investments all contributed to the crypto crash. Analysts say most of the factors are "macro," which means they relate to the economy as a whole rather than any flaws in the crypto market.
Coinbase Took a Loss in Q1 2022
The popular trading and tracking platform, Coinbase, took a $430 million loss in the first quarter of 2022 and the company's stock dropped 81%. According to a CBS News report, the company had announced plans to lay off one-fifth of its staff in June 2022. Nevertheless, because Coinbase had survived other crypto winters, many analysts weren't concerned about its future.
In July 2022, John Todaro, a crypto-asset researcher for Needham & Co., told CBS News, "The winter would have to get progressively worse for Coinbase to be in any real danger." Just as he predicted, Coinbase has survived well into 2023. 
The crypto crash wasn't exclusive to crypto. The Dow Jones Industrial Average, a key stock index, entered a bear market in mid-June 2022. Moreover, the S&P 500 officially entered a bear market in the first week of July 2022.
A bear market occurs when investments reach 20% below their peak and remain there for an extended period. 
The crypto crash was felt across the industry, beyond the losses investors experienced.
Is the Crypto Market on the Rise?
Bitcoin can be considered an indicator of the overall crypto market because even altcoins, such as Ethereum, follow the Bitcoin trends.
According to Coinbase, in November 2022, Bitcoin sat at over 75% below its all-time high of $68,789.63, according to Coinbase. In April 2023, it remains more than 55% below the all-time high. Therefore, Bitcoin has remained in a bear market since mid-2022.
Is Now a Good Time to Buy Crypto?
With its prices still low, it may be a good time to buy crypto. Bitcoin rose by more than 30% in March 2023, and crypto bulls are holding tight. According to Coinbase, Ethereum has also risen by over 70% since January 2023. However, it has not recovered from the 2023 losses, and its price has remained well below its all-time high of $4,800 in late 2019.
Will Crypto Recover in 2023?
Cryptocurrency has survived multiple crashes in its short history. GOBankingRates has documented at least seven substantial Bitcoin crashes — and recoveries — dating back to 2011 when Bitcoin lost 99% of its value. The phrase "crypto winter" stemmed from these crashes.
As The Guardian points out, "winter comes before spring," and investors may just have to sit this one out and "wait for the market to thaw," so to speak. However, the most recent crash, coupled with the impending recession, could make many investors hesitant to put their money into crypto.
The stock market has a long history of ups and downs, with stock exchanges first starting up in the U.S. in the late 1790s. However, according to the Library of Congress, crypto does not have such a past to learn from. Knowing that the stock market has experienced multiple bear and bull phases over the centuries gives crypto investors peace of mind.
It could be worth hanging on, nevertheless. Beincrypto.com wrote, "In fact, in history, 100% of the people who have bought and waited 4 years or more, have seen their investment grow."
Final Take
Is it a good time to buy crypto? Crypto remains a highly speculative investment. If you have a high tolerance for risk, it may be worth diversifying your portfolio with a percentage of crypto right now. But you'll first want to look at your overall budget, your emergency saving reserves, and any high-interest revolving debt you might have.
With rising interest rates and a recession, think of your financial priorities. This might be paying down debt and setting money aside for emergencies, which could include job loss.
If you feel secure and have extra money to invest, you can purchase Bitcoin or any of the altcoins on one of the top crypto exchanges.
Dawn Allcot contributed to the reporting for this article.
Our in-house research team and on-site financial experts work together to create content that's accurate, impartial, and up to date. We fact-check every single statistic, quote and fact using trusted primary resources to make sure the information we provide is correct. You can learn more about GOBankingRates' processes and standards in our editorial policy.