Weighing the Real Estate Pros and Cons: To Buy or Not To Buy?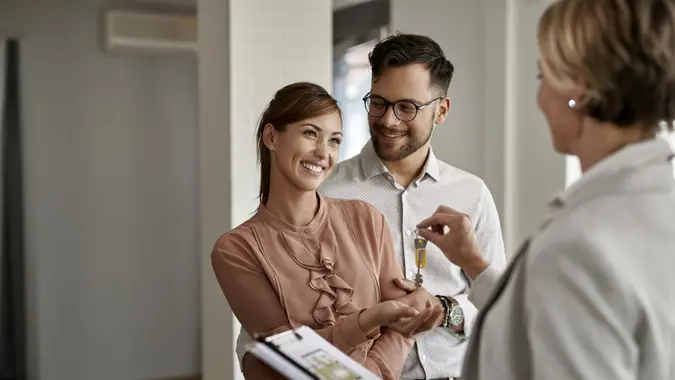 Drazen Zigic / Getty Images/iStockphoto
The pandemic brought low-interest rates and triggered an exodus out of America's cities. The government delivered trillions indirect stimulus payments and millions of people were freed from their offices to work from anywhere. All that — and a whole heap of other variables — have created one of the hottest real estate markets in history. 
2021 Small Business Spotlight: Don't Miss Out on Nominating Your Favorite Small Business To Be Featured on GOBankingRates — Ends May 31
That's not good news for prospective homeowners looking to buy. 
Hot markets favor sellers because buyers are forced to compete against each other for limited inventory. Right now, there's more competition than there ever has been, even in the memories of seasoned veterans of the real estate industry. GOBankingRates talked to several of those veterans to get the real scoop on what buyers are up against in these extraordinary times.
It's Rough Out There — Hold off Unless You Absolutely Have to Buy
GOBankingRates talked to experts from a variety of real estate backgrounds working all over the country. Each and every one described a nearly unprecedented seller's market and a nationwide frenzy among buyers looking to outbid each other. The seller is in clear command.
Read More: 8 Insider Tips to Get Rich in Real Estate
"As a real estate agent, it hurts me to say this but buyers should wait," said Tomas Satas, a real estate investor, professional flipper, landlord, and founder and CEO of Windy City HomeBuyer. "Just like any other investment, the goal is to buy low and sell high. That's nearly impossible at this point."
Unless a buyer has a specific need like moving for a job, it's hard to justify entering the market at this moment, according to Satas.
"We had a house last week with 36 offers in the first three days on the market," he said. "It sold for almost 50% over asking price. How long will it take that buyer to see any equity?"
Discover: Common Real Estate Myths That You Need To Know
In short, anyone who can hold out, should. 
"My advice is simple," Satas said. "Save your money for when the dip hits because it always does. We have some key indicators that it's coming sooner than later, like the price of lumber up over 400%. This market simply cannot continue for long and when the crash hits, cash is king."
Or Maybe Now is Just the Right Time
There are, of course, two sides to every story.
"On the flip side, there are several reasons why right now is a great time to buy a house," said Bill Samuel, a Chicago-area licensed broker, full-time residential real estate developer, and rehab specialist with Blue Ladder Development. "Mortgage rates are at an all-time record low, which means you will be paying much less in interest over the life of the loan. If you are planning on living in the same location for several more years and have an adequate emergency fund saved up, then buying a house now is a great tool to help you continue building wealth."
Find Out: 40 Cities That Could Be Poised For a Housing Crisis
Also, if you can get into a property, you can likely count on appreciation-based equity to start building as soon as you buy.
"The limited amount of supply on the market and continued strong buyer demand suggest that home prices will continue to see strong gains this year," Samuel said. 
Overpaying Now Might be Cheaper Than the Alternative
Low supply and high demand have homes selling for more than they're worth all over the country. But going above the asking price now might save you money in the long run. 
"For buyers, interest rates haven't risen much yet," said Dawn Pfaff, president of My State MLS. We'll see inflation in the near future, so now is a great time to take on debt at a low, fixed interest rate."
Learn More: What Homes Will Be Worth in Your State by the End of 2021
Robert Capetillo, president and CEO of Homes4Money, is even more emphatic.
"I'm a huge advocate for buying real estate now for several reasons," he said, citing concerns similar to Plaff's. "The federal government has been printing money at an astonishing rate and this will bring about an inflationary rise to goods and home prices, as we have already begun to see. The tools available to reduce inflation will be to raise interest rates, so if you plan to buy low, buy now. By purchasing now, you can leverage your low rate to buy more home."
See: What the Housing Market Looks Like So Far in 2021 — And What That Means for the Rest of the Year
He makes his case convincingly by pointing to recent history.
"Even if you don't have perfect credit, you may see a whole point or point and a half more on your interest rate," Capetillo said. "That would put you in the high-3% to mid-4% rates, but remember that 10 years ago, 5% interest rates on mortgages were a historic low. These really are exceptional times to buy."
Don't Let the Market Make Your Decision
Summer 2021 is shaping up to be one of the most remarkable seller's markets in a generation, but that shouldn't be the only factor in your choice to buy or not to buy.
Read: Experts Weigh In on the Pros and Cons of Real Estate Investing
"Ultimately, I'd urge homebuyers and sellers not to make any decisions based on the current market, but rather base their housing decisions based on their needs and long-term goals," said Brian Davis, real estate investor and founder at SparkRental.com. "Don't spend more than you can comfortably afford, don't make offers without financing contingencies or home inspections, don't get caught up in the frenzied atmosphere in this real estate market."
More From GOBankingRates
Last updated: May 27, 2021