What You Need To Do Now To Buy a Home in 1 Year, 2 Years or 5 Years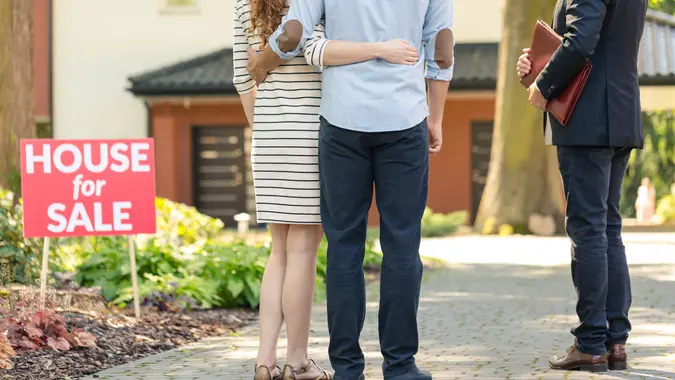 KatarzynaBialasiewicz / iStock.com
Despite a year of chaos and record-high housing prices, the dream of homeownership is alive and well in America, according to a new survey from GOBankingRates. This survey polled 500 renters about their aspirations for buying a house and their confidence in their ability to make it happen. 
Read: Are We in a Housing Bubble?See: 40 Cities That Could Be Poised For a Housing Crisis
Nearly four out of five renters — 78% — said they would like to own a home at some point in the future. And they're an optimistic bunch. Most think they can pull it off within five years despite obstacles like poor credit, nagging debt and no money saved for a down payment.  
As you'll see, the results of the survey show that many renters who dream of one day owning a home don't always have a clear path to get there. To help them cobble together a five-year plan that's built to survive the real world, GOBankingRates consulted an expert — but first, a look at the survey results. 
Check Out: The 50 Best Places To Buy a Home for Under $250,000
Many Renters Spend Way Too Much on Rent
In a cruel twist of irony, one of the biggest obstacles to homeownership is the cost of housing. The survey revealed that more than half of current renters — 57.6% — spend 30% or less of their monthly income on housing. That's considered a healthy percentage. One in four, however, spend at least half of their monthly salaries on the structures they rent to live in. When 50 cents or more of every dollar earned goes into the landlord's pocket, surviving — much less saving — is a daily struggle.  
Discover: 50 Cities Where It's Cheaper To Buy a Home Than Rent
Cash for a Down Payment Is Elusive for Most
Despite nearly 80% of renters aspiring to own a home, more than 1 in 3 — 35% — have exactly $0 saved for a down payment. Most of those who are managing to save something haven't yet saved enough — more than 70% have less than $10,000 banked for a down payment. And in total, more than one-quarter of renters see a down payment as the greatest barrier to owning a home.
What If Money Just Appeared?
Although more than 1 in 5 renters view their poor credit as the greatest barrier to owning a home, less than 15% would pay off their credit card debt if someone randomly gave them $50,000. About 1 in 4 would invest the money and 1 in 3 would pay off non-mortgage debt.  But the biggest group of all — 43.3% — would put it toward a down payment on a new home. Homeownership, after all, is still the dream.
Discover: How Much Should You Save for a Down Payment on a House?
Expert Advice: The 1-, 2- and 5-Year Plan
Asked when they believe they'll be able to afford a home, roughly 1 in 10 renters were resigned to the belief that they would simply never be able to come up with the necessary cash. 
Many others, however, were more optimistic. 
In total, 17.6% believe they will be able to buy a new home "within the year," and almost exactly one-quarter believe two years will be enough. Another quarter was on a five-year timeline. 
To help them along, GOBankingRates asked Kathy Cummings, senior vice president of Bank of America's Homeownership Solutions and Affordable Housing Programs, to come up with a strategy for saving for a home five years, two years and one year out. 
Check Out: How To Buy a House With No Money Down
5 Years Out: Create a Budget
Budget, save, budget, save: Review your finances to understand where your money is going and set a budget to stay on track. Once you've calculated how much money you can put into savings, pay yourself first so you don't overspend on discretionary expenses during the month. Don't get discouraged if you miss your target one month, just get back on track. Practice makes perfect.
Building credit:

With a budget and savings in place, you can now focus on refining your spending patterns to strengthen your credit score. Your credit score will impact how you'll be viewed as a potential borrower when you're making larger purchases in the future, whether it's a car or a home. Paying your credit card statement in full every month is one way to help improve your credit score. Need extra help? There are

housing counseling agencies

ready to assist you to build an action plan for how to improve your credit and/or create a savings plan, in many cases for free or at minimal cost to you. 

Prioritize paying down debt:

Reducing your debt-to-income ratio — how much you owe compared to your income — makes you a more attractive borrower. 
Helpful: 19 Ways To Tackle Your Budget and Manage Your Debt
2 Years Out: Make a Plan
Narrow your focus:

Check out homes in your desired location beforehand, so you can narrow down the price range and home type that's right for you. 

Shop for a lender:

As you begin looking for a lender, shopping around can help you determine the best fit. Having the right professional on your side who you can trust to help you navigate the process will make a significant difference. 
Be Prepared: 10 Hidden Costs of Buying a House
1 Year Out: Get Ready To Shop
Research down payment assistance programs:

While many prospective buyers still believe that you need a 20% down payment to purchase a home, this isn't always true. In fact, there are many low down payment mortgages, down payment grants and closing cost grants to help borrowers overcome the upfront costs of homeownership. 

Understand how much you can afford:

If you're not ready to shop for a home immediately, prequalification is a great choice. You'll provide basic financial information to help you understand what your loan program and borrowing amount might be. Depending on the results, you might decide to move forward with a preapproval so you're ready to begin your house hunt. Or, you may decide to take more time to save before you proceed with a home purchase.

Secure preapproval:

The next step on your homebuying journey is applying for mortgage preapproval. In this step, a lender will examine your credit and other expenses to determine 

exactly

 what you can afford.

Securing preapproval will set you apart from other buyers as it shows sellers that you have an approved loan amount and are serious about making a purchase.
More From GOBankingRates
Methodology: GOBankingRates surveyed 500 Americans aged 18 and older from across the country on May 10, 2021, asking six different questions: (1) Do you want to own a home at some point in the future?; (2) When do you believe you will be able to afford owning a home?; (3) If given $50,000 tomorrow how would you spend the newfound money?; (4) What is the greatest barrier that is preventing you from being able to own a home?; (5) How much do you currently have saved for a down payment on a home?; and (6) How much of your current monthly salary is going towards rent? (Select the closest figure). All respondents had to pass a screener question of: Do you currently Rent or Own your residence?, with an answer of "Rent". GOBankingRates used PureSpectrum's survey platform to conduct the poll.

Last updated: July 20, 2021