Why You Need To Know About 'Pocket Listings' in an Increasingly Competitive Real Estate Market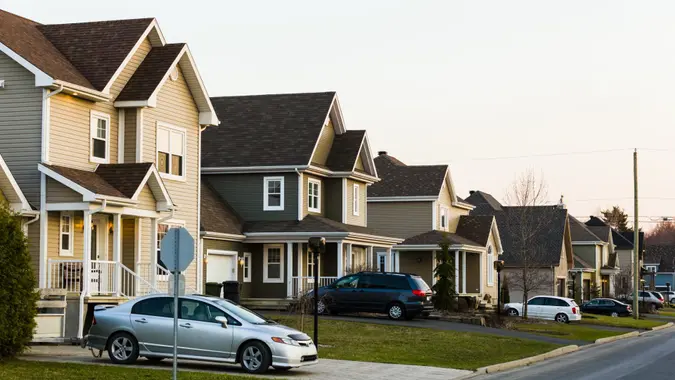 buzzanimation / Getty Images/iStockphoto
Some of the most exclusive real estate properties never hit the open market. Instead, sellers will only solicit offers from a select group of buyers through what's known as a "pocket listing." This practice is nothing new — it's long been used for the selling and buying of luxury and celebrity homes, including a $27.8 million home purchased off-market by Dwayne "The Rock" Johnson in April, Forbes reported.
Important: 10 Signs You Should Not Buy a Home Right NowFind Out: How Can Women Cash In on the Booming Housing Market? Real Estate Investing Guru Mindy Jensen Weighs In
But in a super-competitive real estate market, it's not just luxury homes that are being sold this way. Here's what you need to know about pocket listings — and how you can find out about them if you're in the market for a new home.
There Are Several Advantages of Pocket Listings
"One of the advantages of a pocket listing in a hyperactive market, like we are experiencing currently, is that the home has less competition," said Jason Gelios, a realtor with Community Choice Realty in Southeast Michigan. "Since the home is not publicly marketed, many buyers are not aware it's for sale."
Find Out: How To Make Your Offer Stand Out in the White-Hot Housing Market
In addition to not having to worry (as much) about a bidding war, the property is likely to be priced competitively to begin with.
"Oftentimes these homes are not sold at their highest market value," Gelios said.
It also gives the buyer more time to consider if the home is right for them before making an offer.
"Especially in today's market, [which is] just flooded with buyers and limited inventory, having access to off-market listings gives house hunters a leg up on the competition," said Michele Harrington, chief operating officer at First Team Real Estate, an independent brokerage in Southern California. "Homes are selling in days with multiple offers, so even just getting to see a house before it hits the market gives buyers extra time to decide if it's right for them. And sometimes simply being the first to make an offer gets you the advantage you need to win a home."
Check Out: 10 Reasons To Think Twice Before Investing In Real EstateSee: 17 Dumb Home-Buying Mistakes That Hurt Your Wallet
Your Agent Is the Best Resource for Accessing Pocket Listings
"In this ultra-hot market, it is imperative that you work with an agent that can provide you with pocket listings," said Chris Fajkos, a real estate agent from Truckee, California. "If not, you'll simply be waiting around for properties to go live on the market. At that point, the public becomes fully aware of the new listing, and the frenzy begins."
A well-connected real estate agent may be able to connect you with sellers who haven't listed their properties publicly.
"The easiest way to find pocket listings is to work with the top realtors in your area," said Simon Ru, CEO of UpNest. "A larger brokerage will likely have more pocket listings, or listings that have exclusivity off the MLS for several days before going fully public."
Read: 50 Cities With the Most Overpriced Homes
Even if the agent doesn't know of any pocket listings, they may take the initiative to seek them out on your behalf.
"While pocket listings can be accessed by anyone, it's still a challenge to get your hands on them because the market is so chaotic," said Nicky Taveras, owner of DNT Home Buyers. "However, an agent with a good network [who is] willing to use the good old prospecting tactics in real estate might be able to get what you need."
Taveras recommends first determining exactly what you're looking for and in what area, then having your agent prospect the area to see if anyone has been thinking about moving.
"You'd be surprised how many people might be willing to talk to you because they are thinking about downsizing, moving out of state or any other reason," Taveras said. "In the end, it's not an agent who has access to pocket listings you should be looking at, but an agent that is resourceful and finds you what you want for the price you can afford."
Good To Know: In Less Than a Decade, You Won't Be Able To Afford a Home in These Cities
You Can Also Find Pocket Listings Through Networking
Ryan David, owner of WeBuyHousesInPennsylvania.com, said his No. 1 tip to access unlisted real estate properties is to visit your local real estate investment club.
"At many of these meetings, there are usually real estate agents, wholesalers and flippers," he said. "These types of individuals can become the source of finding a deal not listed on the MLS. A wholesaler or agent likely has properties already under contract. Simply go to one of those meetings and ask around. The goal of most investment clubs is to network and pass along deals amongst the group. I feel this is quite possibly the best source of finding pocket listings and off-market deals."
Important: States With the Highest Property Taxes
Networking, in general, is a good tactic for finding these listings on your own.
"Everything comes down to networking, whether with other local agents or with your friends and neighbors to see if they're interested in selling their homes," Ru said.
Alina Trigub, strategic real estate advisor at Real Estate Bees, said to form connections with people within the real estate industry who may have knowledge of homes that will soon be for sale.
"Building relationships with the folks supporting the industry, like contractors, property managers, insurance brokers, agents, lawn maintenance companies and the like, is a great way to find properties," she said.
Find Out: 10 Things To Always Ask the Home Inspector
Not All Pocket Listings Are Actually a Good Deal
Although you may be able to avoid competition by buying through a pocket listing, James McGrath, co-founder of the New York City-based real estate brokerage Yoreevo, warns that buyers should be "very wary" of pocket listings.
"To understand why, you just have to put yourself in the position of the seller — why don't they want to list it publicly?" he said. "Yes, there are ultra-wealthy and celebrity buyers who are private, but for a regular seller, it doesn't make sense to list via a pocket listing. Any economist will say that getting in front of more buyers is only going to increase the price, so why wouldn't a seller go that route? The answer is they're not a serious seller. Agents with pocket listings often tell sellers it's a good way to 'test the market.' That's code for setting a high price and seeing if someone bites without racking up any days on market."
"Another reason for a pocket listing is the seller isn't motivated," McGrath continued. "They don't need to sell, they might not even want to sell, but if you offer them the right price, they will sell. In other words, if you buy a pocket listing, for one reason or the other, there is a good chance you're overpaying."
Check Out: What Homes Will Be Worth in Your State by the End of 2021Be Aware: 50 Housing Markets That Are Turning Ugly
In fact, pocket listings have been banned by the National Association of Realtors, the industry's main trade association.
"In 2019, the National Association of Realtors moved to make pocket listings illegal," said Athanasia Adam, an associate broker with Daniel Gale Sotheby's International Realty. "Pocket listings bring up consumer rights with the ability to purchase fairly and competitively in buying a home. Another issue is a realtor may inadvertently be participating in violating fair housing and discriminatory laws even if there is no intention."
However, although pocket listings are technically banned by the NAR, not every realtor is a member of this trade association and there are still ways to access these listings. And while it's clear that going this route may not always be the best option, pocket listings are one way to help you get ahead of the competition in a super-hot real estate market.
Last updated: June 29, 2021