Big News for AI as Intel Teams Up With Amazon Web Services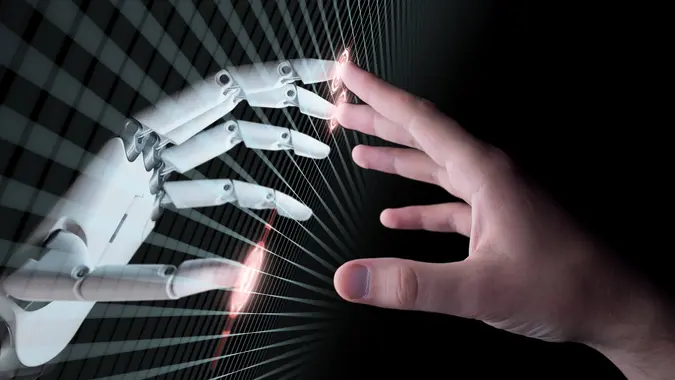 ©Shutterstock.com
Leading computer chip developer Intel has partnered with Amazon Web Services (AWS), the e-commerce giant's cloud computing division, to provide hardware for artificial intelligence training, according to a release issued by Intel.
Buy Today: 16 Tech Stocks You Need To Buy Now (Spoiler Alert: None of Them Are Apple)
Those interested in tech sector stocks will want to keep an eye on the personal computer processing pioneer, Intel (Nasdaq:INTC), which closed up 0.69% on Wednesday evening. Not exactly record gains, but potentially a good long-term investment thanks to its advancements in AI training through Habana. Intel acquired Habana in 2019, and the Gaudi accelerators have positioned Intel to compete with AI learning technology developed by competitor Nvidia (Nasdaq:NVDA).
Watch Out: 13 Types of Technology That Could Take Your Job
In an announcement at AWS: re:Invent 2020, AWS said it will deploy eight Habana Gaudi accelerators in its Elastic Compute Cloud (EC2) virtual servers. The technology will deliver up to 40% better price performance than current graphics processing unit-based EC2 instances.
Learn More: Here's How Much Amazon Has Invested in Acquiring Other Companies
The Gaudi accelerators' capabilities when it comes to managing machine learning workloads could bring unprecedented advances in artificial intelligence. Yes, AI training could get even better, meaning smarter machines and more relevant results in applications using AI tech. The implications could extend across online shopping, human resource management, research, healthcare, and countless other industries.
Look Back: If You Invested $5,000 in These Stocks During the Crash in March, You'd Be Rich
"Cloud providers today are broadly using the built-in AI performance of our Intel® Xeon® processors to tackle AI inference workloads," said Remi El-Ouazzane, chief strategy officer of Intel's Data Platforms Group. "With Habana, we can now also help them reduce the cost of training AI models at scale, providing a compelling, competitive alternative in this high-growth market opportunity."
More From GOBankingRates