Blink Charging Stock (BLNK): Is It a Good Buy Right Now?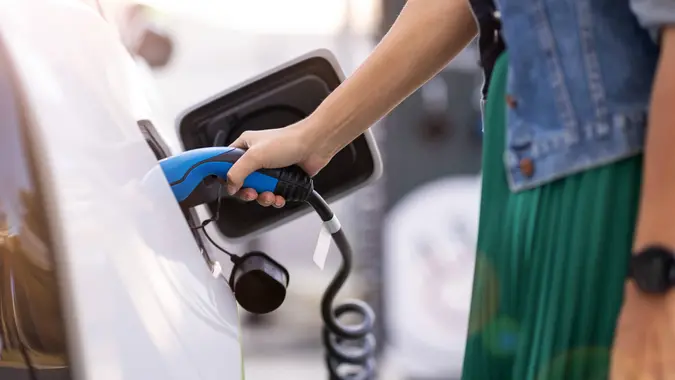 PIKSEL / Getty Images/iStockphoto
Ever since the focus has shifted to energy-efficient and eco-friendly vehicles, the demand for electric cars has increased dramatically. Since 2018, electric car sales have shot up by 40%, comprising more than 2.5% of all car sales.
Whether it's the EV pioneer Tesla or renowned manufacturers like Honda, Kia or GM, everyone is jumping on the EV bandwagon and for all the right reasons.
This boom in the EV sector is an excellent opportunity for electric charging companies to enter the market. Blink Charging is one such new company.
What Is Blink Charging?
Blink Charging provides charging solutions for electric vehicles. It manufactures, owns and operates charging stations across the U.S. It's an idea worth billions because electric vehicles come with a unique problem. Since they run entirely on electric fuel, the lack of fuel stations limits your car's range. If your car, when fully charged, can only make it a few hundred miles, any cross-country excursions must be plotted around the locations of charging stations.
Blink Charging proposes to make charging stations just as ubiquitous as gas stations, solving the problem entirely. Given that Tesla and other EV companies are critical to the future of the automobile industry, Blink Charging is a fertile investment opportunity.
How Much Is It Worth?
In the current month, Blink Charging stock levels have been relatively stable. The company hit its peak for the month on August 10th, exceeding $36, while it's hovering around $32 as of August 25.
The company's market capitalization is more than $1.3 billion, generating nearly $6.23 million in revenue annually.
Is It Safe?
Blink stock values have generally remained stable. However, the recent dip of 16.1% in Blink Charging stock levels in July may have caused concerns for the potential buyer.
As Blink Charging gained some contracts, experts suggested that the rise of stock levels may be just around the corner. It's also a sign that Blink Charging infrastructure may be set for an upgrade.
How good are the prospects for Blink moving forward? Well, in the words of Pinxter Analytics: "My best long-term investment to date, by far, is Blink Charging (BLNK), which I initiated coverage for on Seeking Alpha PRO back in March of 2019, arguing that the company will enjoy explosive growth for years to come on the back of the fight for electric-vehicle dominance by major automobile companies."
How and Where To Buy BLNK Stocks?
You can purchase BLNK stocks from any online brokerage account. The popular online brokerage sites that access the U.S. stock market include WeBull, TD Ameritrade, Robinhood, Fidelity and others.
Is It a Good Investment?
As far as the current market is concerned, experts suggest that BLNK stocks are a "buy." The majority of experts from Wall Street believe that Blink stock is a strong investment.
In the past year, Blink Charging stock accumulated buy, hold and sell ratings from three Wall Street analysts. Presently, this stock has one hold and two buy ratings, making the consensus rating "buy."
Advice

Market experts suggest that Blink Charging is a good buying option right now. It has already had a few good years and is likely to continue growing in the future. If you're looking for a strong stock investment, you've found it in BLNK.
Our in-house research team and on-site financial experts work together to create content that's accurate, impartial, and up to date. We fact-check every single statistic, quote and fact using trusted primary resources to make sure the information we provide is correct. You can learn more about GOBankingRates' processes and standards in our editorial policy.