Bumble Stock: Is It a Good Buy Now as Dating Apps Take Off for Post-Pandemic Singles?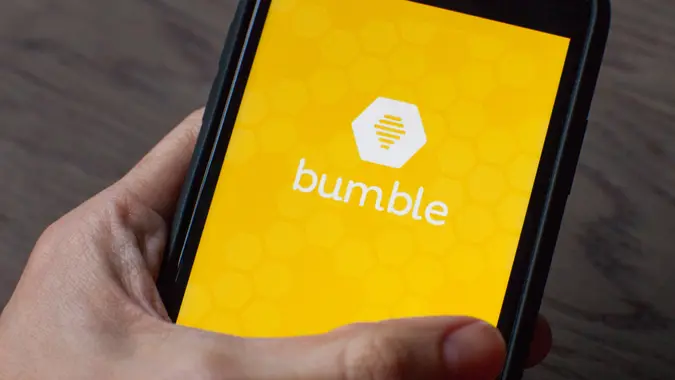 Boumen Japet / Shutterstock.com
Bumble made its initial public offering in February 2021 — nearly a year into the coronavirus pandemic. Since then, as the collective vaccination rate has risen and people are heading out of their homes, dating is top-of-mind for many.
Now, as romance evolves in the post-pandemic era, investors are wondering whether Bumble's stock price will benefit from the projected return to dating.
The Changing Landscape of Dating After a Pandemic
What will dating look like post-pandemic? Many feel that it may be a moving target for a while. To be sure, the team at Bumble turned to experts in the field for insight. Here's what emerged during that conversation as well as a look at Bumble's predictions on dating.
In-App Calls and Video
Like it or not, the coronavirus got Americans accustomed to being on video. Odds are that's likely to continue across aspects of day-to-day existence, including dating. That's good news for Bumble, which debuted in-app calling and video chats before the pandemic.
Honesty and Transparency
Another aspect of pandemic life is that people arrived at a new level of awareness about each other. They introduced themselves to one another via video. The world was given a glimpse into the homes and everyday lives of celebrities and public figures.
Hiding the toughest of days became more difficult as parents were forced to juggle work and life. The sentiments people from all walks of life faced — heightened anxiety, frustration, loneliness, depression — took their toll. Perhaps it's no surprise that increased candor is one of the predictions for post-pandemic dating.
Dating With Intention
According to data Bumble collected on its platform and reported on its blog, daters are testing "not only the kinds of people who they want to spend time with, but also the kinds of relationships they're interested in." And with time spent in insolation having made daters more comfortable with being on their own, 54% of users said they're more mindful about how and when they date.
Less Traditional Dates
Pandemic life showed singles how to have a social life without heading to a restaurant or bar. People were outside more, enjoying walks, hikes and picnics. Expect that trend to find its way into dating life, as 25% of of Americans say they drink less now than before the pandemic, Bumble noted, and 34% of Bumble users say they're more likely to go on a "dry" date now than they were pre-COVID.
How Is Bumble Positioned for Dating Post-Pandemic?
Bumble had become an industry leader by the time the pandemic hit. Despite the new social limitations, Bumble, which has been fostering social connections since its launch in 2014, continued undertaking new initiatives. During the coronavirus pandemic, Bumble grew its user base, rolled out a new feature, began executing on a physical presence and took a notable step toward employee culture and retention. These efforts are likely to add value for both the company and its shareholders.
Nearly 3 Million Paying Users
In 2021's third quarter, Bumble reported that it had 2.866 million total paying users across its dating apps — a 19.5% year-over-year increase but a 2% decline from the second quarter. However, average revenue per paying increased 18.5% compared to 2020, resulting in an overall increase in revenue.
In-Home Date Night Options
Earlier this year, Bumble rolled out a new feature called Night In for users in the U.S. and Canada. With Night In, users can play a game, such as trivia. Night In is an add-on to Bumble's video date feature, which made its debut in 2019.
Bumble reported in July that its voice and video calling capabilities had been utilized 70% more since the pandemic began — a key indication that Bumble had a handle on key functionality and had taken steps to position itself for growth by the time the COVID-19 pandemic struck.
An Eye on Company Culture
Bumble recently gave its employees a week off as a way to help ward against the burnout that many have been experiencing lately — a sign that the company has an eye on its work culture.
A Brick-and-Mortar Prese
nce Launched
Until recently, Bumble only had Bumble Hive pop-up spaces to help foster real-life connections. But in late October, the company opened Bumble Brew, an all-day cafe and wine bar billed as a woman-friendly safe space, in New York City. Lunch and dinner service are scheduled to begin in November. The restaurant will host events beginning next year. 
Good To Know

Although Bumble is best-known as a dating app, it offers more than the opportunity to pursue romance. Bumble BFF is "a simplified way to create meaningful friendships," per its website. Bumble Bizz is the career networking version, allowing professionals to connect, share and learn from each other.
Should You Buy, Sell or Hold Bumble Stock?
As of Nov. 17, 2021, Bumble's stock price is $38.23 per share and down 45.63% since the beginning of the year. However, according to Yahoo Finance, a poll of 14 investment analysts indicated a consensus score of 2.3 on a scale of 1 to 5, with 1 being a "strong buy" and 5 being a "sell." Three analysts rated the stock a "strong buy," four rated it a "buy" and seven rated it a "hold." The average analyst price target is $59 in a range of $45 to $75, suggesting that analysts see growth potential over the coming year.
Overall, Bumble seems to be managing its business effectively and pursuing expansion to serve its users in real life, outside of the app. That expansion, combined with the anticipated return of dating life post-pandemic, may give interested investors the nerve to take Bumble's stock for a spin.
A Growing Company of Ideals, Mapped to a Busy Future
One distinguishing characteristic about Bumble is the future that its founder has long had in mind. Whitney Wolfe Herd, the company's CEO, grew up entranced by Walt Disney — not because she dealt in princesses and fairy tales, but because of her ability to build a world that transports the consumer into a distinct vision.
Wolfe Herd seems to care about the environment she creates, as evidenced by the more than 880,000 guideline violations that Bumble reported in 2020. Artificial intelligence software is always working to clean up the app, scanning for potential ethics violations and attempting to stop them before they happen.
Wolfe Herd has set out to embody the change she wants to see — in the dating world, business world and real world. Investors eager to back her efforts could be in for an interesting, fulfilling ride.
Daria Uhlig contributed to the reporting for this article.
Information is accurate as of Nov. 18, 2021.
Our in-house research team and on-site financial experts work together to create content that's accurate, impartial, and up to date. We fact-check every single statistic, quote and fact using trusted primary resources to make sure the information we provide is correct. You can learn more about GOBankingRates' processes and standards in our editorial policy.