6 Best ChatGPT Stocks for 2023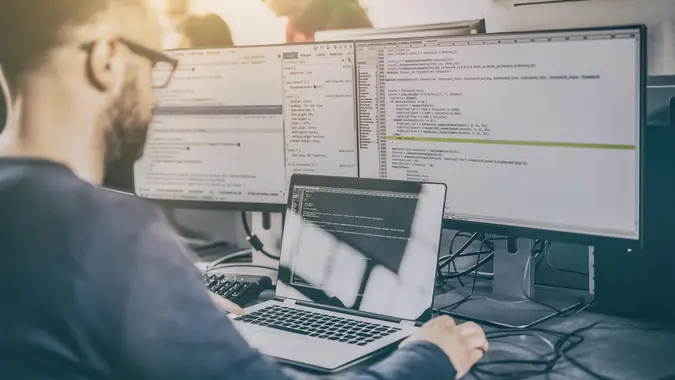 scyther5 / Getty Images/iStockphoto
ChatGPT from OpenAI is all over the news — there are stories about how this is the latest innovation that will change how we live and work. But what is ChatGPT and, more importantly, how can investors capitalize on this disruptive opportunity?
Here's what you need to know about this technology and the best ChatGPT stocks for 2023.  
How Can I Buy Shares of ChatGPT?
OpenAI is not a publicly traded company, so you cannot buy shares of it or ChatGPT. It is private, but it is funded by some public tech giants. So, while you cannot invest in OpenAI directly, you can invest in some of the companies that have invested in it and will therefore reap the benefits of this technology once it is monetized.
Here are some of the top stocks poised to benefit from AI.
| Company | Ticker | Price |
| --- | --- | --- |
| Microsoft Corporation | MSFT | $289.39 |
| Alphabet, Inc. | GOOG | $106.95 |
| Nvidia Corporation | NVDA | $275.79 |
| Amazon.com, Inc. | AMZN | $102.17 |
| International Business Machines Corporation | IBM | $131.03 |
| C3.ai, Inc. | AI | $23.07 |
Prices are accurate as of market closing on April 10, 2023.
1. Microsoft
Microsoft (NASDAQ:MSFT) is a big investor in OpenAI, having invested as early as 2019 and as recently as January 2023. Microsoft recently announced its own AI-powered search engine and browser, which hopes to take market share from Google and Chrome.
As an investment, Microsoft no longer has the millionaire-making power it had in its early days, since it has just gotten too big and mainstream for that. On the other hand, the technology juggernaut is also far less risky these days, making it a solid choice for buy-and-hold investors.
2. Alphabet
Alphabet (NASDAQ:GOOG) has introduced its own AI-powered chatbot, called Bard. By piggybacking on its ubiquitous search engine, Google is poised to capitalize on the AI business almost by default.
3. Nvidia
Artificial intelligence and machine learning require huge amounts of processing power. Nvidia Corp. (NASDAQ:NVDA) develops and manufactures high-end chips that can power these applications and the supercomputers needed to run them.
As it has done in the not-so-distant past with cloud computing, gaming and data centers, Nvidia should also benefit from other technology disruptions, like the metaverse.
4. Amazon
E-commerce juggernaut Amazon (NASDAQ:AMZN) has been using AI in its operations for some time. Alexa has been serving up human-like responses to questions — "Alexa, tell me a joke" — for nearly ten years, and it's easy to see how Amazon's algorithm "learns" your preferences when you search.
And the company uses AI in its own operations, from warehouses to customer service.
5. IBM
While IBM (NYSE:IBM) may no longer be the first company that comes to mind when thinking of technology disruptors, IBM has been developing AI applications for years. Watson, the first AI supercomputer, famously beat Ken Jennings, the all-time Jeopardy! champion, in 2011, but even before that, IBM's Deep Blue defeated world chess champion Garry Kasparov.
And IBM has not been resting on its laurels since then, so watch for the company to continue to innovate in AI.
6. C3.ai, Inc.
C3.ai (NYSE:AI) develops AI applications for large enterprises, like the U.S. Department of Defense, with which it recently made a five-year deal worth $500 million.
Primarily focusing on custom AI applications for manufacturing, healthcare, finance, life sciences and other industries, C3.ai is young and not yet profitable, which makes it a stock to consider for those investors who are not risk averse.
What Is ChatGPT?
ChatGPT is an artificial intelligence-driven chatbot that answers questions and responds to prompts based on available information. What differentiates ChatGPT from search engines like Google is its ability to learn and respond to queries using natural language.
You can enter a query into ChatGPT as you would into Google, but instead of getting a list of websites to explore, you'll get a more detailed answer. You can also refine your search, and ChatGPT will provide you with additional information.
How It Works
Here's an example. When asked, "What are the three biggest AI companies?" ChatGPT replied with Alphabet, Inc., Microsoft and IBM and indicated that they are the largest by market capitalization. When asked to regenerate the same search, the results were Google, Microsoft and Amazon, with a notation that these are "some of the biggest and most well-known AI companies."
Further refining the search by asking, "What are the three biggest AI companies by annual revenue?" produces a similar result. In this case, the answer is Alphabet, Inc., Microsoft and IBM.
Reflecting the fact that there are limits to what AI can do, when asked, "What are the three best AI stocks to invest in?" ChatGPT responded, "As an AI language model, I cannot provide financial or investment advice, nor can I recommend specific stocks." It then went on to provide an explanation of the volatility of the stock market and a suggestion to consult with a financial advisor before making investment decisions.
AI Apps
Note that ChatGPT is one of many generative AI apps that perform similarly. ChatGPT is a product of OpenAI, and the name has become synonymous with AI chatbots in the same way that "Google" has become synonymous with "search," and "Kleenex" has become synonymous with "facial tissue."
Is AI Trading Profitable?
As with any disruptive technology, those who get in on the ground floor can often profit handsomely if the idea takes off as expected. There is risk, however, with any unproven concept, so be sure to do your due diligence.
Final Take
Artificial intelligence and machine learning are some of the hottest developments in technology right now, making them ripe for investors hoping to make a big profit quickly. While there is certainly money to be made, be sure to understand what you're buying and do your homework.
Information is accurate as of April 10, 2023.
Our in-house research team and on-site financial experts work together to create content that's accurate, impartial, and up to date. We fact-check every single statistic, quote and fact using trusted primary resources to make sure the information we provide is correct. You can learn more about GOBankingRates' processes and standards in our editorial policy.