Companies That Had Their IPOs in 2014: How Are They Doing Now?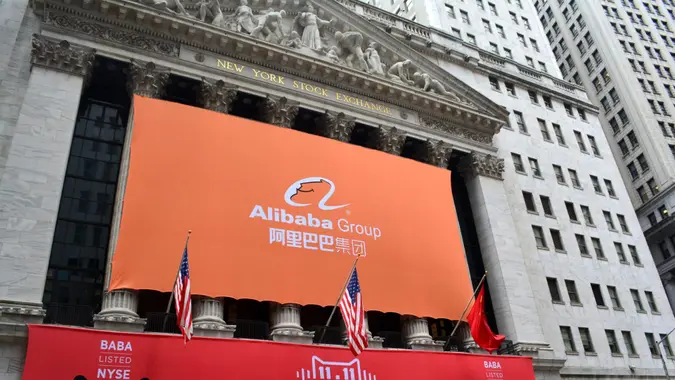 vivalapenler / Getty Images
In 2014, the year's initial public offerings brought a wealth of household names to the stock market, including Zendesk, TrueCar, GoPro, Grubhub and Synchrony Financial. The largest IPO in U.S. history, Alibaba, was also offered in 2014.
Looking To Diversify in a Bear Market? Consider These 6 Alternative Investments
How are these companies doing today? Would you be a millionaire if you invested in these companies nearly a decade ago? Here's what you need to know.
What Companies Went Public in 2014? 
Here's a look at some of the IPOs that took place in 2014 and how they are performing today.
Alibaba (BABA)
IPO Date: Sept. 19, 2014
IPO Price: $68
Stock Price as of Sept. 26: $78.91
Return Since IPO: +16%
Alibaba is an online marketplace often described as China's answer to Amazon. With its popularity in the U.S. and its expansion strategy through planned acquisitions of U.S. companies, it made sense for the e-commerce site to go public on the New York Stock Exchange.
Like many e-commerce sites, Alibaba stock peaked during the height of the pandemic, trading for more than $300 per share. As of Sept. 26, it's barely above its IPO price, after skirting difficulties this year with the U.S. Securities and Exchange Commission and risking delisting on the NYSE.
However, the company's track record for growth makes it a promising investment, and Zacks is calling it a value stock with a hold rating for right now, whether you got in during the IPO or sometime after that.
Grubhub (GRUB)
IPO Date: April 4, 2014
IPO Price: $26
Stock Price as of Sept. 26: N/A
Return Since IPO: N/A
Grubhub went public with much anticipation in April 2014, after a decade as a leading online food delivery service. Following the growth of food delivery services during the pandemic, the company remains within the top names, trailing DoorDash as an industry leader. In 2021, DoorDash held 53% of the food delivery business, while Grubhub held 21%, according to Gridwise. However, Just Eat Takeaway.com, Grubhub's parent company, delisted from the Nasdaq stock exchange in early 2022 to reduce costs and alleviate some of the burden on management.
Virgin America (VA)
IPO Date: Nov. 13, 2014
IPO Price: $23
Stock Price as of Sept. 26: N/A
Return Since IPO: N/A
Virgin America Inc., the budget airline partly owned by billionaire Richard Branson, went public on the Nasdaq exchange at $23 per share in 2014. The stock went for just below the maximum expected range, and 13.1 million shares were sold to outside investors. Branson continued to hold a 24.8% stake in the company after the IPO, while hedge fund Cyrus Capital Partners held 32.8%, Reuters reported at the time.
In 2016, Virgin America was purchased by Alaska Air Group for $2.6 billion. Alaska Air Group paid Virgin America shareholders $57 per share in cash, more than double the IPO price.
GoPro (GPRO)
IPO Date: June 25, 2014
IPO Price: $24
Stock Price as of Sept. 26: $4.99
Return Since IPO: -79%
GoPro Inc., a manufacturer of state-of-the-art wearable sports cameras for athletes and weekend adventurers, went public at $24 per share in the summer of 2014. Sadly, the stock has been going downhill faster than a skier on black double diamond slopes since then. However, the company's products have found a niche that seems to give it a promising future, and price points for new models could open new markets for the manufacturer. GoPro's new subscription-based model that gives customers product discounts, livestreaming capabilities and unlimited cloud storage has some Wall Street investors bullish on GoPro.
LendingClub (LC)
IPO Date: Dec. 10, 2014
IPO Price: $15
Stock Price as of Sept. 26: $11.12
Return Since IPO: -26%
LendingClub, an online marketplace that connects borrowers with investors, went public at the end of 2014 with an IPO of $15 per share and skyrocketed up to more than $120 within a week after the IPO on the NYSE. LendingClub made more than $1 billion in gross proceeds.
Although LendingClub is now down below its IPO, investors are giving it a buy rating. If you invested back in 2014, you may want to hang tight for brighter days ahead. Analysts are giving it an average 12-month target price of $37.40, according to MarketBeat.
Coupons.com, Now Quotient Technology (QUOT)
IPO Date: March 7, 2014
IPO Price: $16
Stock Price as of Sept. 26: $2.12
Return Since IPO: -87%
Coupons.com had a strong start, climbing from $16 to $30 on its first day of trading on March 7, 2014. The website allows consumers to print digital coupons found on the site or show coupons on their mobile devices to claim savings. A state-of-the-art concept at the time that merged online savings with brick-and-mortar shopping, investors loved the concept for its high growth potential.
Coupons.com Inc. changed its name and ticker symbol in 2015. Quotient Technology, trading on the NYSE under the symbol QUOT, is not faring as well as some of the tech names on this list and is trading at just over $2. Even at that, it's not rated a "buy," according to MarketBeat.
TrueCar (TRUE)
IPO Date: May 16, 2014
IPO Price: $9
Stock Price as of Sept. 26: $1.61 
Return Since IPO: -82%
TrueCar, originally founded in February 2005, is an online automotive marketplace that connects consumers with certified dealers across the U.S. offering new and used vehicles. The marketplace is partnered with auto-buying programs for retailers and lenders that include Sam's Club, American Express and Navy Federal Credit Union. The IPO of just $9 raised just $70 million, which was less than the company had expected. After reaching an all-time high above $25 in September 2014, the stock is now near its 52-week low of $1.51.
Zendesk (ZEN)
IPO Date: May 15, 2014
IPO Price: $9
Stock Price as of Sept. 26: $75.70
Return Since IPO: +741%
Zendesk is a software-as-a-service company for enterprise-level customers who need cloud-based help desk management, customer service, customer relationship management solutions and more. If you invested in Zendesk back in 2014 and held the stock, you could be sitting on a nice nest egg right now.
Zendesk stock rose from $9 to $15.25 just days after its IPO and, as a general trend, continued to climb. Worth more than $75 per share as of Sept. 26, Zendesk has shown steady growth but is currently on a slight decline along with the rest of the S&P 500. Investors are giving it a "hold" rating right now, according to CNN Business.
Synchrony Financial (SYF)
IPO Date: July 31, 2014
IPO Price: $23
Stock Price as of Sept. 26: $28.21
Return Since IPO: +23%
Synchrony Financial is among the largest private-label credit card providers in the U.S. The company went public on the NYSE in 2014 for $23 per share.
Early investors would have seen gains if they held for the long haul, with the company reaching its all-time high of over $52 per share in 2021. The stock is currently suffering and has fallen to just under $30 as of Sept. 26, reflecting the general bear market. However, analysts are bullish about the stock, giving it an average 12-month target price of close to $40, according to Yahoo Finance. Consumers' increased reliance on credit amid inflation, coupled with rising interest rates, bode well for the credit card company.
Ultragenyx (RARE)
IPO Date: Jan. 30, 2014
IPO Price: $21
Stock Price as of Sept. 26: $39.96
Return Since IPO: +90%
Ultragenyx's IPO launched on January 30, 2014, at $21 per share. By July 2015, the stock had skyrocketed to over $130. The biopharmaceutical company's focus on groundbreaking treatments for people with rare and ultra-rare diseases has given it a unique and important niche in medicine. The stock is trading under $40, very close to its 52-week low. Analysts are calling this high-growth stock a "buy," according to MarketBeat. And if you were savvy enough to buy during the IPO, you still have a solid investment, considering the company's long-term potential and importance in gene therapy.
Takeaway
Did you invest in any of these or other companies that had their IPO in 2014? Did you cash out when stock prices were high or are you holding for future gains?
More and more online brokerages today are allowing retail investors to get in on exciting IPOs. Investing in IPOs can be a way to invest in promising companies for a low cost, but as this list demonstrates, there is also substantial risk involved. Some companies may become household names or be purchased by larger companies, but others could lose nearly all their value or even become delisted from the stock exchange.
Data is accurate as of Sept. 26, 2022, and is subject to change. Returns since IPOs are rounded to the nearest whole number.
Our in-house research team and on-site financial experts work together to create content that's accurate, impartial, and up to date. We fact-check every single statistic, quote and fact using trusted primary resources to make sure the information we provide is correct. You can learn more about GOBankingRates' processes and standards in our editorial policy.