10 Fastest-Growing Industries To Invest in This Year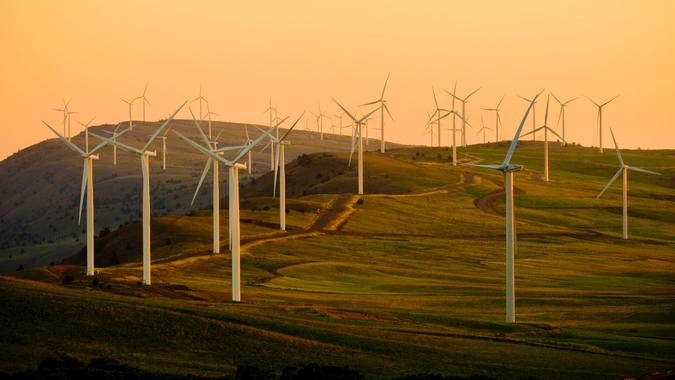 American Public Power Association / Unsplash
The stock market can be an unpredictable place, but one investment maxim remains consistent: Stock prices follow earnings. As company earnings grow, stock prices tend to follow. Up-and-coming stocks that can post rapid earnings growth are typically rewarded with rising price-to-earnings multiples, which can fuel additional stock gains. Investors who can identify the fastest-growing industries can often unearth the best stocks to buy now before they make a major move upwards. Here's a look at the 10 fastest-growing industries in 2019, according to global research firm IBISWorld, that you can consider as part of your investment strategy:
10. Savings Banks and Thrifts
Savings banks and thrifts have benefited from recent deregulation and the increase in demand for residential mortgages, thanks at least in part to persistently low mortgage interest rates. Anticipated earnings growth in 2019 makes savings banks and thrifts one of the best industries to invest in. Highly rated regional banks in this industry include Century Bancorp and First Financial Bancorp.
9. Remediation and Environmental Cleanup Services
Industry revenue for remediation and environmental cleanup services fell dramatically in 2018, as a result of a trimmed Environmental Protection Agency budget. But the industry is expected to grow by about the same amount in 2019, as the improving economy drives growth in construction and manufacturing — two industries that require extensive environmental cleanup services. Leading companies in this industry include Jacobs Engineering Group and McDermott International.
8. E-Commerce and Online Auctions
E-commerce has been booming for years, and there's no sign of that trend slowing down. Led by industry titan Amazon, the e-commerce and online auctions industry is expected to grow overall by over 10%. Amazon itself is projected by analysts to grow at an annual clip of over 33% for the next five years.
7. Natural Gas Distribution
Natural gas distribution is a commodity play that has a highly irregular pattern of growth. Natural gas stocks were a bad investment in 2016 and 2017, when revenues declined sharply, but the industry bounced back in 2018 and is expected to post growth of over 10% in 2019. ExxonMobil is by far the largest natural gas company in the U.S.
6. Solar Panel Manufacturing
As America looks to expand its sources of alternative energy, the solar panel manufacturing industry has benefited. But from 2014 to 2016, the industry faced headwinds in the form of overseas competition that drove down prices and hurt profits. This was followed by rising prices that hurt domestic demand. Nevertheless, revenue is projected to grow by more than 10% in 2019, which should benefit companies like industry leader First Solar.
5. Oil Drilling and Gas Extraction
Another commodity play with wildly variable revenue, the oil drilling and gas extraction industry is coming off a few rough years, with declining oil and natural gas prices resulting in negative revenue growth through 2018. Industry prices are expected to rise through 2023, with industry revenue projected to rise by nearly 15% in 2019 alone. The largest industry players set to benefit include BP PLC, Chevron, ExxonMobil and ConocoPhillips Company.
4. Wind Turbine Manufacturing
The wind turbine manufacturing industry is almost entirely dependent on the whims of state and federal renewable energy policies. Revenue is expected to jump by 17.6% in 2019, but the industry is still young and has many question marks surrounding it, including the possible reduction of subsidies and the rise of competition from other alternative energy sources. Companies with the largest market share in the industry include General Electric, Vestas Wind Systems A/S and Siemens Gamesa Renewable Energy.
3. Internet Publishing and Broadcasting
Internet publishing and broadcasting is expected to show revenue growth of 13% for 2019, on top of annual growth of 13.6% over the prior five years. As the number of online users grows, along with the time they spend online and the increase in mobile connections, the industry should continue to post impressive growth figures. Leading companies in the industry are among the most well-known in America, including Facebook, Apple, Alphabet and Netflix.
2. Solar Power
While its sister industry — solar panel manufacturing — faces variable headwinds, the solar power generation industry has seen clear skies, with nearly 50% in annual revenue growth over the 2013-2018 period. Favorable government incentives and requirements for local utilities to derive a percentage of their energy from alternative sources like solar have contributed to industry growth, as has the reduction of equipment costs. Investors might look to companies such as SunRun, the No. 1 residential solar company in the U.S., to get their solar power investment fix.
1. Tank and Armored Vehicle Manufacturing
The Tank and Armored Vehicle Manufacturing industry is notoriously volatile, as demand for the industry's products is a result of geopolitical factors that can change rapidly. After a drawdown in the overall U.S. defense budget as wars in the Middle East unwound, the industry is experiencing a resurgence thanks to increased military spending and the rise of potential global conflict. General Dynamics Corporation, Oshkosh Corporation and BAE Systems PLC are the largest players in the industry.
What You Should Know Before Investing in These Industries
Just because an industry is expected to show revenue growth does not make it a smart investment. Similarly, just because a company operates in a growing industry doesn't mean its stock is a "buy." For example, General Electric is an industry leader in the rapidly growing wind turbine manufacturing industry, but the stock was a disaster in 2018, dropping by over 55%. In addition to unearthing growing industries, it's important to dive into the financials of individual companies to see how they are performing. Another caveat is to be wary of high growth in cyclical or commodity-based industries, such as oil and gas, as revenue and earnings can fluctuate wildly from year to year. For many investors, it's best to stick to industries and stocks with more consistent long-term growth.
John Csiszar worked for 19 years as a financial advisor both with a major wirehouse and at his own registered investment advisory firm. Along the way, he earned his Series 7, 63, and 65 licenses, in addition to a California Insurance License and a Certified Financial Planner designation.