6 Months Into Mass COVID-19 Vaccinations, Here's How Pfizer and Moderna Are Faring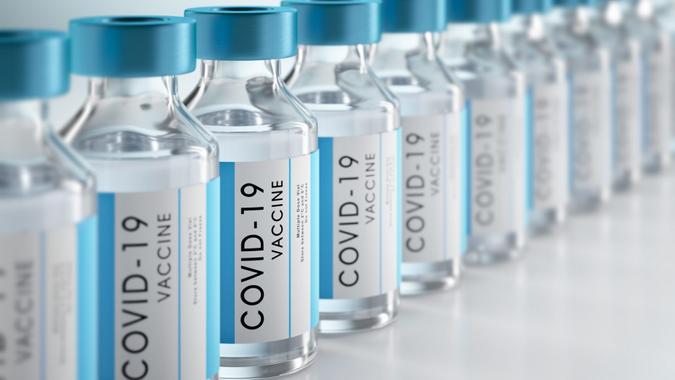 peterschreiber.media / Getty Images/iStockphoto
Pfizer and Moderna were the first two companies to get emergency approval for COVID-19 vaccinations, which they began distributing in earnest at the beginning of 2021. Although the shots were free of charge to any eligible Americans, the companies themselves were paid by the federal government. Since the U.S. population is around 332 million and the vaccination process requires two shots, it would seem like these companies reaped a financial windfall from their vaccines. Here's a look at how much money Pfizer and Moderna have earned from the vaccines, along with their stock price performance.
Follow Along: 31 Days of Living Richer
Read: 5 Fascinating Facts About Pfizer
Pfizer
Stock price as of June 30: $39.16
In May 2021, pharmaceutical giant Pfizer predicted that it would earn $26 billion from its COVID-19 vaccine, or about one-third of its total revenue. Some Wall Street analysts are even more bullish, however. Morgan Stanley analysts believe Pfizer will see $33 billion in 2021 and $32 billion in 2022, while Barclays analyst Carter Gould sees even higher revenues of $38 billion this year. Revenue is likely to drop off after the world is mostly vaccinated, which is predicted to happen by the end of 2022 or into 2023. Booster shots remain a possibility, which could continue COVID-19 revenue for the company even further into the future.
Make Your Money Work Better for You
Read: 14 Employers That Require Vaccines — Plus More with Perks for Workers Who Get Their Shots
Pfizer's stock price, however, has not been as spectacular as some might have expected on the back of such huge revenues. Year to date, the stock is up just 6.22% as of the close of business on June 29. Over the past year, Pfizer stock has returned just 26.37%. These numbers compare with the S&P 500 YTD and one-year returns of 14.26% and 40.57%, respectively.
Find Out: What the US and 4 Other Countries Are Spending on a Vaccine Rollout
Moderna
Stock price as of June 30: $234.98
Moderna's revenue numbers pale in comparison to Pfizer, but investors who chose Moderna over Pfizer are much happier. In 2021 alone, Moderna stock has skyrocketed over 125%, while over the past year it has jumped an astonishing 279.75%. This is even though Moderna's revenue from its vaccine is far less than Pfizer's. Moderna's management expects to pull in just $19.2 billion in 2021, about the same as the $19.6 billion predicted by Barclays analyst Gina Wang.
Learn More: 5 Things You Might Not Know About Moderna
Make Your Money Work Better for You
Part of the explanation for Moderna's much larger stock price gain is that the company had never turned a quarterly profit until it began selling COVID-19 vaccines. Moderna was also the company that received funding from the U.S. government to develop a vaccine. Although both Pfizer and Moderna received about $6 billion from the U.S. government for the vaccine, only Moderna used that money for the development, testing and manufacturing of the vaccine. Pfizer's CEO explained that the company didn't want any government interference in the development of the vaccine, so that company bore the costs on its own.
Vote: Should the COVID-19 Vaccine Be Required? Take Our Poll
Future Outlook
Both Wall Street analysts and these pharmaceutical companies themselves foresee declining COVID-19 vaccine-related revenue in the years ahead. However, just like the events of 2020 were unforeseen, there's no telling exactly how much vaccine might be needed going forward. Variants may arise which require new vaccines, and booster shots may be needed as frequently as annually. However, investors looking to profit from investments in these companies due to their vaccine products have likely missed the bulk of those gains.
More From GOBankingRates
Last updated: July 6, 2021