How Pfizer and Moderna Are Faring a Year Into Mass COVID-19 Vaccinations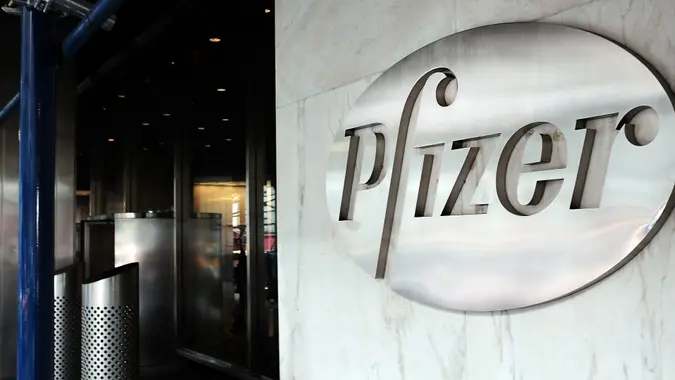 Spencer Platt / Getty Images
Pfizer and Moderna were the first two companies to get emergency approval for COVID-19 vaccinations, which they began distributing in earnest at the beginning of 2021. Although the shots were free of charge to any eligible Americans, the companies themselves were paid by the federal government. Since the U.S. population is around 332 million and the vaccination process requires two shots, plus boosters, it would seem like these companies reaped a financial windfall from their vaccines. Here's a look at how much money Pfizer and Moderna have earned from the vaccines, along with their stock price performance.
See: How Will the Omicron Coronavirus Variant Affect Gas Prices?Find Out: Vaccine Stocks: Are Pfizer, Moderna and J&J Buys Now?
Pfizer
Stock price as of Dec. 8, 2021: $51.40
In May 2021, pharmaceutical giant Pfizer predicted that it would earn $26 billion from its COVID-19 vaccine, or about one-third of its total revenue. However, ongoing vaccine distribution, the requirement of booster shots and the new Omicron variant have helped boost the company's own estimates. In November 2021, Pfizer said that it now expects $36 billion in vaccine revenue in 2021, followed by an additional $29 billion in 2022.
Make Your Money Work Better for You
The stock has picked up additional momentum throughout the year, on the back of an overall market rally and the additional forecasted revenue. Halfway through the year, the stock price was up just about 6%, but as of Dec. 8, shares were up nearly 41% YTD, easily outpacing the S&P 500's YTD return of about 25%.
Look: No Vaccines Requirements Is the New Job Perk Offered By Some Employers
Moderna
Stock price as of Dec. 8, 2021: $283.40
Moderna's revenue numbers pale in comparison to Pfizer, but investors who chose Moderna over Pfizer are much happier. In 2021 alone, Moderna stock has skyrocketed over 168%, and that's after a significant late-year selloff that took the stock down 43% from its 2021 high. Perhaps the selloff was due in part to management's projections of vaccine revenue. Whereas Pfizer's management increased vaccine revenue estimates by $10 billion over their early 2021 view, Moderna now sees vaccine revenue in the $15 to $18 billion range, down from earlier expectations of $19.2 billion. 
Still, Moderna's stock is up much more than Pfizer's in 2021. This is likely due to the overall structure of the two companies. Pfizer is a multinational pharmaceutical company with revenue from numerous drugs and product lines, meaning its vaccine revenue doesn't move the needle as much for the company. Moderna, on the other hand, was not generating revenue before it began selling vaccines, so the rise and fall of its vaccine sales plays a more direct role in the company's stock price. 
Make Your Money Work Better for You
Learn More: 5 Things You Might Not Know About Moderna
Future Outlook
Charting the course of vaccine development has been anything but predictable. Most medical and financial experts alike originally felt that a two-shot sequence of vaccine distribution would be sufficient to stem the threat, but the coronavirus has been remarkably resilient. Booster shots are now formally recommended by the CDC for everyone 18 and older, and the Omicron variant may mean additional shots are in the cards. Although the total pace of vaccine sales may slow for both Pfizer and Moderna, it seems as if the companies will continue to benefit for the foreseeable future.