How Financial Experts Are Approaching Stocks in the New Year — and What It Means for the Average Investor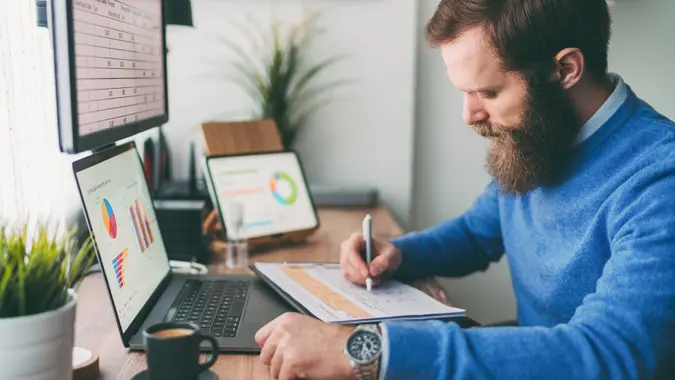 martin-dm / iStock.com
The year 2022 was a bad one for the stock market. The S&P 500 fell 19.2% — the worst it's done since plummeting 38.4% during the global financial crisis in 2008 — and the Dow Jones Industrial Average closed the year down 8.5% as the Nasdaq dropped 33%. However, many investors are optimistic for 2023.
According to a new CNBC Delivering Alpha investor survey, 4 out of 10 investors think that the S&P 500 will increase 6% to 10% next year. Close to 2 in 10 expect gains between 11% and 19%, while 6% are anticipating stocks to leap by more than 20%, eradicating S&P 500's losses for 2022.
The average investor might want to take cue not only from their optimism, but also from what stocks they're specifically optimistic about. Forty-one percent of those polled said they'll be concentrating on energy stocks. Respondents were split between high dividend stocks, financial names and healthcare companies. They're also eager to court some very famous companies via their stocks, including Amazon (37%), Alphabet (37%), Tesla (17%), Netflix (6%) and Meta (3%).
Though this particular survey shows spirits are up in the land of the Dow, another recent poll is less promising. According to the CNBC Millionaire Survey, which consulted investors with $1 million or more in investable assets, 56% of millionaire investors think that the S&P 500 will decline by 10% in 2023, and nearly a third expect slippage of more than 15%. This group is presumably approaching the market with more caution than gusto.
Average investors should head into the new year with a balanced, grounded perspective and keep in mind a couple of key points. First, we most likely are headed toward a recession. They happen more often than you might think, and that won't make for smooth sailing. Second, the stock market, though potentially terrifying when topsy-turvy, is ultimately resilient and always, eventually, bounces back.
More From GOBankingRates