10 Hot Penny Stocks for 2023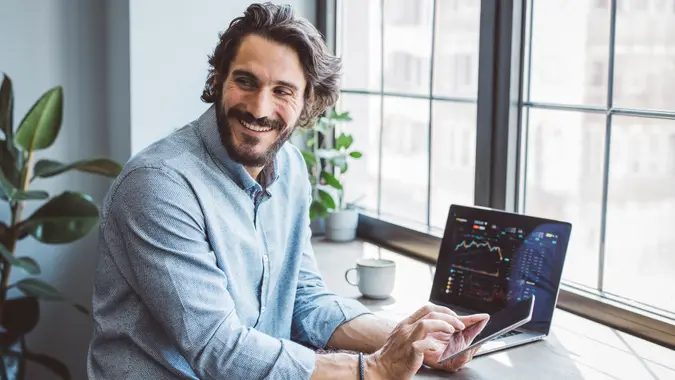 svetikd / iStock.com
If you're looking to take on some added risk in the hopes of outsized gains, you might be searching for a few hot penny stocks to add to your portfolio. Although they're uncertain bets even by the standards of stock investing, pink sheet companies have the potential for growth that your index ETF just can't match.
So, what are the hottest penny stocks? Keep reading to find out.
What Are the Hottest Penny Stocks Right Now?
The following companies might offer the opportunity to buy discount stocks that have plenty of room to grow:
Geron (GERN)
ARC Document Solutions (ARC)
Ubiquitech Software (UBQU)
Rover Group (ROVR)
Planet Labs (PL)
The Beachbody Company (BODY)
Canaan (CAN)
Mullen Automotive (MULN)
Vaalco Energy (EGY)
The Container Store Group (TCS)
What Are the Top 2 Penny Stocks?
The following are two of the most promising penny stocks on the market. 
1. Geron (GERN)
Stock price as of April 14: $1.97
After falling nearly 18% so far in 2023, Geron Corp. might just be the hottest steal on the market now that it's back under $2. In January, the late-stage clinical biopharmaceutical company announced positive phase three trials for a first-in-class telomerase inhibitor that aids transfusion treatments for blood cancer patients. The results could pave the way for a 2024 launch of a treatment found nowhere else.
According to Yahoo Finance, the current analyst consensus for GERN is $4.67 per share.
2. ARC Document Solutions (ARC)
Stock price as of April 14: $3.07
ARC provides digital printing, scanning and graphics solutions for leading brands. It stands out for its impressive dividend yield — any dividend is impressive with penny stocks — of 6.47%.
It can pay its shareholders such a hefty reward because of its disciplined financial operations. According to Seeking Alpha, it pioneered an innovative equipment-leasing structure that has improved cost cutting and long-term revenue.
What Is the Fastest-Growing Penny Stock?
If you're interested only in upward trends, this is the stock to beat. 
3. Ubiquitech Software (UBQU)
Stock price as of April 14: $0.000050
Ubiquitech Software Corp. is a media-based software platform that industry giant Hearst recently adopted for a line of short-form infomercials. UBQU gained an eye-popping 4,900% in the five days ending April 17.
More of the Hottest Penny Stocks for 2023
The hottest penny stocks run the gamut from electric vehicles to satellite imaging and fitness.
4. Rover Group (ROVR)
Stock price as of April 14: $4.40
Rover Group is up nearly 9% on the year — and it still might have much higher to climb. An online marketplace for freelance pet-care professionals, Rover is riding the wave of the ever-growing gig economy.
According to financial data firm Fintel, its average one-year price target is $5.71, an increase of nearly 34% over its current price.
5. Planet Labs (PL)
Stock price as of April 14: $4.26
Planet Labs is still down more than 5% on the year, but it's been steadily climbing in the right direction since its March 22 low of $3.30.
The company, which images the entire planet daily to monitor changes, is emerging as a top contender in the quickly expanding space economy. On April 5, the company reported that its president of product and business purchased $1 million in PL shares, a move that sent the stock up by 12.5% in a single afternoon. According to The Motley Fool, large insider purchases mean only one thing — people in the know have reason to think that growth is imminent.
6. The Beachbody Company (BODY)
Stock price as of April 14: $0.45
Like Planet Labs, Beachbody benefits from bulls on the inside. According to Simply Wall St, the company's co-founder bought $1.9 million of BODY stock during the last year, pushing insider ownership up to 52% of the company.
No credible advisor would recommend blindly following insider transactions, but if you like the company and its fundamentals, the health and wellness brand is selling at a deep discount. BODY is down roughly 80% from its May 31, 2022, high of $2.23.
7. Canaan (CAN)
Stock price as of April 14: $3.12
Unlike Beachbody, which is attractive because it's trading cheap due to recent losses, Canaan is red hot because of momentum in the other direction. The Chinese high-performance and specialty chip company has gained more than 60% so far in 2023.
Because of the blockchain hardware and components it produces, CAN's fortunes largely track with cryptocurrency. But according to Seeking Alpha, when crypto crashed last year, Canaan showed resilience and pivoted to cost cutting, cash-flow stabilization and research and development. Now, with crypto on the rise once more, CAN is in a solid position to benefit.
8. Mullen Automotive (MULN)
Stock price as of April 14: $0.10
On Feb. 10, the Vanguard Group filed a 13F-HR disclosure reporting a 102.8% increase in its ownership of Mullen Automotive, bringing its holdings to 45,673,616 shares, according to Fintel.
According to MarketBeat, Vanguard is just one of many heavyweights betting big on the California-based electric vehicle company, which started the year with news that was hard to ignore. In December, the company announced a $200 million order from Randy Marion Automotive Group for 6,000 Class 1 EV cargo vans.
9. Vaalco Energy (EGY)
Stock price as of April 14: $4.44
The rare penny stocks that pay dividends are diamonds in the rough — and Texas-based Vaalco Energy shines especially bright. EGY raised its quarterly cash dividend by 92% in the first quarter of 2023 to an impressive 5.63%. In 2022, it increased its year-over-year oil production by 43%.
10. The Container Store Group (TCS)
Stock price as of April 14: $3.30
Several analysts and publications have recently cited The Container Store as a hidden gem in the value market, and Seeking Alpha outlined why.
Bed Bath & Beyond's most recent brush with bankruptcy weakens and could eliminate The Container Store's only true competitor. No other chain is focused so wholly on containers and organization supplies. Amazon and Wayfair compete, but they don't have a national network of physical showrooms, and Target and Walmart don't have anywhere near the same selection. Also, The Container Store is comparatively small, so any post-BB&B bump could significantly impact its foot traffic — and stock price.
Buyer Beware
Penny stocks are appealing because they're cheap and have the potential for enormous gains — but they're also notoriously risky. 
Penny stocks are thinly traded and typically lack liquidity. Most aren't bound by the same Securities and Exchange Commission reporting requirements and therefore tend to lack transparency. They have a higher potential for fraud and are almost always more volatile than traditional stocks.
Remember, stock trading never comes with guarantees — especially penny stocks.
Data was compiled on April 17, 2023, and is subject to change.
Our in-house research team and on-site financial experts work together to create content that's accurate, impartial, and up to date. We fact-check every single statistic, quote and fact using trusted primary resources to make sure the information we provide is correct. You can learn more about GOBankingRates' processes and standards in our editorial policy.