Dollar Tree to Close Nearly 400 Stores — Is Now the Time to Invest in Dollar Tree Stock?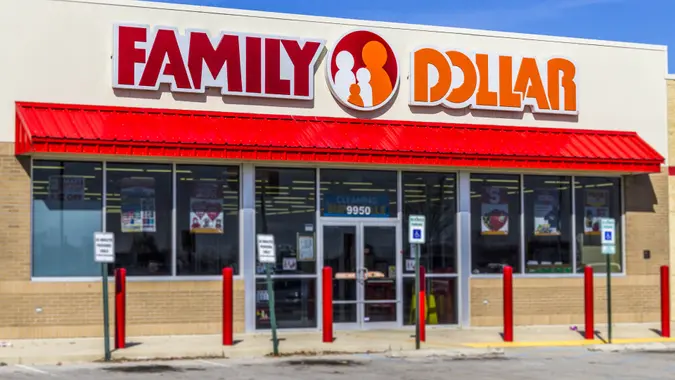 Jonathan Weiss / Shutterstock.com
Dollar Tree plans to close up to 390 stores and renovate at least 1,000 more.
Dollar Tree shares rose on March 6, following the official announcement in the company's fourth quarter 2018 report.
The U.S.-China trade war is a big cause of this restructuring.
It looks like Dollar Tree plans to trim its branches after releasing its fourth quarter 2018 fiscal report on March 6. Although its quarterly earnings beat Wall Street's expectations, the discount retail chain still has its sights set on restructuring, which includes plans to close nearly 400 Family Dollar stores.
"Improving the consistency of execution and optimizing our real estate portfolio will contribute to a meaningful improvement in our shoppers' in-store experience and store traffic," Dollar Tree CEO Gary Philbin said in the report.
Dollar Tree stock rose by over 4 percent following the news.
Read: Retailers That Have Closed the Most Stores in 2018
Dollar Tree Closures Due to Tariffs
Dollar Tree plans to close as many as 390 stores, according to the report. In addition, Dollar Tree plans renovate at least an additional 1,000 stores. Dollar Tree explicitly mentioned that the expectation that tariffs would reach 25 percent influenced its plan for 2019.
President Donald Trump's tariff war with China has affected many businesses, but Dollar Tree is particularly hurt by the increased cost of goods.
"Many of its inexpensive products can be made only in China, company executives said," USA Today reported in October 2018. "Dollar Tree imports about 42 percent of its products, while Family Dollar imports about 23 percent, according to estimates from the Telsey Advisory Group, a research and consulting firm. Most of the shipments are from China, the firm said."
Related: Trump's Tariffs and Target Are Killing Dollar Tree
Will My Dollar Tree Close?
You'll have to keep a lookout for local closures, based on the Dollar Tree website and your local outlet. But most shoppers need not worry. According to CNBC, the company operates "7,001 Dollar Tree locations and 8,236 Family Dollar stores as of Feb. 2."
Learn: 10 Ways the Dollar Store Could Actually Be Costing You More
Can This Stock Be a Dollar Tree for You, Too?
The initial reaction from markets to the news of the store closures was positive, with the stock up over 4 percent as of the afternoon. The company did beat revenue and profit estimates from analysts.
And there would appear to be a strong value case for investors considering Dollar Tree as an investment. The PE ratio of 13.45 and PS ratio of 1.03 both indicate that the stock is still trading at a decent discount to its inflowing cash, and the profit margin of 7.64 percent compares favorably to retailers like Target (4.35 percent) and Walmart (1.3 percent). Throw in a healthy 24.98 percent return on equity and Dollar Tree could present a strong case for a decent stock at a reasonable price.
That said, the stock also presents some reasons for concern that might push you toward other retailers. Dollar Tree doesn't currently have a dividend as both Target and Walmart do at an annual dividend yield of  3.52 percent and 2.17 percent, respectively. And with serious concerns swirling about the long-term viability of any brick-and-mortar retailer, individual investors will have to weigh the potential value buy against other concerns.
Read on to learn about companies that are thriving during the retail apocalypse.
More on Retail and Investing
We make money easy. Get weekly email updates, including expert advice to help you Live Richer™.
Joel Anderson contributed to the reporting for this article.