Is Apple or Disney a Better Stock?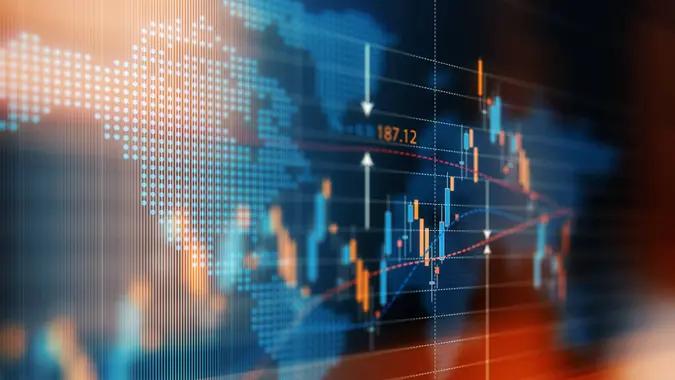 MicroStockHub / iStock.com
Apple and Disney are both huge players in the entertainment sector — and both took a hit when theaters and theme parks shut down during the COVID-19 pandemic, but now are on the rise again. 
See: 3 Things You Must Do When Your Savings Reach $50,000
The question is: when it comes to Apple vs. Disney stock, which is the smarter investment? This guide will walk you through the pros and cons of Disney and Apple stock to help you decide which is a better buy. 
Disney Overview
There's no denying that Disney had a tough couple of years after the COVID-19 pandemic. But the emergence of its streaming platform, Disney+, has helped to boost Disney's net worth.
Disney's stock peaked in early 2021 before declining again through 2022. The company invested heavily in its streaming service last year — around $30 billion. That investment, plus the growing revenue from parks and box office hits like "Avatar: The Way of Water", should lead to steady growth in Disney's value over the next year.
But the fact remains that Disney has had a volatile couple of years. Its free cash flow as of the end of 2022 was a little over $2 billion — a significant increase from the start of the year, but still much lower than Apple's.
Apple Overview
Apple stock is famously reliable. As a leader in the tech and entertainment sectors, this company has seen consistent upward growth for the past ten years. Apple's net worth at the end of 2022 was around $50.67 billion, and it's expected to continue gaining value with the increasing popularity of its streaming platform and the launch of the iPhone 15 later this year.
In terms of market capitalization, Apple is the largest company in the world. But where it really stands out from Disney is its free cash flow. At the end of 2022, Apple's free cash flow was over $30 billion.
Apple vs Disney Stock
When comparing Apple and Disney stock, there are a few factors to consider.
Decline in 2022
The stock market took a hit in 2022. S&P market capitalization declined by around $8 billion over the course of the year, the worst annual drop since 2008.
Disney's stock fell nearly 44% in 2022.
Apple's stock fell 27% in 2022.
Many different factors caused these drops in 2022, which means you shouldn't base your decision on these declines alone. However, these statistics show Apple is a little more resilient in times of economic downturn.
Price-to-Earnings Ratio
The price-to-earnings ratio is a metric used to compare stocks. Generally speaking, a lower P/E ratio means you're getting more value out of that stock.
Disney's current P/E ratio is 29.23.
Apple's current P/E ratio is 25.64.
Remember, the P/E ratio isn't the only way to value a stock. But this is one more factor that shows Apple is a slightly smarter buy than Disney in 2023.
Analyst Forecasts
When in doubt, go to the experts. Apple and Disney stock are nearly neck and neck as far as the analysts polled by Yahoo Finance are reporting — both have "buy" consensus ratings, but there is a little more nuance to it.
Apple stock is being watched by 38 analysts in March; of those, 11 give it a strong buy rating, 21 give it a buy rating and 6 say to hold the stock.
Disney stock is being watched by 30 analysts in March; 5 give it a strong buy rating, 10 give it a buy rating, 12 give it a hold rating, two say it's underperforming and one recommends selling.
Again, Disney comes out just a little behind Apple, even though they both have buy ratings.
Final Take
Here's the reality: neither of these stocks is a bad buy. Both Apple and Disney make it to GoBankingRate's list of the top 10 stocks set to soar in 2023. That said, if you can only invest in one of these companies, Apple is more reliable and currently a better value than Disney.
FAQ
Here are some quick answers to common questions about Apple and Disney stock.
Is Disney or Apple worth more?

In terms of market capitalization, Apple is worth more than Disney. Apple's market cap is $2.434 trillion as of March 6, while Disney's market cap is $183.887 billion.

What is the true value of Disney stock?

A share of Disney stock is valued at $100.66 as of market closing on March 6. This is considered a fair price by Yahoo Finance.

Is it smart to invest in Apple stock?

Apple stock is a solid investment. The company has increased in value over the past several years and continues to launch new products that keep it relevant. However, no investment is a sure thing, so make sure you do your research and invest only what you can afford to lose.

Is Disney stock a good investment?

Disney stock has a "buy" rating from analysts. Though it had a rough year in 2020, this was largely due to market changes caused by the pandemic, and its price is projected to increase over the next year.
No investment is completely safe, however, so never put more money into any stock than you can afford to lose.
Amber Barkley contributed to the reporting for this article.
Information is accurate as of March 6, 2023, and is subject to change.
Our in-house research team and on-site financial experts work together to create content that's accurate, impartial, and up to date. We fact-check every single statistic, quote and fact using trusted primary resources to make sure the information we provide is correct. You can learn more about GOBankingRates' processes and standards in our editorial policy.