Rivian Stock Price Prediction: 2023-2030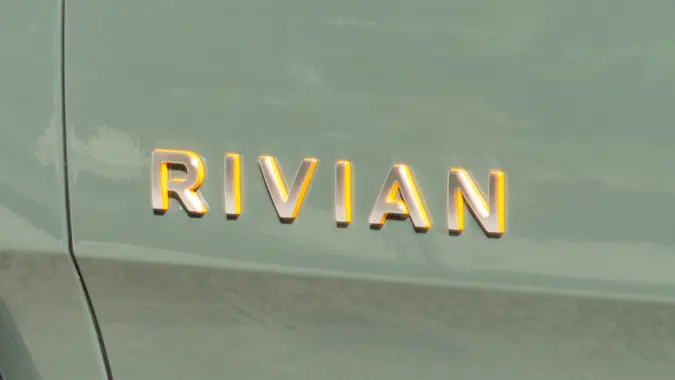 RoschetzkyIstockPhoto / iStock.com
The honor of the largest initial public offering of 2021 went to Rivian. It marked the most significant capital raise of any U.S. company since Facebook's public debut in 2012. Unfortunately, the shareholder returns haven't been as sweet. Could Rivian make a comeback, or is an investment in this stock dead money? Keep reading to learn about the Rivian stock forecast.
What Is Rivian?
Rivian is a U.S. electric vehicle manufacturer based in California that sells the R1S SUV and R1T pickup truck. It also provides fleet services for vans, all of which run on the Rivian operating system, and sells branded accessories and ancillary services.
Will Rivian Be Successful?
Rivian has developed a unique brand targeted at adventurers and environmentally conscious consumers. It's run by a mission-driven CEO, Robert Scaringe, whose overarching goal is to shift transportation to more environmentally friendly alternatives.
The company has built an ecosystem of products that could support a recurring revenue model in the future. It has a charging network and insurance services in addition to its core vehicles.
However, Rivian arguably doesn't have a meaningful competitive advantage. It currently lacks the resources to produce vehicles at scale and faces heavy competition from rivals such as Ford and Tesla.
What Is the Rivian Stock Forecast?
Analysts who predict Rivian's future price fall into two categories: those who are bullish on the stock and those who are bearish on it. Here's a look at both.
The Bull Case for Rivian
Rivian is one of the first manufacturers to deliver an all-electric pickup truck successfully. Given its first-mover advantage, it has the potential to capture a healthy chunk of the market as consumers transition to EVs. The company had 114,000 net pre-orders already lined up for R1s as of November 2022, plus an additional order of 100,000 electric vans from Amazon.
However, Rivian is a long way from fulfilling these deliveries.
The Bear Case for Rivian
Rivian continues to burn through cash at a rapid rate. Although the company is producing many more cars in 2023 than it did in 2022, it still makes far fewer vehicles than other companies in the automotive industry.
Tesla, for example, produced 479,700 vehicles in Q2 2023, while Ford sold nearly 550,000 trucks in the first half of 2023.
In spite of all the excitement surrounding Rivian, the company still has to deal with real-world economics. If inflation and supply chain issues don't allow the company to produce its product and generate revenue, it may run out of money before it can fulfill its promise.
What Is the Rivian Stock Forecast for 2023?
The 12-month price forecast for Rivian stock as of August 2023 is $28.32. That figure represents the consensus of 19 Wall Street analysts. However, the highest analyst prediction estimates Rivian stock could be as high as $44 12 months from now. The most bearish analyst has a 12-month price target of just $12 per share.
What Is the Rivian Stock Price Prediction for 2025?
The Rivian stock price prediction for 2025 is likely to remain within the same $20 to $40 range that it's been trading at throughout much of 2023. The main reason for this is that the company is unlikely to begin production on any new vehicle lines until 2025 or 2026.
This will make it difficult for Rivian to increase its market share in the highly competitive American car industry anytime soon. Although the company anticipates being profitable by 2024, that alone is unlikely to propel Rivian stock higher. The more likely result is continued ranging behavior until something fundamental changes about Rivian's value.
What Is the Rivian Stock Forecast for 2030?
Rivian has more potential for explosive growth by 2030 than it does by 2025. By then, the company should not only have a proven track record of profitability, but also a new line of more affordable vehicles for the average consumer. 
If Rivian can leverage its new vehicle line to take over a larger percentage of the car market while remaining profitable, the stock could test its IPO-era highs of around $130 per share.
However, it's also important to keep in mind that Rivian could miss its targets. If the company can't find profitability or struggles to make any progress in the crowded car industry, it could easily see new lows of under $10 per share.
How High Is Rivian Stock Expected To Go?

Analysts see Rivian stock going as high as $44 per share within the next 12 months. Looking any further into the future than that presents challenges, as the company has several major hurdles it needs to overcome before its stock price is likely to retest its IPO-era highs.
Factors That Could Impact Rivian's Stock Price
Despite analysts' increasing sophistication, forecasting stock prices is still an attempt to predict the future based on what we know today. The issue with price predictions is that the assumptions used to make them are always subject to change.
That's why it often makes more sense to consider the different factors that can influence the future price of a stock like Rivian. If you know these factors well, you can watch as they evolve and alter your stock price prediction accordingly.
With that in mind, here are four key factors that are likely to play the biggest roles in determining whether the bear or bull case for Rivian will occur by 2025 and 2030.
Macroeconomic Conditions
Whether you're a long-term bull or bear on Rivian, the truth is that it's still a speculative growth stock at this point. In other words, people buy it because they think it can become a bigger company at some point in the future — not because its earnings per share indicate it's a good value.
These types of stocks tend to perform poorly in bad macroeconomic environments. For example, when interest rates go up, cash becomes more expensive to borrow. That tends to bring caution from investors and is why the broader stock market indexes typically go down during these times.
There's a possibility this could have an impact on Rivian between now and 2025 — especially as federal interest rates remain high. But the opposite could also be true. If interest rates suddenly come down, it could be just the spark Rivian needs to break through its current $20 to $40 trading range.
Profitability
Rivian's leadership has stated that the company will be profitable at some point in 2024. That sets a clear expectation for the market. If Rivian achieves profitability, it may be just what large funds need to see to begin investing in the stock. But if the company isn't able to find profitability in 2024, its stock price could decrease significantly.
Production Challenges
Another factor to watch when evaluating the Rivian stock forecast is the company's production levels. In the past, Rivian has struggled to create its cars affordably. Some progress has been made, but backtracking is always possible. This will be especially important to watch when the company begins creating its new line of budget-friendly vehicles sometime in 2025 or 2026.
Increased EV Market Share for the Competition
Finally, consider what makes Rivian an interesting stock. It's an electric vehicle manufacturer, which analysts believe is a growing industry. But what if Rivian fails to maintain or expand its overall share of the EV market? This is a real possibility as incumbents like Ford continue investing in the space.
For Rivian stock to break out of its current trading range, analysts are going to want to see indications that Rivian is ready to take over a larger percentage of the total addressable market for electric vehicles. If those signs come, it could be what the stock needs to explode upward.
Final Take
From its previous sky-high valuation, Rivian has taken a massive hit, as have many other hyped-up stocks from 2020 and 2021. Although the company shows some promise in the long term due to the inevitability of EV adoption, there are still a lot of red flags.
With shares down nearly 83% from Rivian's initial high, even those with a high-risk tolerance should approach it cautiously — especially in the face of some difficult macroeconomic conditions. For now, there's no reason to assume Rivian will break out of its $20 to $40 trading range by 2025.
David Granahan, John Csiszar and Daria Uhlig contributed to the reporting for this article.
Information is accurate as of Aug. 30, 2023.
Our in-house research team and on-site financial experts work together to create content that's accurate, impartial, and up to date. We fact-check every single statistic, quote and fact using trusted primary resources to make sure the information we provide is correct. You can learn more about GOBankingRates' processes and standards in our editorial policy.