Robinhood Faces Slew of Lawsuits over Trading Freeze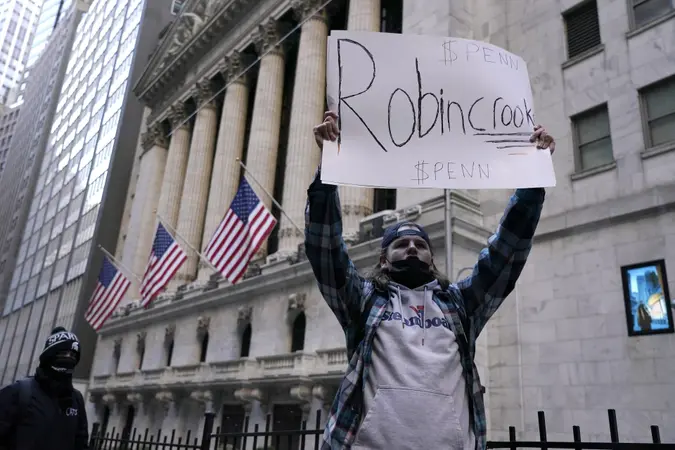 John Lamparski/SOPA Images/Shutterstock / John Lamparski/SOPA Images/Shutterstock
Trading platform Robinhood halted trading last Thursday on stocks popular on the Reddit subthread r/WallStreetBets, and the app is now facing a slew of lawsuits.
See: Robinhood Backtracks, Says It Will Allow 'Limited Buys' of GameStop and Others – What's Really Going On?
Find: Elon Musk Absolutely Grills Robinhood CEO in 'Electric' Interview
The company faces at least 33 federal lawsuits filed in 10 states, including California, Florida, Illinois and New York, with most seeking class action status and alleging violations of securities laws or consumer protection statutes, according to Yahoo! Finance.
Retail traders on the subreddit group WallStreetBets, who were intent on taking down hedge-fund short sellers by buying shares of stocks that didn't seem to have much of a chance of success, were unable to trade stocks, including GameStop, AMC Entertainment and Bed Bath & Beyond.
See: GameStop – Sell or HODL? What the Experts Say
Find: GameStop's Winners: How They're Spending the Windfall
A Connecticut investor who has filed a federal lawsuit said that "while small retail investors were denied access to said blocked stocks and were prevented from protecting their investments or profiting from blocked stock fluctuation and trending, larger hedge-fund and other non-retail institutional investors continued to enjoy buy and sell privileges," according to the Hartford Courant, which cites the lawsuit filed Saturday.
The Rosen Law Firm said it was investigating market manipulation claims against Robinhood and preparing a class action lawsuit. "On January 28, 2021, Robinhood announced that it was restricting transactions in certain securities to closing positions only…and raising margin requirements for those securities, purportedly to 'keep customers informed through market volatility.' As a result of this artificial market constriction, prices of the aforementioned securities fell dramatically, and investors were significantly damaged," the law firm said in a statement.
Robinhood, which says its mission is to "democratize finance for all," said last week it continuously monitors the markets and makes changes where necessary. "In light of recent volatility, we restricted transactions for certain securities to position closing only," according to a statement on its website. The company also raised margin requirements for certain securities.
See: Meet All the Major Players in the Robinhood vs. GameStop Saga
Find: Winklevoss Billionaires Bankrolling Movie About GameStop Stock Saga
The company defended its decision, stating that "this was a risk-management decision, and was not made on the direction of the market makers we route to."
The Securities and Exchange Commission is also monitoring the situation and said in a statement last week that it was evaluating the extreme price volatility of certain stocks' trading prices over the past several days. "Our core market infrastructure has proven resilient under the weight of this week's extraordinary trading volumes. Nevertheless, extreme stock price volatility has the potential to expose investors to rapid and severe losses and undermine market confidence," the SEC said the statement. "As always, the Commission will work to protect investors, to maintain fair, orderly, and efficient markets, and to facilitate capital formation. The Commission is working closely with our regulatory partners, both across the government and at FINRA and other self-regulatory organizations, including the stock exchanges, to ensure that regulated entities uphold their obligations to protect investors and to identify and pursue potential wrongdoing."
More From GOBankingRates: