Stocks Get a Boost From Moderna Vaccine News as It Steals Pfizer's Spotlight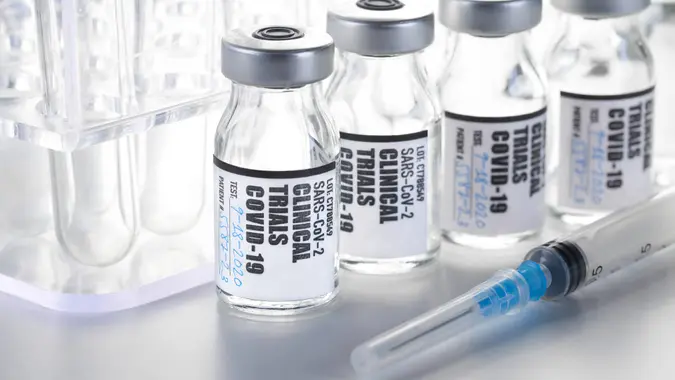 Bill Oxford / Getty Images/iStockphoto
A lot can happen in the span of a few days. Just last week all eyes were on Pfizer and its COVID-19 vaccine, with President Donald Trump holding a press conference to laud the progress of the coronavirus vaccine as Pfizer's candidate is 90% effective. Today, all eyes are on Moderna. On Monday morning, the Massachusetts-based biotechnology company announced that its COVID-19 vaccine has an efficacy rate of 94.5% — a notable advantage over Pfizer's vaccine.
Moderna's vaccine is also potentially easier to store than Pfizer's. It needs to be kept  at minus 20 degrees Celsius, roughly minus 4 degrees Fahrenheit, which is similar to other vaccines including the one against chickenpox. Pfizer's needs to be stored at minus 75 degrees Celsius — or about minus 103 degrees Fahrenheit. To date, no other vaccine requires such low temperatures and the average doctor's office and pharmacy don't have freezers that can accommodate such a low temperature. 
"This is a pivotal moment in the development of our COVID-19 vaccine candidate. Since early January, we have chased this virus with the intent to protect as many people around the world as possible," said Stéphane Bancel, CEO of Moderna, in a press release. "All along, we have known that each day matters. This positive interim analysis from our Phase 3 study has given us the first clinical validation that our vaccine can prevent COVID-19 disease, including severe disease." 
Following Moderna's announcement, the Dow Jones Industrial Average soared more than 450 points, or 1.5%. Even companies that have been profoundly struggling during the pandemic, such as airlines, cruise lines, restaurants and hotels, saw their shares climb in the wake of the encouraging news. Pfizer, now playing second fiddle to Moderna, saw a drop in the stock market, with shares sliding 3.9%, while Moderna stock spiked by 9%. 
Though Moderna's vaccine is more attractive than Pfizer's given its higher efficacy rate and lower maintenance requirements for storage, both vaccines are extremely promising from a public health perspective. Dr. Anthony S. Fauci, director of the National Institute of Allergy and Infectious Diseases, has said that he would be satisfied with a 75% effective vaccine and described Pfizer's efficacy rate of 90% as "just extraordinary." In response to the news of Moderna's COVID-19 vaccine advancement, Dr. Fauci told CNN, "It's just as good as it gets — 94.5% is truly outstanding."
Keep reading to find out how much it might cost to get a coronavirus vaccine.
More From GOBankingRates