Stripe IPO: What You Need To Know and How To Buy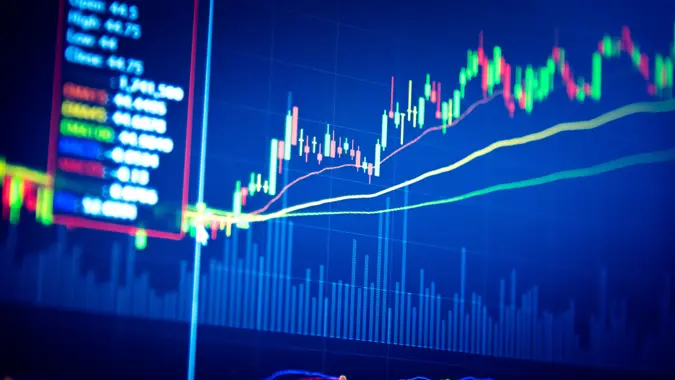 ©Shutterstock.com
As the stock market recovers from the COVID-19 pandemic, initial public offerings are becoming increasingly attractive to investors. While 2020 was especially slow for IPOs due to the global pandemic, 2021 is shaping up to be a record year. IPO proceeds have surged compared to the same period last year: companies raised over $21 billion on the New York Stock Exchange and nearly $34 billion on Nasdaq.
One company that investors expect to go public in the next year or two is Stripe. The private fintech company boasts some of the world's largest companies as customers and processes billions of dollars of payments every year.
Keep reading to learn more about Stripe and what to consider before investing in the company.
What Is Stripe?
Stripe is a technology company that enables businesses to accept online payments, founded in 2011 by brothers CEO Patrick Collison and President John Collison. Stripe has over 2,500 employees and is dual-headquartered in San Francisco and Dublin, with employees working in 14 offices around the globe, including London, Paris, Singapore and Tokyo.
Stripe provides a payments platform and API to companies from startups to global public companies. The company's technology has a cloud-based architecture, resulting in reliability, scalability and security.
What Stripe Provides
Stripe also provides several tools in addition to its payments platform that allows businesses to "manage revenue, prevent fraud and expand internationally." It also offers corporate credit cards and small business loans.
Some of the world's largest companies use Stripe, including Amazon, Google, Salesforce, Shopify, Microsoft and many more. Stripe processes hundreds of billions of dollars per year in payments.
Stripe is the most valuable private fintech company in the world. Part of the company's growth has been by acquisition, including TaxJar in 2021 and Paystack in 2020.
How Does Stripe Make Money?
Stripe offers many products in three categories: Payments, Business Operations and Financial Services.
Payments
Product offerings within Stripe's Payment include online payments, in-person payments, payments for platforms, subscription management and online invoicing. Financial Services offerings include corporate credit cards, business financing, and banking-as-a-service. Business Operations offerings include fraud & risk management, custom reports, startup incorporation and carbon removal.
Stripe features a straightforward pay-as-you-go pricing model for most customers. The cost for the integrated payments platform is transaction-based, charging customers 2.9% plus 30 cents per successful card charge. The company boasts no setup fees, monthly charges or hidden costs. For customers with high volume or country-specific needs, Stripe offers a customized plan.
Business Operations
Stripe also makes money from its enterprise payments solution. In addition to the standard payments platform, this offering features volume discounts, interchange+ pricing, deployment services and technical account management.
Stripe recently announced that it would continue to build its Global Payments and Treasury Network in 2021, expanding its suite of software and services. In addition, Stripe will soon be available in Brazil, India, Indonesia, Thailand and the UAE.
Financial Services
The company also earns revenue from its corporate credit cards and small business loans.
What Is Stripe Worth?

According to Forbes, investors value Stripe at a $115 billion valuation, up from a $36 billion valuation in April 2020 that included investors like venture firms Andreessen Horowitz, General Catalyst and Sequoia. This latest valuation is derived from secondary market transactions after the recent Series H funding round in March 2021. The company has now raised over $2.2 billion in funding, according to Crunchbase.
Why Does Stripe's IPO Stand Out?
Investors are carefully watching for the possibility of a Stripe IPO. The company has done exceptionally well during the past decade since it was founded. Stripe is one of the largest and most valuable fintech companies and serves many of the world's largest companies.
The stock market has recently been in love with fintech IPOs. For example, buy now, pay later business Affirm launched its IPO in January of 2021, and its shares nearly doubled. In the summer of 2020, an online banking company saw its stock rise almost 200% after its IPO.
Many investors wanting to invest in Stripe are hoping for a similar outcome.
What Should You Consider First Before Investing in Stripe?
A Stripe IPO has yet to be announced, but there are considerations to make before investing in any company. Investing in any company has risks, so you should consider your risk appetite and long-term investing goals. IPO stock prices can be volatile after the initial offering, so if you are investing for the long term, be patient.
Since a Stripe IPO is speculative at this point, one of the most significant considerations is the general state of the stock market right now. Markets are seeing record highs across the board, while valuations of startups are also at all-time highs. According to the Wall Street Journal, Short sellers are betting against special-purpose acquisition companies, known as SPACs.
It's common wisdom that stock markets go up and down in a cycle, though no one can time the market. Will there be another market correction before Stripe goes public? With the growth and success of the company, perhaps it's in Stripe's best interest to wait.
Frequently Asked Questions
When will Stripe go public?
Officially, no IPO has been announced. Investors speculate the company might go public in the next year or two.
What is Stripe's current valuation?
According to Forbes, investors value the company at $115 billion. This is up from a $36 billion valuation only a year ago.
How much will Stripe IPO shares cost?
This has not been set yet. Keep an eye out for the official IPO announcement for more details when this happens.
How do I buy shares in Stripe's IPO?
You'll need to evaluate your risk tolerance, open a brokerage account and decide where Stripe fits into your portfolio. When the company goes public, you'll be able to buy Stripe stock from any major brokerage firm.
Our in-house research team and on-site financial experts work together to create content that's accurate, impartial, and up to date. We fact-check every single statistic, quote and fact using trusted primary resources to make sure the information we provide is correct. You can learn more about GOBankingRates' processes and standards in our editorial policy.