The Bull Market Is Back — But Can It Last?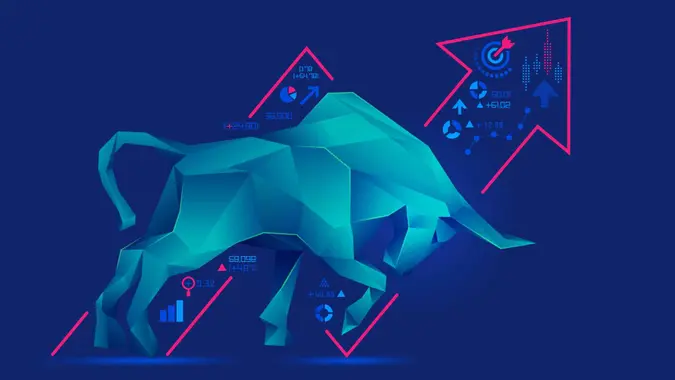 Jackie Niam / Getty Images/iStockphoto
A bull market has technically started, partly thanks to a bounce in tech stocks fueled by the artificial intelligence craze. The market uptick also comes due to a debt ceiling resolution, cooling inflation and optimism around the Federal Reserve potentially skipping a rate hike at its next meeting.
How To Buy ChatGPT Stock: Your 2023 Guide to AI Investing
Find: 3 Things You Must Do When Your Savings Reach $50,000
The failure of the most anticipated recession in history to materialize (as yet) is another major factor said Peter C. Earle, economist with the American Institute for Economic Research.
"But it's one thing when stocks are being bid up owing to solid earnings and a clean bill of economic health. What we are seeing are relief rallies celebrating a slow disinflationary trend even as GDP drones on at just above stall speed," he said. "It doesn't make sense, but it doesn't have to. A bull market is a bull market."
But can it last?
First, as Sam Stovall, chief investment strategist at CFRA Research, explained, we are definitively in bull market territory. On June 8, the S&P 500 closed at 4,293.93, which was more than 20% — the qualifier — above its October 12, 2022 low, triggering the traditional indication of a new bull market.
Adam Turnquist, chief technical strategist for LPL Financial, explained that forward returns after a bull market is confirmed have historically been strong.
"The S&P 500 has posted average and median gains of 18%-19% 12 months after the index has cleared the 20% threshold," he said.
In terms of how long a bull market lasts, Turnquist said that the duration can vary significantly, but historically they have been lengthy.
"Since 1929, the average S&P 500 bull market has lasted for 39.4 months and produced an average gain of 130.1%," he said.
CFRA's Stovall agreed, noting that history hints that this run likely has many more months (and points) to go.
"As always, history should be viewed as a great guide, but never as gospel. Time will tell if this subsequent advance exceeds or falls short of historical averages," he wrote in a note.
Some Experts Say Bull Market Could Be Cut Short
Yet, other experts argue that this bull market could be short-lived, as inflation remains too high — and while consumers are still spending, they are cutting down on discretionary expenses, as a May Deloitte report showed.
"We're very late in the economic cycle that's starting to slow and probably heading for a recession later this year," Sameer Samana, senior global market strategist for Wells Fargo Investment Institute, told CNN.
Samana told CNN that since the last bull market, new events have also appeared — including a war in Europe and a banking crisis — which places markets in uncharted territory. In turn, and while an economic recession coinciding with a Wall Street boom would be a first, Samana said: "In this market, you never say never."
More From GOBankingRates