Warren Buffett's Favorite Dividend Stocks — Should You Invest?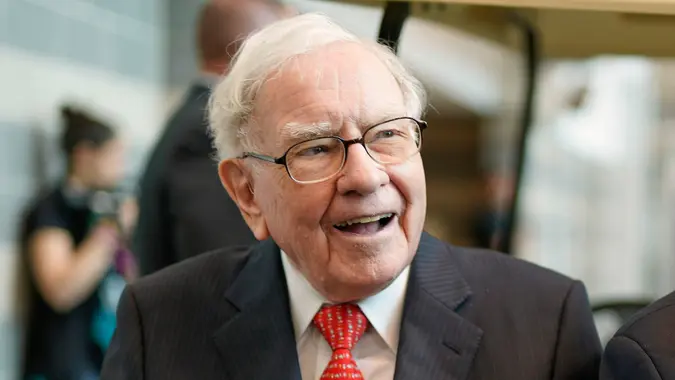 Nati Harnik / AP / Shutterstock.com
Billionaire Warren Buffett, colloquially referred to as the Oracle of Omaha, is the CEO of Berkshire Hathaway and one of the most famous investors in the world. Between his long-term track record of success and his homespun wisdom, Buffett is extremely popular in the investment community, and his words are closely followed by analysts and individual investors alike.
But, as actions speak louder than words, the actual investments that Berkshire Hathaway owns are perhaps the best indicator of which areas of the market Buffett favors. Not surprisingly, as Buffett is a believer in cash flow, many of his top holdings pay significant dividends.
If you're looking for an income-generating investment yourself, here's a list of some of Berkshire Hathaway's biggest dividend-paying holdings that you might want to consider.
Apple (AAPL)
Stock price as of July 13, 2023: $190.54
If you're a believer in Buffett, you absolutely must own Apple. At the 2023 Berkshire Hathaway annual meeting, Buffet said Apple is better than any other company he owns and that he's happy with every additional share he acquires.
According to Buffett, people are more willing to give up their second car than their iPhone, and that type of company loyalty is valuable. While Apple may not pay a huge dividend — just $0.96 per share, for a yield of 0.51% — that's a lot of cash for Buffett and Berkshire Hathaway.
But beyond its dividend, Apple is the largest company in the world, and it makes up roughly 7.5% of the entire S&P 500. This is why many analysts say, "As goes Apple, so goes the market." 
Find: 10 Stocks That Could Be the Next Apple or Amazon
Chevron (CVX)
Stock price as of July 13, 2023: $157.51
Even with the rise of electric vehicles and growing environmental sentiment, oil will remain an essential part of the world's economy for the foreseeable future. Chevron, one of Berkshire Hathaway's largest holdings, pays a fat dividend of $6.04 per share, for a yield of 3.78%.
Those factors alone make Chevron an interesting play for dividend investors. Analysts have a buy rating on the stock, with a 12-month average price target of $187.89, good enough for a 17% pop over current levels, on top of the generous dividend.
Bank of America (BAC)
Stock price as of July 13, 2023: $29.67
Bank of America occupies the second-largest position in the Berkshire Hathaway portfolio, at 8.1%. That equates to ownership of 13.1% of all of the outstanding shares of Bank of America, making it a serious bet.
The bank's 3% dividend yield is more than investors can earn on Bank of America's own savings accounts, making the equity ownership just a kicker. As a long-term value investor who prefers what he calls "simple businesses" like banks, Buffett is dedicated to Bank of America and its modest price-earnings ratio of just 8.83.
With such a generous dividend yield, long-term investors like Buffett can afford to wait for equity appreciation while banking all of that income. If that's the type of investment personality you have, Bank of America may be worth a look.
Coca-Cola (KO)
Stock price as of July 13, 2023: $60.35
Analysts like Coca-Cola almost as much as Buffett does, with a consensus strong buy rating and an average 12-month price target of $70.25, about 17% above current levels. But the company also sports a healthy 3.07% dividend yield, paying out $1.84 per share annually.
Companies like Coca-Cola are right in the wheelhouse of Buffett, who prefers "simple" businesses that continually generate free cash flow and have huge barriers to entry. Although Coke is in a continual battle with archrival Pepsi, it would be hard if not impossible for some new soda maker to suddenly appear on the scene and take out Coca-Cola's dominant global position.
Even if the company's stock price were to stall, its dividend — which it has paid and raised without fail for an incredible 61 straight years — seems unlikely to go away.
American Express (AXP)
Stock price as of July 13, 2023: $174.24
American Express fits in with the Buffett philosophy of "simple" quality companies that are well run and have loyal followers. In fact, the Oracle of Omaha is so enamored of American Express that Berkshire Hathaway owns a whopping 20.4% of the company.
Buffett once told American Express CEO Stephen Squeri, "The most important thing about American Express is the brand and the customers that aspire to be associated with the brand."
American Express doesn't pay quite as high a dividend as some of the other companies in Berkshire's portfolio — $2.40 per share annually, for a yield of 1.38% — but it has been a consistent, long-term winner.
More From GOBankingRates