What Is a Stock?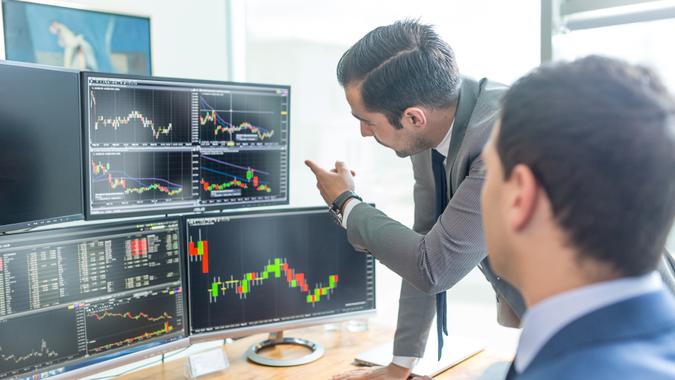 Matej Kastelic / Shutterstock.com
Stocks represent shares of ownership in a corporation. When you buy shares of stock, you literally own a portion of a corporation.
Granted, your percentage ownership is likely to be small. Facebook, for example, has 2.4 billion outstanding shares, so the 100 you may purchase is an infinitesimally small portion of the company as a whole. Yet, you'll still enjoy the same percentage gains on your stock as does Mark Zuckerberg, the CEO of Facebook.
Here's a look at the different types of stock, how the stock market works and how you can invest in stocks.
Where Are Stocks Traded and How Are Stock Prices Determined?
Stocks trade on an exchange. The two most well-known stock exchanges in the U.S. are the New York Stock Exchange and Nasdaq.
The New York Stock Exchange, known colloquially as "The Big Board," was the original stock exchange in the U.S., founded in 1792 on Wall Street in downtown Manhattan. The NYSE is now the home to over 2,000 listed stocks.
Nasdaq was the world's first electronic trading market, born in 1971. The exchange grew in popularity by hosting big tech companies like Microsoft, but now this global exchange hosts over 4,000 individual stock listings. 
Good To Know

Prices on both of these exchanges are based on supply and demand. When there are more buyers in the market than sellers at a given price, prices will go higher until additional sellers are found. Similarly, when more investors want to sell than buy, prices will drop until buyers are willing to step in and buy more shares.
Of course, this is an oversimplification of how the stock market works. Evaluating and investing in stocks requires additional analysis to determine the additional factors that may drive a stock's price.
What Are the Types of Stocks?
Stocks can be broadly classified into different categories based on their size, growth profile and other characteristics. When you hear investors or analysts talk about stocks, you might hear some of the following terms being used.
Common Stock
Common stock is what most investors think of when they think of buying stock. This is the type of stock that represents ownership in a company and whose prices are quoted in the financial press. Prices can vary, depending on the market and investor demands.
Preferred Stock
Preferred stock is an income vehicle that is more like a bond than common stock in many ways. This type of stock pays a dividend that is usually more than a company's common stock and is paid out before any dividends to common shareholders. Preferred stock prices aren't usually as volatile as common stock prices.
Growth Stock
A growth stock is issued by a company with a high growth rate, oftentimes a young company in an expanding industry like biotechnology. This type of stock can have volatile share prices.
Value Stock
A value stock is a stock that sells at what seems like a low price relative to its earnings or future prospects. Stocks in older, more established companies often fall into the value category, as their long-term steadiness doesn't attract the hot-button, growth-stock crowd.
Dividend Stock
Dividend stocks are simply stocks that pay regular and consistent dividends, oftentimes higher than the average common stock. They are often designated as value stocks as well, as they tend to be associated with larger, established companies with predictable revenue streams. 
Defensive Stock
A defensive stock is a solid, consistent performer that continues to pay dividends even during a downturn in the economic cycle. Defensive stocks are found in industries that consumers need even when times are hard, such as food and beverage or utilities. 
Cyclical Stock
A cyclical stock is the opposite of a defensive stock. Cyclical stocks are economically sensitive, meaning they earn a lot of money when times are good but can get crushed when the economy turns south. Industries that are more discretionary in nature, such as car manufacturers, hotels and airlines, are usually considered cyclical.
Keep in Mind

None of these categories are mutually exclusive. For example, growth and value stocks are both types of common stock, while a dividend stock may also be considered a defensive stock. There is no single best type of stock to invest in. Your own investment objectives, risk tolerance and other factors will lead you to stocks that are suitable for you personally.
Factors To Consider When Evaluating a Stock
Many factors go into the valuation of a stock. Here's a look at some of the more commonly used metrics.
Market Capitalization
Market capitalization is simply the total value of all of a company's outstanding shares of stock. Market cap is often used as a representation of the size of a company and can be used to classify companies into large-cap, mid-cap and small-cap categories.
Price-Earnings Ratio
P/E ratio is simply a company's current price divided by its earnings. P/E is often used as an indicator of whether a stock is cheap or expensive, given historical and industry norms.
Dividend Trends
Dividend trends can be important to income investors. If a stock has paid consistently rising dividends for decades, it may be a more reliable income investment than one that pays sporadically.
Earnings Reports and Projections
Earnings reports and earnings projections are some of the primary drivers of stock prices. As earnings grow, stock prices tend to follow. When a company reports earnings that are ahead of earnings projections, the stock price may shoot up dramatically.
How To Invest In Stocks
To invest in stocks, you'll have to open a brokerage account. The easiest way to open an account and invest in stocks is to work with an online broker like Fidelity or Charles Schwab, although there are countless other options as well. To buy stocks online, you'll need to follow a few simple steps:
Steps To Invest In Stocks

Open an account.
Fund your account.
Choose the stocks you want to buy.
Enter your trades.
If you prefer opening your account in person rather than on a computer, you can still visit a branch with many online brokers. You can also choose to work with a traditional, full-service broker to invest in stocks, although the costs will typically be higher. 
Tips and Takeaways for Investing In Stocks
Investment success is never guaranteed. However, by taking certain steps, you can improve the likelihood of positive investment results.
Invest for the Long Run
Stocks are volatile over short time periods, but at least historically, the broad market averages have recovered over the long run and proven to be a good investment.
Know What To Buy or Sell, and When
This is a skill that requires extensive research. Before you put your entire life savings into a stock, do your homework, learn how to invest in stocks and understand what you are doing.
Understand Your Risk Tolerance
Everyone wants the largest returns possible, but if you can't handle the emotional toll that a severe market sell-off can produce, consider reducing your risk.
Work With a Financial Advisor You Can Trust
Many investors, especially beginners, can benefit from working with an experienced, trustworthy financial advisor. If you're just starting out, consider working with a professional at least until you understand how the markets work. 
Don't Put All Your Eggs Into One Basket 
No matter how sure you are that a particular stock will work out, putting everything you have into a single stock is a recipe for disaster. Diversify your holdings among various stocks from different industries to reduce risk, and consider true portfolio diversification by including other types of assets, such as bonds, commodities, mutual funds or even stock futures.
Our in-house research team and on-site financial experts work together to create content that's accurate, impartial, and up to date. We fact-check every single statistic, quote and fact using trusted primary resources to make sure the information we provide is correct. You can learn more about GOBankingRates' processes and standards in our editorial policy.