Buying Puts: Are These Options a Good Investment?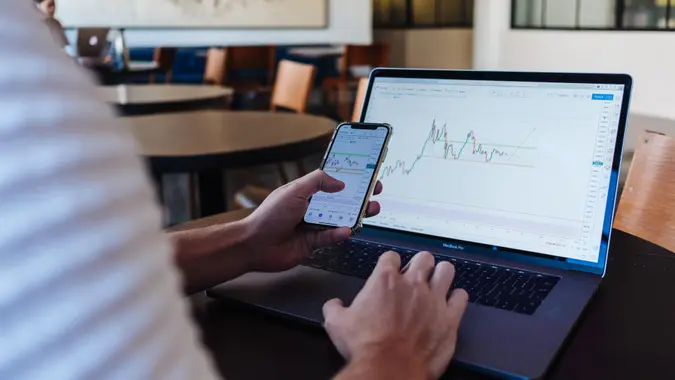 Jason Briscoe / Unsplash
You've likely heard about the process of someone writing a book and then a Hollywood studio buying the option, or the right, to turn it into a movie. It happens all the time, and some books make it to the silver screen while others never find a path there.
Taking this analogy and looking at your financial life, you might say it's common to think about purchasing a share of a company's stock. Especially when you like and use the company's products or services, you may want to incorporate it into your investment strategy and bet on the stock's success.
What Are Put Options?
However, there's another way you can go. Just like the Hollywood studio, you can buy the option to purchase a stock without actually buying it.
Why would you do this? In the same way that a studio might be trying to time a release strategically, you might be trying to time an investment strategically. You can hold an option, or a contract, for stock at a strategic price or date, without any requirement to buy.
You can decide when the time is right. Typically, waiting for the right time involves being able to sell — and perhaps re-purchase – the stock at an advantageous price.
The Two Kinds of Options
There are two kinds of options, or contracts, you can buy on a stock or other type of equity. They are:
Call options: These enable you to buy at a selected price, which is called the strike price, in a set amount of time, which is the expiration date.
Put options: These give you the opportunity to sell at an agreed-upon price in a set amount of time.
Put Options: An In-Depth Look

Options are bundled products, meaning that you can gain access to a greater number of shares than you would if you took that money and purchased individual shares. That means that put options let you sell a large number of shares in short order. To retain the right to put options, you'll pay the put seller a premium, or upfront fee, for the ability to sell the options later.
How Do They Work?
Since put options are bundled in packs of 100 shares, they can be valuable if a stock price declines. If a stock price falls by, for example, 30%, an investor can sell their options and immediately multiply the profit by 100 shares. Even with the premium fee factored in, put options can come out ahead when a stock declines simply because they're a volume play.
Are Put Options a Good Investment?
Put options are often used to make quick gains on a stock. Since put options become more valuable as a stock becomes less valuable, and the sell price is locked in upfront, you can sell when the time comes and profit off of the stock's price tumble. If the stock rises, you can lose your initial investment.
Put options can also minimize risk in a portfolio. If, for example, you fear a market downturn, you might purchase puts for some of your stocks so that you're able to sell them if their price per share falls below your strike price. This may be helpful if your portfolio is weighted heavily toward one sector.
Historically, stock prices rise more often than they fall. That means that in most cases, put options don't lead to the opportunity for profits, and instead turn worthless or still sit unexercised when they reach their expiration date.
Who Should Trade Put Options?
It's important to apply caution when buying put options because, like any investment, they involve risk. Generally, it's wise to do the following.
Consider These:

Consistently monitor market activity — put options are most valuable for market downturns
Have the financial resources to buy 100-share bundles, which is the package available for puts
Understand the risks of buying puts and other options
Know your risk tolerance level, both short-term and long-term
Have someone you can call for advice if needed, such as a financial advisor
Since stocks tend to rise more than they fall, put options are best for those with a short-term timeline. Experienced day traders and financial services professionals may be best equipped to know when to buy puts and the terms to buy them under.
How To Buy Put Options
The SEC requires you to have an options broker to approve your account. This broker will assign you a trading level based on your experience, resources and approach to risk management. From there, you'll set your strike price and expiration date.
Good To Know

If you're interested in trading options, there are two terms you should know:

"In the money" refers to a put option's value when the stock price in question falls below the strike price on the expiration date.
"Out of the money" refers to the put option's value when the stock price in question is sitting above the strike price on the expiration date. In this case, the put is worthless and the seller keeps their premium.
Puts: An Option for Maximizing Potential Profit and Minimizing Risk
Most of the time, put options are going to turn worthless as stock prices rise. If that happens, you'll lose the premium you paid for them — so as long as you didn't pay a huge premium, you should be able to walk away from your puts without too many regrets.
On the other hand, markets can be unpredictable, and if you see a possible downturn coming or want to ward off risk in a sector of your portfolio, put options could prove to be a worthwhile investment. Remember to evaluate the risks carefully, know the stock's history like the back of your hand and proceed with caution if you decide to buy.
Our in-house research team and on-site financial experts work together to create content that's accurate, impartial, and up to date. We fact-check every single statistic, quote and fact using trusted primary resources to make sure the information we provide is correct. You can learn more about GOBankingRates' processes and standards in our editorial policy.