How Can You Invest In Your Favorite MLB Team?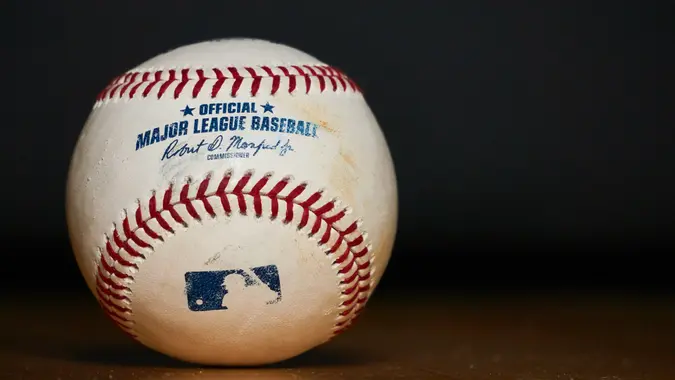 HE Photography / Shutterstock.com
If you're a big fan of Major League Baseball — or if you're an investor looking to pick up shares of something a bit different — you might have wondered if there's a way to own MLB stock. After all, some sports teams, like the NFL's Green Bay Packers, have actually offered ownership shares in the past. At the present time, however, there isn't such a thing as MLB stock. But there are still ways that you could get investment exposure to the fortunes of a sports team. Here are some of the admittedly limited options that investors can take if they want to own a portion of an MLB team.
Support Local: Don't Miss Out on Nominating Your Favorite Small Business To Be Featured on GOBankingRates — Ends May 31
Private Equity
Currently, the best way to get involved with a sports team, like an MLB team, is probably through a private equity firm. Since there are no shares of MLB stock available on a stock exchange, your most direct way into shares of an MLB team may have to be through investment in a separate firm. Galatioto Sports Partners, for example, raises capital from investors and uses it in a variety of manners, including potentially investing in sports clubs. Other private equity funds may also be available for investment by private individuals. However, access to private equity firms is often limited and may require a sizable initial investment to get started. 
See: Celebrities Who Have Bought Sports Teams
Indirect Ownership
If you don't have access to a private equity fund, or if you can't raise the minimum investment required, you might consider buying shares of companies that own sports teams, including MLB clubs. You can indirectly own a portion of the Atlanta Braves, for example, by picking up shares of Liberty SiriusXM Group, which owns 4% of the club. Nintendo of America, perhaps surprisingly, owns 10% of MLB's Seattle Mariners, and it's also publicly traded. If a Canadian ball club is more to your liking, you can indirectly own part of the Toronto Blue Jays via an investment in publicly traded Rogers Communications, which owns the team. While buying stocks of parent companies won't give you direct ownership shares in a major league team, it may be the easiest way for you to own some MLB stock as a small, private investor. 
Find Out: How Barry Bonds, Cecil Fielder and Other MLB Players Lost Their Fortunes
Franchise or Fractional Shares
Most sports teams are franchises, which means that there may be opportunities in the future where various teams will sell ownership shares to the public. The Boston Red Sox, for example, were in talks all the way until 2021 to bring shares to the public via a special partnership. Under the proposed arrangement, Fenway Sports Group LLC, which owns both the Boston Red Sox and the English soccer club Liverpool FC, were to be combined under a special purpose acquisition corporation known as RedBall Acquisition Corporation — which itself was co-founded by "Moneyball" legend and former Oakland A's manager Billy Beane. The bottom line is that if it makes financial sense for a Major League Baseball team to issue shares in itself going forward, there may be future opportunities for investors.
More From GOBankingRates
Last updated: May 11, 2021