How To Double Your Money: 5 Investment Strategies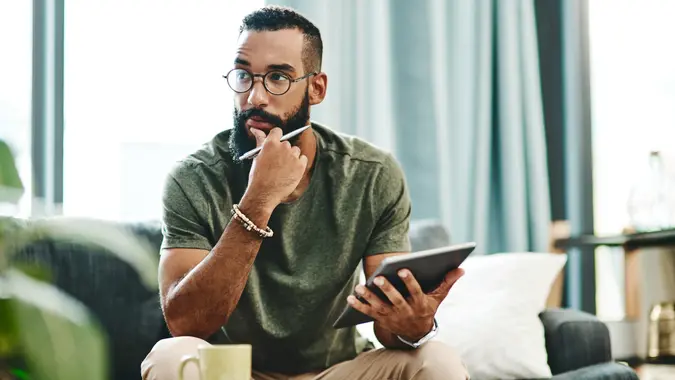 katleho Seisa / Getty Images
Everyone should be investing in something. After all, investing gives you a way to save over time while your money works to create a more financially stable future for you. 
Read: 5 Things You Must Do When Your Savings Reach $50,000
When you invest, make sure your investments are making the most money possible for you. With prices rising, it's no surprise you want to learn how to double your money in the market. 
How To Double Your Money: 5 Investment Strategies To Consider
Before you start investing, you must have realistic expectations. Investing is a long-term process and the slow and steady approach typically wins the race. So, this isn't the get-rich-quick type of article you may be looking for. 
Nonetheless, if you're serious about learning how to double your money as an investor, there are five proven ways to do so. You just need to be willing to take the long-term approach and roll with the punches as the market dishes them out. 
Buy-and-Hold Investing
Buy-and-hold investing is the classic, tried and true way to build wealth over time. The concept is relatively simple. Quality companies generally grow over time. If you buy stocks of quality companies and hold them for the long haul, you can expect your investment portfolio to grow over time. 
Buy-and-hold investing is the most passive form of investing because when you buy stocks, you commit to holding them for the long haul. You're not interested in the day-to-day, week-to-week or even month-to-month movements of the stock. You know you invested in a quality company and you're willing to ride out the storm to make it to the figurative promised land. 
The concept makes sense too. After all, if you weed out the noise of short-term highs and lows, the average annualized return of the stock market over the long term is about 10%. 
Contrarian Investing
Warren Buffet once advised investors to be "fearful when others are greedy and greedy when others are fearful." That quote is the core concept of contrarian investing. As a contrarian investor, you go against the prevailing market trends in hopes of buying stocks as low and selling them as high as possible. 
During bear markets, most investors feel fear, while the contrarian investor sees an opportunity. With the market so fearful, the contrarian investor can buy shares of companies at steep discounts. On the other hand, contrarian investors tend to sell when the market turns overwhelmingly greedy. This tends to be when you can get the highest prices for your shares.
Although contrarian investing is a bit more work than buy-and-hold investing, it's a proven way to double your money in the stock market.  
Value Investing
Value investing is similar to contrarian investing with a key difference. That difference is the investors look for undervalued opportunities regardless of the state of the market, focusing more on valuation metrics than overall market trends.
As a value investor, you'll use a range of valuation metrics to determine the fair market price of assets. When you find a stock or other asset trading below what you believe to be the fair market price, you buy it under the assumption that the market will catch up to the discount eventually. 
Some of the most common metrics you'll use as a value investor include:
P/E Ratio. The P/E ratio, or price-to-earnings ratio, compares the stock price to the annual earnings of the company. For example, if the company earns $1 per share per year and costs $10 per share, its price-to-earnings ratio is 10. The lower the P/E ratio, the better the discount. 
P/S Ratio. The P/S ratio, or price-to-sales ratio, compares the stock's share price to the company's annual revenue. As is the case with the P/E ratio, the lower the P/S ratio, the better. The metric is best for evaluating companies that haven't yet produced earnings.
P/B Ratio. The P/B ratio, or price-to-book value ratio, compares the price of the stock to the value it holds on its books. If the book value of the company is $120 million and its market cap is $12 million, it has a P/B ratio of 10.  
As the market begins to price in the true value of the investment, you benefit from it growing at a faster pace than the overall market, though this could take some time to perfect.  
High-Risk Investing
If you're a thrill-seeker and you're not willing to take the slow-and-steady approach, there's another way to double your money — high-risk, speculative investing. Speculation is the process of buying and selling assets and derivatives based on technical analysis. When the technical data suggests the asset will climb, you buy it. When the data suggests it will fall, you sell it. 
Speculative investors typically focus on high-risk assets like penny stocks, options and other derivatives. Moreover, this type of investing comes with a significant risk of loss, so it's best for the well-seasoned market participant and not typically a strong option for beginners. 
401(k) Contribution Matches
If you're looking for the fastest way to double your investments, all you need to do is take advantage of 401(k) contribution matches. This is when your employer matches the contributions you make to your retirement, effectively doubling your money every time you contribute.
Most employers impose limits on these matches. For example, your employer may match your contributions up to 5% of your income. Take full advantage of these limits to double as much of your money as you can.  
Final Take
Now you know how to double your money by taking advantage of five different investment strategies. It's time for you to open a brokerage account and start investing. 
FAQ
Investing is a hot topic, but it's also a complex one. Not to mention, any topic having to do with money is typically met with several questions. Find the answers to some of the most common questions about doubling your money with investments below.
What is the easiest way to double your money?

The easiest way to double your money is to take advantage of 401(k) contribution match benefits offered by your employer. When you do, your employer doubles the amount of money you invest in your retirement, up to a certain limit. Nonetheless, if you're looking for the fastest and easiest way to double your money, employer contributions are it.

How can I double $1,000?

You can double $1,000 or any other amount of money with time in the market by using any of the five methods mentioned above. However, the key to all but the employer 401(k) contribution match is patience. Investing is a long-term process, and it will likely take years to double your money.

How can I double my money in one day?

The best way to double your money in one day is to take advantage of 401(k) contribution matches from your employer. That's because your employer matches your contributions on the same day you make them.
Information is accurate as of Nov. 4, 2022.
Our in-house research team and on-site financial experts work together to create content that's accurate, impartial, and up to date. We fact-check every single statistic, quote and fact using trusted primary resources to make sure the information we provide is correct. You can learn more about GOBankingRates' processes and standards in our editorial policy.