How To Invest $100,000: Your Guide to Success for 2022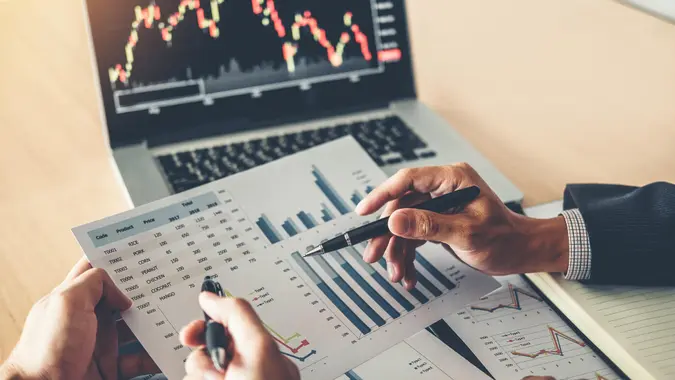 SARINYAPINNGAM / Getty Images/iStockphoto
If you've got $100,000 in spare cash lying around, you should be invested. Investments are the only way to generate real wealth over time, through the power of both higher returns and compound interest. The problem is a good portion of Americans aren't investing their money, and fewer are investing in a 401(k) or an individual retirement account. But it's never too late to start. With $100,000 available for investment, you can build a diversified portfolio to meet your investment needs, from generating current income to growing your money for retirement. Although the best way to invest $100,000 is different for everyone, here are some of the main options you might want to consider.
At a Glance: Best Ways To Invest $100,000
In a nutshell, these are the best ways to take $100,000 in available funds and make it grow:
Investment Option
Pros
Cons
Best For
Individual Stocks

High return potential
Extremely liquid

High variability of return

Investors who are engaged and willing to do extensive research

Mutual Funds

Diversified
Professionally managed

Management fees and other costs
Can only be bought or sold once per day

Passive investors looking to hire professional management

Index Funds

Low cost
Track returns of indexes

Generally passive and not actively managed
Can be non-diversified

Knowledgeable investors looking for exposure to specific market sectors or industries

Exchange-Traded Funds

Offer the liquidity of the stock market with the diversification benefits of mutual funds

Potential commission costs with every trade
Might not be diversified
Might not have active management

Investors who might need to get out of an investment rapidly
Investors who understand which market sector they wish to invest in

Real Estate

High long-term returns
Offers diversification from other asset classes

Real estate in depressed areas might recover slowly or not at all

Investors who understand real estate markets and pricing
Retirement Savings
The two main types of retirement accounts are 401(k)s and IRAs. If you work for a nonprofit organization, you might be offered a 403(b) instead of a 401(k).
401(k)
For 2022, you can contribute up to $20,500 to a traditional or safe harbor 401(k) plan, or up to $27,000 if you're at least 50 years old. You can only contribute up to the amount of your earned income. Your combined employee contribution and employer match cannot exceed $58,000, or $64,500 including catch-up contributions for those ages 50 and above. Money grows tax-deferred until it is withdrawn.
403(b)
Rules for 403(b) plans are somewhat similar to 401(k) plans in that you can contribute up to $20,500 for 2022, with catch-up contributions of up to $6,500 allowed for those who are at least 50 years old. Some plans might also allow contributions of up to $3,000 for those who have been in the plan for 15 years. As with 401(k) plans, money grows tax deferred until it is withdrawn.
IRA
Individual retirement accounts, or IRAs, are personal plans rather than employer-sponsored ones. Contributions are limited to $6,000 for 2022, with an additional $1,000 in catch-up contributions for those 50 or older. 
Index Funds, Mutual Funds, Individual Stocks and ETFs
Each of these options is a way that investors can get exposure to the stock and bond markets. Here's a quick overview of why each of these types of investments can be appropriate for someone looking to invest $100,000.
Index Funds
With $100,000 to invest, you can diversify your portfolio across a number of different index funds that match your investment objectives. For example, if you believe that the large-cap U.S. market, the foreign small-cap market and emerging market bonds are the areas that will appreciate in the coming months, you can disperse your $100,000 across those investment sectors using index funds. Even with $100,000, it's hard to get this type of global stock market exposure purchasing individual stocks, so index funds can save you all of the legwork.
Mutual Funds
One of the big advantages of using $100,000 to buy mutual funds comes in terms of pricing. For funds that charge a sales load, you can usually get that commission reduced if you buy in bulk. With a large sum like $100,000 to invest, you might also get access to institutional-level funds, although the minimum there is often $1 million or more. With an investment of that size, you can also spread your money out across enough diverse mutual funds to build a long-term, sustainable portfolio.
Individual Stocks
Many investment advisors recommend clients have at least $100,000 to invest before purchasing individual stocks. The reason is that individual stocks carry a relatively high amount of risk. But with $100,000 or more, you can purchase a significant amount of different stocks, thereby lessening your risk while still capturing upside potential.
Individual stocks can have widely varying returns. In 2021, for example, the best performing stock in the S&P 500 index, Devon Energy, returned 196.1%, while the worst-performing, Penn National Gaming, lost nearly 43% of its value.
ETFs
Exchange-traded funds combine elements of both mutual funds and individual stocks. While they trade on exchanges like stocks, they consist of entire portfolios, as with mutual funds. Thus, with an ETF you can have access to a full portfolio yet retain the ability to buy or sell your ownership of the investment at any time on the stock exchange. If you have some experience in the market, you can pick and choose the sectors, industries or markets you feel have the best chance for appreciation rather than handing over those decisions to a mutual fund manager.
Real Estate
Real estate is a less liquid way to invest than the stock and bond markets, but it can provide high returns. In fact, a Harvard study found that residential real estate returns just a bit more than equities over time, but with considerably less risk. Here are three ways you can use $100,000 to invest in real estate.
Investment Property
The most traditional way to invest in real estate is to buy investment property. With $100,000, you can buy a home outright in some markets; at the very least, you can put down a significant down payment — or you can diversify your holdings across a number of different investment properties. If you're knowledgeable in the area, $100,000 can also generate passive income, via a rental property, or finance a house flip.
Raw Land
Raw land can be a cheaper option than developed investment property. But raw land is a speculation. It can be a good option if you're an experienced real estate investor, but it can be hard to generate a return. Unlike bonds and rental property, which pay a regular stream of income, raw land doesn't pay anything unless you sell it.
Crowdfunding
Crowdfunding can reduce your risk in real estate investments because you're combining your funds with other investors rather than shouldering the risk of an entire project yourself. Additionally, some sites choose properties on your behalf and spread out your investment across a number of different real estate projects, so you can automatically diversify your risk rather than having to plunk down $100,000 into a single property.
Diversify Your Funds
One of the true luxuries of having $100,000 to invest is that you can successfully diversify your portfolio across different asset classes, types of investments and varying risk profiles. For example, while a portion of your money could be invested in more conservative bonds, which might pay you a rate of $3,000 to $4,000 on a $100,000 investment, another portion could be invested in the U.S. stock market, which has a long-term average return closer to 10%. While you might be tempted to put all of your money in investments with the highest potential return, the safer way to invest your entire $100,000 is actually to spread it out among different asset classes so that you can minimize the risk that your entire portfolio will go down at the same time.
Information is accurate as of Sept. 6, 2022.
Our in-house research team and on-site financial experts work together to create content that's accurate, impartial, and up to date. We fact-check every single statistic, quote and fact using trusted primary resources to make sure the information we provide is correct. You can learn more about GOBankingRates' processes and standards in our editorial policy.