What Does 'Tendies' Mean in Investing?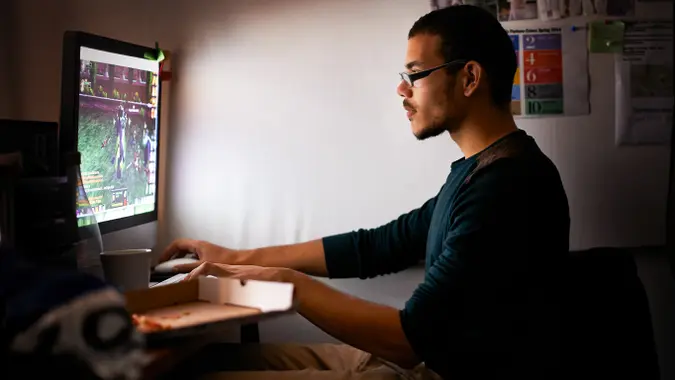 Yuri_Arcurs / Getty Images
Lately, investing has become so accessible and popular that new terminology seems to evolve every day. Just as online daters have ghosting, catfishing and submarining, online investors have their own meme-rich vocabulary, including the term — tendies. But what does it mean?
What Does 'Tendies' Mean?
Simply put, the term tendies refers to a reward — in the case of investing, tendies is a slang term used to describe money made on a stock or earnings from the stock market.
The Origin of 'Tendies'
The term tendies originally emerged on an internet board called 4chan — a corner of the internet frequented largely by males who tend to self-identify as nerdy. In 4chan's "r9k" forum, these men have come up with a self-flagellating portrait of themselves and an acronym to describe it: NEET, which stands for an adult male "not in education, employment or training."
This stereotypical male character, who is the definition of failure to launch, is motivated by one perk: chicken tenders, or "tendies." Evocative of the toddler who will only eat one food, chicken tenders are so enticing that the NEET's mother rewards him for good behavior — gives him "good-boy points" — in tendies.
How Tendies Found Its Way Into Investing Lingo
One meme tends to spawn another, which is how a Reddit investing community called WallStreetBets brought tendies into the terminology of investors. WallStreetBets, at approximately 10 million members strong, is best known for being the online group behind the GameStop trading scandal.
How To Talk 'Tendies'
Want in on the tendies talk? Brag about your stock market earnings — "I made more tendies than I expected today" — or boast about how many tendies you think your next stock trade could elicit.
Brands Cash In
Online investors aren't the only group having fun with the term tendies. Discount grocer Aldi recently made the news for its "chicken tendies" sign near its chicken tenders. Fast-food chain Popeye's has also hopped on the bandwagon, offering free chicken "tendies" with a $5 purchase. Wendy's stock has benefited from all this talk of tendies, as well.
Good To Know

Tendies is just one of several memes adopted by the Reddit community WallStreetBets. Others include:

Bagholding: a trader who holds a fallen stock in the hopes that it will rebound
Diamond hands: someone who's in a stock for the long haul — a "buy and hold" strategy
Paper hands: an investor who sells early, perhaps out of fear
When It Comes to Money Memes and Allyship, Tread Tenderly
Memes like tendies have made the world of online investing more connected and fun — but when it comes to investing, looking after your tendies is no joke. Remember to research all potential investments, know your short-and-long-term goals, and have a strong read on your risk tolerance. Memes will come and go and investor kinship can be a feel-good side-effect — but remember that job number one when it comes to your tendies is to make them last for you.
Our in-house research team and on-site financial experts work together to create content that's accurate, impartial, and up to date. We fact-check every single statistic, quote and fact using trusted primary resources to make sure the information we provide is correct. You can learn more about GOBankingRates' processes and standards in our editorial policy.