How To Make Money Off the YOLO Market Boom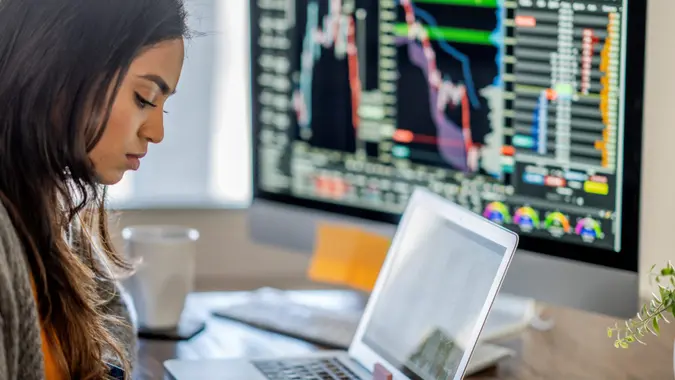 FatCamera / Getty Images/iStockphoto
A new wave of investing has swept across America in 2021. Stocks are getting pumped up by online message board readers who all flock to the same names, driving the shares higher. While some refer to them as "meme stocks," others call them YOLO stocks, for "you only live once." Whatever name they go by, these stocks have made headlines for absolutely skyrocketing for no apparent reason. Yet, there is a formula behind which stocks have become "YOLO" stocks in 2020 and 2021. Here's a quick overview of the YOLO stock phenomenon and what it means for you as an investor.
Read: Do You Invest Like These Millionaire Stars?
Learn: 4 Investing Lessons the Pandemic Has Taught Us 
What Are the YOLO Stocks?
There's no real asset class known as "YOLO" stocks, and the companies that are included on the list continue to expand. However, the most prominent YOLO stocks are the ones that have posted huge gains and garnered the most headlines. In 2020 and 2021, two of the most noteworthy have been GameStop, up 5,232% over the past year, and AMC Entertainment, up 2,225% year-to-date. However, other stocks have been starting to catch fire as well, with names like Bed, Bath & Beyond up 328% over the past year, and Blackberry up 113% YTD.
Dogecoin (DOGE): What It Is, What It's Worth and Should You Be Investing?
What Makes Them YOLO Stocks?
The YOLO stocks may seem like they aren't related, but they have some important things in common. First, all of these stocks are popular topics on message boards like Reddit. Second, all of these stocks have or had huge short interest positions. 
Short interest refers to the percentage of a stock's shares that are "sold short." Selling a stock short means that an investor has borrowed shares of that stock and then sold them. 
See: 25 Money Experts Share the Best Way to Invest $1,000
What does this have to do with YOLO stocks skyrocketing? Well, when stocks with a huge short interest are attacked by waves of buyers, short-sellers are forced to "cover" their shorts, which means they have to buy back the shares they borrowed and sold. In other words, in addition to the true buyers of the stocks, short-sellers are also buying in at the same time. This cascade of buyers results in a soaring stock price, as the amount of buyers overwhelms the number of sellers. This combination of message-board popularity and short-covering results in a YOLO stock.
Find Out: Ways Investing Will Change in the Next 25 Years
How To Pick YOLO Stocks
The current best option for finding YOLO stocks is to read the Reddit channel Wallstreetbets. In addition to reading what those active on the channel are interested in, do some of your own research. Look for companies with high short interest, and if you want to leverage your bet, even more, make sure the company has available call options, which are essentially leveraged bets that a stock will move up sharply in a short period of time. These characteristics are the bread-and-butter of YOLO stocks.
Other Options: 13 Ways To Invest That Don't Involve the Stock Market
Can You Make Money Trading the YOLO Stocks?
Can you make money trading the YOLO stocks? If you've been riding some of the names mentioned above, the obvious answer is "yes." However, the question is whether or not you should. Stocks like GameStop and AMC Entertainment are clearly not trading on their fundamentals. In fact, at least one noted analyst feels that AMC Entertainment is worth just $1 per share, or even less. 
Read: Why It's Never a Bad Idea To Invest In Apple and These Other Companies
The point is that while the upside of these stocks is what gets all the headlines, the downside can be just as dramatic. Investors that were late to the party and piled into GameStop at its 52-week high of $483 are sitting on losses of more than 50% as of June 11. If you buy into AMC Entertainment at current levels and it ultimately does trade down to $1, you could lose nearly your entire investment. Before you pile into any YOLO stocks, make sure you have the risk tolerance to lose everything you invest and be sure to limit the size of your investments to a small percentage of your overall portfolio. Understand that while the thrill of buying YOLO stocks may be exciting, it can also lead to the death of your financial plan if you don't get out in time. 
More From GOBankingRates
Last updated: June 16, 2021