Zoom Stock Prices: Is It a Buy Right Now?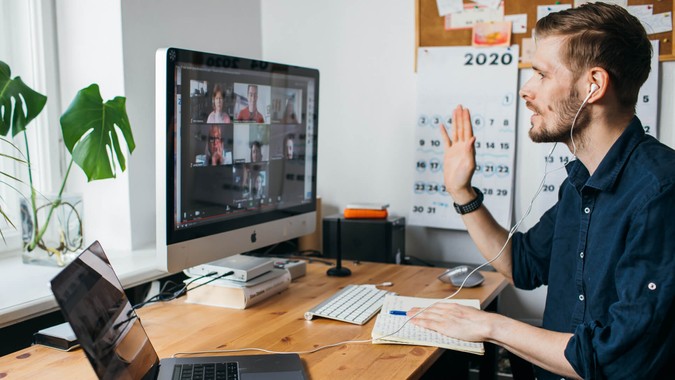 Girts Ragelis / Shutterstock.com
Business must go on — even in the middle of a pandemic. When companies closed the doors to their offices, employees still had to work from home. Zoom made it possible for dining rooms to become conference rooms and living rooms to be classrooms.
Zoom was a hero during the pandemic. The numbers speak for themselves. In March, there were 200 million daily meeting participants in the app. That number increased to 300 million the following month. Zoom remains one of the top free apps in the global market.
A Closer Look at Zoom Stock: Buy or Sell
Zoom was incorporated in 2011 as Saasbee, Inc. The company changed its name to Zoom Video Communications in 2012. It went public on April 18, 2019.
At the end of the first day of trading, the company's stock closed at $62 — up 72%. It sold 9.91 million shares in the IPO and raised $356.8 million. There was no question about whether Zoom stock was a buy or sell. For instance:
Those numbers were impressive, but they were just the beginning. The company consistently exceeded expectations over the next four quarters.
Revenue jumped from $60.1 million in the first quarter of its 2019 fiscal year to $122 million in the first quarter of 2020. That number surpassed $188 million by the end of the fourth quarter.
Sponsors of
Driven by the company's sudden popularity during the pandemic, Zoom posted record profits in 2020. The company expects to end the year with revenues between $2.37 billion and $2.39 billion.
In the wake of its impressive growth, Zoom continues to expand its services. The company released OnZoom as a platform for hosting and monetizing events like concerts, lessons and fitness classes. It also added the Zapps feature, which allows users to embed apps into their meetings.
Is Zoom Stock a Good Buy?

The big question on the minds of investors is whether the company can maintain this momentum. All signs point to yes. The company has a demonstrated record of growth. Its fundamentals are strong, and analysts expect demand for cloud-based communication services to increase.
Competitors
Zoom's success in a competitive field has been a pleasant surprise for its investors. The company has found a way to stand out among an impressive field of competitors. They include big names like:
Growth
Zoom was already growing at an impressive rate before the COVID-19 pandemic. In the last three years, the company doubled its revenue:
2017: $60.8 million
2018: $151.5 million (149% increase)
2019: $330.5 million (118% increase)
Projected revenue for 2020 is between $2.37 billion and $2.39 billion. Its market capitalization of 128,418,916,680 as of Nov. 4 makes the company bigger than General Electric, Caterpillar and Walgreens.
Growth is expected to continue, but the big question is whether it can keep up this pace to justify the current valuation. Investors wanting to know if Zoom stock is a buy right now should consider this.
Zoom Stock Fundamental Analysis
Company fundamentals remain strong. The company's user base has increased dramatically in 2020. There were fewer than 10 million daily meeting participants in December 2019. That number increased to more than 200 million in March 2020 and more than 300 million in April.
Most of the app's users take advantage of the free service, but there is also a paid subscription plan. Zoom has declined to share the number of paid subscribers, so that information is not available for analysis.
Pricing for the paid services is listed below:
Sponsors of
Zoom Meetings: $149.90 per year to $199.90 per year
Zoom Phone: $120 per year to $240 per year
Zoom Video Webinar: $400 per year per license to $64,900 per year per license
Zoom Rooms: $499 per year per room
Zoom Stock Technical Analysis
An analysis of Zoom stock's past performance reveals a positive trend. Here is a look at the stock's moving average as of Nov. 4:
5-Day: $

474.22

50-Day: $

452.80

100-Day: $

355.22

Year-to-Date: $

234.72
Zoom's stock rating has remained consistent since July. The current consensus among analysts is to hold Zoom stock.
How To Buy Zoom Stock — Step By Step
Buying Zoom stock is no different than buying stock in other companies. Here's how to do it.
Decide Where To Buy Zoom Stock
You'll need a brokerage account to buy Zoom stock. In addition to individual shares, you can purchase an index fund that owns shares of Zoom. The following are examples of index funds that hold Zoom as of Nov. 4:
Invesco QQQ Trust Series I (QQQ)
Morgan Stanley Institutional Fund, Inc. Growth Portfolio (MSEGX)
Morgan Stanley Insight Fund

(CPOAX)
Evaluate Zoom and the Stock's Performance
Before deciding to buy Zoom stock, it's important to research and evaluate its performance. Here are some key metrics to consider:
Stock Symbol: ZM
Current Price: $475
52-Week High: $588.84
52-Week Low: $62.02
Determine How Many Shares You Want To Buy
If you're ready to buy Zoom stock now, you need to decide how many shares you want and can afford to buy. A financial advisor can help you make this decision.
Decide Your Order Type and Place Your Order
When you're ready to buy Zoom stock, you have to give the broker an order type. This will likely be a market order or a limit order.
A market order is an order to buy or sell a stock immediately. There is no price guarantee with this type of order.
A limit order is an order to buy or sell a stock at a specific price. There is no guarantee when the transaction will take place with this type of order.
Pros and Cons of Buying Zoom Stock
Zoom stock is pricey, but that doesn't mean it's too late to buy Zoom stock. Analysts expect the company's growth to continue — even if it takes place at a slower pace.
But before deciding to purchase Zoom stock, investors should take a closer look at the potential benefits and drawbacks.
A few of the potential benefits include:
Demonstrated record of growth
High brand awareness
Outperformed other companies, like Lyft and Uber, that went public at the same time
Continues to develop features based on customer requests
Acquired Keybase to support end-to-end encryption
Demand for cloud-based telecom services
Some investor concerns include the following:
Security issues
Sustainability of the platform when offices start opening again
Increasing competition
The decision to buy, sell or hold Zoom stock is ultimately one you should make with a financial advisor. If you decide it's not the right stock for you, consider other options like recession-proof investments.
Information is accurate as of Nov. 4, 2020.
Our in-house research team and on-site financial experts work together to create content that's accurate, impartial, and up to date. We fact-check every single statistic, quote and fact using trusted primary resources to make sure the information we provide is correct. You can learn more about GOBankingRates' processes and standards in our editorial policy.