What Are the FAANG Stocks and Should You Buy Them?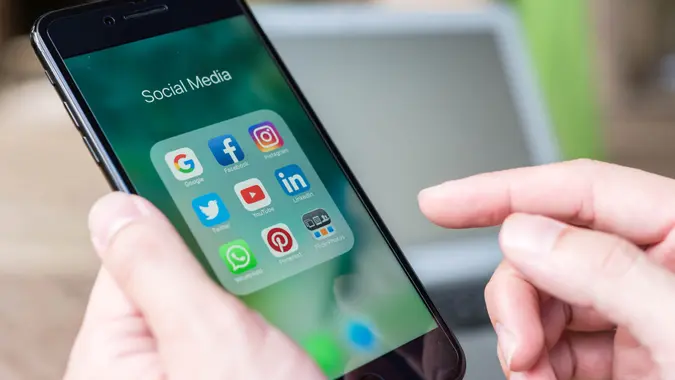 Vasin Lee / Shutterstock.com
If you are interested in technology and/or investing, you may have heard the term "FAANG" stocks. FAANG stands for Facebook, Amazon, Apple, Netflix and Google. Google is now traded under the name Alphabet Company, the parent holding company for the #1 search engine, with 92.47% of the market share as of June 2021, according to Statista.
These mega-cap stocks account for roughly 15% of the S&P 500 index, according to CabotWealth.com, and often drive the stock market as a whole.
Amazon, Apple, Facebook, and Alphabet (Google), along with Microsoft, are also the only U.S. companies with a market capitalization exceeded $1 trillion.
Facebook was the most recent to join this exclusive club, reaching $1 trillion in June 2021, following the court's dismissal of an antitrust complaint presented by the Federal Trade Commission, CNBC reports.
About FAANG Stocks
Despite the size and stability of all five companies, trends change and some investment analysts say FAANG stocks could be making way for a new generation of moneymakers: the TAND stocks. TAND stands for Tesla, Activision, Nvidia and Disney, Forbes.com reported.
That's not to say you should sell your FAANG stocks. They are all prosperous companies with excellent fundamentals, which have gotten them this far. But they may not be a buy, right now, says Mike Cintolo, resident growth investing guru at Cabot Wealth Network. He noted that their biggest growth periods could be in the past, with an average gain of 347% over the past five years.
However, his views may not represent the majority of Wall Street analysts. Of the FAANG stocks, many investors are naming Amazon and Apple in the buy zone heading into the third quarter of 2021.
Before you make any hasty moves, though, let's explore the most recent earning calls for these tech powerhouses, their prospects for future profitability, and how you can invest through FAANG ETFs for a more diversified portfolio.
1. Facebook
Listed as the largest social network worldwide, Facebook has 2.89 billion monthly active users in the second quarter of 2021, Statista reports. Facebook also owned WhatsApp, Instagram, and Messenger. In the first quarter of 2021, Facebook said that 3.51 billion people used at least one of these core products each month, according to Statista.
At its most recent earnings call in July 2021, Facebook reported a 56% year-over-year increase in revenue, with the bulk of its money coming from advertising. In 2021, Facebook increased ad prices and also delivered 6% more ads than the same quarter of 2020.
The company is expecting revenue growth rates to decelerate going into the last half of 2021, as the company "lap[s] periods of increasingly strong growth," the company said in a press release regarding second quarter 2021 earnings. The company is also expecting "ad-targeting headwinds" from Apple's recent privacy changes regarding advertisers, which could affect third- and fourth-quarter earnings.
Good To Know

Facebook stock dipped on the last Thursday in July following the earnings call, but Investor's Business Daily gives the stock a high relative strength line right now, rating it a 99 out of 99.

The company's innovation and continued growth make most investors bullish on Facebook, IBD reports. However, they suggest holding for the moment and waiting for a better entry point. The price on July 30, 2021, sits at $357.85, close to its 1-year high of $360.73.
2. Amazon
Amazon also held its second quarter earnings call in late July 2021, announcing an operating cash flow increase of 16% year-over-year, while net income increased to $7.8 billion compared to $5.2 billion for the second quarter of 2020.
However, the Q2 reports fell short of what Wall Street analysts had expected, Variety and other sources report. Total sales increased by 27%, up to $113.1 billion, which is a Q2 record for the e-tailing giant, but analysts expected $115.07 billion in revenue.
Amazon's Income Sources
The largest e-commerce retailer in the world, Amazon derives income from multiple sources, including online and retail store sales, its enterprise cloud service AWS (Amazon Web Services), and its growing entertainment division, Amazon Studios and Amazon Prime Video. Amazon is also awaiting regulatory approval to purchase MGM Studios, Variety reported.
Following the lackluster earnings announcement, Amazon stock dropped. For savvy investors, this could represent a buying opportunity. Net income remains high, and it would have been tough for Amazon to match last year's second quarter growth of 40% when lockdowns gave people few options but to shop online for nearly everything from groceries to household goods.
Stock analysts at Piper Sandler, Truist, Barclays, Keybanc and Baird all maintain their buy ratings on the stock right now. Amazon is trading at $3,347.75 as of July 30, 2021, down from its previous close of $3,599.92.
3. Apple
Things are looking up for tech giant Apple following its Q2 2021 earnings call. Apple was a later addition to the FAANG family of stocks and the only company on the list that did not originate as an Internet-based tech company. It was the first of the FAANG stocks to reach a market cap exceeding $1 trillion, according to IBD. In August 2020, it became the first stock with a market cap of $2 trillion
Revenue was up 36%, reaching a new fiscal third quarter record of $81.4 billion, Apple reported, while revenue for its services, including Apple Music and Apple TV, also hit record highs, with 700 million paid subscribers, up 150 million year-over-year said Apple CEO Tim Cook.
Apple CFO Luca Maestri shared that each of the company's product categories achieved double-digit growth, and the company "returned nearly $29 billion to shareholders." Apple stock pays a cash dividend of $0.22 per share payable on August 12, 2021 to shareholders of record at close-of-business August 9, the press release said.
Apple Share Price
Despite the positive quarterly report, Apple shares dipped slightly between July 26, 2021 – the day before the call – and July 30, 2021. The stock is trading at $145.78 as of mid-day July 30, compared to Is $148.99 at market close on Monday, July 26. CNBC attributed the dip to a potential iPhone chip supply shortage, a problem that has been plaguing the electronics industry since just before the pandemic.
Many investors are calling Apple stock a "buy" right now. Yahoo Finance reports that it has a Zack's Rank of 2, calling it a buy, and noting that stocks rated #2 tend to outperform the market over the one-month period following.
Apple has high ratings from Moody's Investors Service and Standard & Poors, TheStreet.com reports, indicating that the company's plans to sell billions in bonds could mean big returns for shareholders.
4. Netflix
Netflix released its quarterly earnings on July 20, 2021, reporting that revenue increased 19% year over year to $7.3 billion in Q2, with an increase in operating income of 36%, to $1.8 billion. The streaming service has 209 million subscribers, up from 167 million in 2019.
In its shareholder letter, Netflix acknowledged that 2020 showed higher membership growth due to the COVID-19 pandemic and stay-at-home orders. Netflix makes the largest share of its revenue from paid subscribers. With a market cap of $228.31 billion, Netflix is the smallest of the five FAANG stocks.
Despite growing competition from other streaming services, including traditional media companies like CBS All Access, Netflix remains strong as a company due to its original programming, earning nominations for 129 Emmy awards in 2021 and winning seven Oscars at the Academy Awards in the spring.
Netflix Share Price
However, IBD places Netflix as a hold right now, since the stock sits well below its buy point of $593.39 at $516.09 mid-day Friday, July 30. IBD points out that the stock missed its last two attempted breakouts, but investors should hang tight and keep a careful eye on the company.
5. Google
Google parent company Alphabet has a market cap of 1.8 trillion, with the stock rising by 56% in 2021, IBD reports. Since its IPO in 2004, the stock has surged by 3,000%, GOBankingRates reports. But has it reached the end of its rapid growth phase?
Although it dominates the search market with 92.47% of the market share as of June 2021, according to Statista, it struggles against competitors Amazon and Microsoft when it comes to cloud computing services. Amazon also continues to give Google a run for its money in internet search related advertising, IBD reports.
Google's Income Sources
Alphabet Company also owns YouTube, which earns revenue from advertising and subscribers. The service has more than 30 million music and premium paid subscribers. The YouTube TV streaming service benefits from more than 3 million subscribers, according to IBD figures.
Google's other projects, including Pixel 5G Mobile Phones, which seek to compete with Apple and its Google Home smart home devices, which compete with Amazon products, leave question marks as to the company's success and revenue as it expands beyond search engines and advertising revenue. Similarly, Waymo, Google's self-driving car project, also faces growing pains in a challenging industry.
Google Stock: Buy, Sell or Hold?
Despite this, investors are calling Google a "buy" or a "hold." It has outperformed the S&P 500 by 32% in 2021, so far, according to GOBankingRates. IBD writes that it is currently 5% above its buy zone, opening at $2,700.70 on July 30, 2021.
But the site still gives Google a rating of 88 out of 99, considering it one of the better stocks for long-term investment.
Should You Buy FAANG Stocks?
The FAANG stocks show longevity and solid fundamentals. If you are looking to invest in household names and hold them through the ups and downs of the marketplace, it's unlikely you'll lose long-term with Facebook, Amazon, Apple, Netflix or Google.
If you can't afford a single share but still want to call yourself a shareholder, you can consider purchasing fractionals through a retail trading app.
Before you do, however, consider if the growth potential of these "big five" has reached its peak. Research the companies, speak to a financial advisor, and seek out stocks that match your financial goals.
Can You Buy FAANG ETFs?
One solution to avoid putting too much money into a FAANG stock is to choose an exchange-traded fund with some or all of these FAANG stocks in its diversified portfolio.
An ETF is a group of similar stocks that track a particular benchmark, such as the S&P 500. FAANG ETFs have at least 1% exposure to each of the FAANG stocks but represent a diversified portfolio with other related stocks, as well.
The ETF Database (ETFDB.com) shares some of the top ETF funds, showing increases of 18% to 48% over the past year.
ProShares UltraPro QQQ (48.25% YTD price change)
ProShares Ultra QQQ (33.12% YTD price change)
SPDR Portfolio S&P 500 Growth ETF (19.42% YTD price change)
iShares S&P 500 Growth ETF (19.31% YTD price change)
Vanguard Mega Cap Growth ETF (18.85% YTD price change)
Remember, past performance does not guarantee future results. But if you think FAANG stocks or ETFs are a good addition to your portfolio, speak with a financial advisor about the best way to purchase them.
Our in-house research team and on-site financial experts work together to create content that's accurate, impartial, and up to date. We fact-check every single statistic, quote and fact using trusted primary resources to make sure the information we provide is correct. You can learn more about GOBankingRates' processes and standards in our editorial policy.