Facebook Stock: Is It a Good Buy Right Now?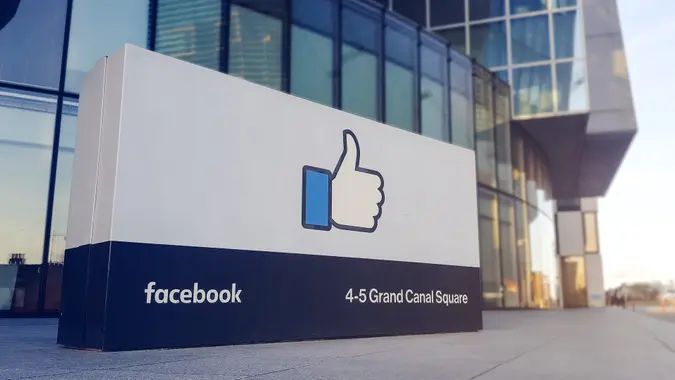 Lloyd Carr / Shutterstock.com
Meta Platforms, the parent company of Facebook (Nasdaq: FB), released its fourth-quarter and full-year earnings for fiscal year 2021 on Feb. 2. The tech giant's weak quarterly results and first-ever decline in active daily users sent the stock tumbling over 26%. It was the S&P 500's largest-ever one-day decline, and it stripped the company of over $230 billion worth of market value, The New York Times reported. Does that mean you should rush out to buy the stock in the dip, hold off to see what happens next — or forget it entirely? Here's what you need to know.
Facebook by the Numbers
Sales in the fourth quarter were $33.67 billion, 20% higher than sales in the same quarter last year and outpacing analysts' expectations of $33.4 billion, CNBC reported. However, that wasn't enough to generate a profit in light of the social media giant's 38% increase in total costs and expenses — some of which can be attributed to an outsized investment in its metaverse initiative — compared to the same quarter last year. Facebook finished the quarter with net income down 8% year over year.
Earnings were $3.67 per share, which fell short of the $3.84 per share analysts expected.
The average number of active daily users fell by about half a million users, according to The Washington Post.
The annual numbers paint a rosier picture:
Total revenue: $117.93 billion, up 37% from 2020
Profits: $39.37 billion, up 35% from 2020
Facebook active daily users: $1.93 billion, up 5% from 2020
Advertising revenue: $114.93 billion, up over 35% from 2020
A Revenue Beat Doesn't Always Signal an Increase in the Stock Price
Although quarterly earnings per share were slightly lower than analysts had predicted, revenue was substantially higher and the annual results were positive overall. Yet the stock price tanked.
Why?
The answer to this question may be easier than it seems. While investors don't have a crystal ball, they still base their trading decisions on what is likely to happen in the future, not what has happened in the past. And the future looks a little murky for Facebook.
The company had warned that advertising growth could be sluggish in the fourth quarter. Changes to Apple's iOS operating system have made it harder for Facebook and other social media companies to target their ads to consumers, who can now opt out of having advertisers follow their every move online in order to serve up ads related to searches they've performed and sites they've visited.
There's also the uncertainty of Washington's concern over the misinformation that spreads unchecked on Facebook and other social media platforms. In March, Mark Zuckerberg was called to testify before Congress, along with some of his fellow tech CEOs, about what the platform is doing to ensure that erroneous information about COVID-19 and other topics isn't shared as though it were fact. And in October 2021, Congress heard testimony from a whistleblower who leaked a trove of company documents to The Wall Street Journal. Included in the documents were research reports and employee discussions suggesting the company knew it was promoting harmful content on its social media platforms, including Facebook and Instagram, the Journal reported, but ignored the danger to protect profits — an allegation Zuckerberg denies. Facebook noted during the Q3 earnings call that it was under investigation by the government.
Facebook faces new legal troubles heading into 2022 that began just weeks into the first quarter of its 2022 fiscal year. The Federal Trade Commission has filed a lawsuit against Facebook alleging the platform has a monopoly in social media and has abused its power by engaging in a "buy-or-bury" strategy that harmed its competition, The New York Times reported. A federal judge greenlighted the suit on Jan. 11
In its 2021 annual report, Facebook reiterated risks it faces related to government regulation and enforcement as well as other litigation, including class action suits. It also noted that unfavorable media coverage could affect its ability to maintain and enhance its brand.
Competition from other platforms has driven Meta to beef up its own social offerings with the introduction of Instagram Reels. Reels get prime space on users' Instagram feeds and are the app's primary driver of engagement, The New York Times reported. Whether it can take market share from TikTok remains to be seen.
The market doesn't like uncertainty, and there is a fair amount of uncertainty right now around whether Facebook can overcome these challenges.
Is Facebook Stock a Good Buy Now?
No investor can predict the future, and historical data only says so much. Determining whether or not Facebook — or any stock, for that matter — is a good buy depends on a number of factors.
What the Analysts Say
Of 44 analysts covering Facebook in February, 17 rate the stock a "strong buy" and 24 rate it a "buy," according to Yahoo Finance. That's down from January 2021, when 18 rated it a "strong buy" and 30 rated it a "buy," but analysts see Facebook's current troubles as temporary. Their average price target is $353.91 — over 49% above the current price.
CNBC's Jim Cramer agrees that Facebook will bounce back, albeit perhaps not before a further decline. He told CNBC that investors can expect a period of chaotic selling, but after that, "I predict Meta-Facebook will be a buy." That said, Cramer did agree that the quarterly results were disappointing. For those who might be considering selling, he said, "You can justify selling the stock, maybe down as much as 15%," but he called a 26% decline "overdone" because "Facebook has actual earnings."
What the Fundamentals Show
There are a number of metrics that investors use when they research stocks to determine the health of a company relative to others in its sector and to the market as a whole. One of these is the price-to-earnings ratio. The P/E ratio compares a stock's price to the earnings per share the company generates. The ratio tells investors how much they're paying for each dollar of earnings. So, if a stock is trading at $25 per share and earnings per share are $1, that stock has a P/E ratio of 25.
The P/E ratio is useful when comparing stocks to one another, to the sector they're in, or to the market as a whole. As of Feb. 5, Facebook's P/E ratio was 17.22. The estimated P/E ratio for the tech sector for 2022 is 30.22, according to Fidelity. And the P/E ratio for the S&P 500 at the beginning of February was 25.37.
Of these three ratios — that of Facebook, the tech sector and the S&P 500 — Facebook's is the lowest. A lower P/E ratio is better since it means you are paying less for a dollar of earnings. So, since Facebook's P/E ratio is lower than that of the S&P 500 and the technology sector, fundamental analysis says that the stock is a relatively good value.
How To Know If Facebook Stock Is Right for You
There's another consideration that is often overlooked when deciding whether or not to buy a specific stock, and that is how it fits into your portfolio.
A good stock portfolio contains a good mix of stocks — small caps, large caps, growth stocks, value stocks, foreign stocks, domestic stocks, and stocks from many different industries. Diversification is important, even if you don't have a large portfolio.
Advice

Before you decide to buy a stock like Facebook, you want to make sure your portfolio isn't too heavily concentrated in technology stocks. This sector has had a good run recently, so it may represent a larger percentage of your portfolio than you think. That's not necessarily a bad thing, but you may want to sell some of your other tech holdings if you decide to buy Facebook.

For some investors, another criterion they consider is the company's mission, vision and culture. You may want to think about whether you consider the company to be a good corporate citizen and a fair employer before you choose to invest.
Daria Uhlig contributed to the reporting for this article.
Data is accurate as of Feb. 5, 2022, and subject to change.
Our in-house research team and on-site financial experts work together to create content that's accurate, impartial, and up to date. We fact-check every single statistic, quote and fact using trusted primary resources to make sure the information we provide is correct. You can learn more about GOBankingRates' processes and standards in our editorial policy.