How Much Is Netflix Worth?
See Netflix's market performance after missing a growth target.
Streaming giant Netflix offers subscribers more than 5,500 movies and TV series. For as little as $7.99 a month, you can sift through thousands of selections, including original programming like "Chef's Table, "Orange Is the New Black" and "Stranger Things." Netflix subscribers are growing, but whether the company can continue to sustain its growth targets remains to be seen. It's possible that subscriber numbers will increase, given the recent news of the eight shows Shonda Rhimes, creator of hit shows "Grey's Anatomy" and "Scandal," will be producing for the company.
Before your next Netflix binge, find out what it means to be an investor with the company's recent market figures.
What Netflix Is Worth
Netflix Share Price, 52-Week Range
$160.02-$423.21
Netflix Market Cap, 52-Week Range
$69.6B-$184B
2017 Revenue
$11.7B
2017 Profit
$558.9M
GOBankingRates' Evaluation of Netflix Net Worth
$9.6B
All information on 52-week range accurate as of July 17, 2018.
Sponsors of
About Netflix
Headquarters
Los Gatos, Calif.
Year Founded
1997
CEO Reed Hastings Net Worth
$4B
Click here for an overview of Netflix stock from the last 20 years.
Netflix Market Cap Range: $69.5B-$184B
Market capitalization is determined by the total dollar value of a company's outstanding shares, which helps investors determine the relative size of a company. Netflix's market cap range, with a 52-week high of $184 billion, reflects how the market as a whole values the company. With a range of more than $110 billion, Netflix share prices are in contention among investors, and the sudden reduction in share price in July hints at a rough ride for Netflix stock for the remainder of 2018.
Learn About: 10 Stocks That Could Be the Next Apple or Amazon
Netflix Net Worth: $9.6B
Although market cap can give you a sense of how much the market values a company, it's not strictly accurate, since it's based entirely on market sentiment — essentially reflecting the frequently changing opinions of investors. The GOBankingRates Evaluation, on the other hand, calculates a company's net worth based on measurable figures like assets and revenue. It's a more conservative valuation than the market value, taking into account full-year profits and revenue from the last three years, as well as the company's assets and debts.
Sponsors of
Based on Netflix's revenue and profits from the last three years, the company is worth just under $10 billion.
Related: Netflix Thinks It Could Earn $1B by Interrupting Your Binge With Ads
Netflix Subscriber Gains and Losses
Netflix made its public offering in May 2002 at $15 a share. It later offered its streaming service in 2007. As of 2018, Netflix has 125 million subscribers across 190 countries.
The company's largest subscriber gain occurred in the fourth quarter of 2017, when it took on a record 8 million subscribers, despite a price hike in standard and premium subscriptions the same year. Netflix shares also increased by more than 50 percent in 2017, perhaps encouraging the company to continue investing in original content. In 2017, Netflix's earnings totaled $558.9 million. It spent $6 billion on content in 2017 but announced plans to ramp that figure up to $8 billion in 2018. In May 2018, for example, Netflix announced a content creation partnership with Barack and Michelle Obama.
If Netflix appears to have a robust business plan, that's because it's being felt in the market. In May 2018, for a brief moment, Netflix surpassed media giant Disney in market value by almost $1 billion — and its growth doesn't seem to be slowing. Netflix landed on a few lists of best S&P 500 stocks for the first part of 2018. Even financial aficionado Jim Cramer of "Mad Money" fame considers Netflix to be the best performing stock of 2018 for the S&P 500.
Sponsors of
July 2018 presented the streaming service with problems directly related to its business model: slowed subscriber growth. Netflix predicted a gain of around 6 million subscribers for 2018's second quarter, but fell short of that goal by about a million. The drop might sound like small potatoes for a company that claims a subscriber base of 130 million, but the report rocked Netflix stock with a decrease of as much as 14 percent. On Monday, July 16, the company's stock closed at $400.48. Netflix might have to calibrate its marketing and subscription strategy going into the fall premiere season. If it can't sustain its subscriber goals, Netflix stock might continue to drop.
Netflix and 9 Other: Expensive Stocks That Could Be Worth the Investment
Netflix CEO's Big Paycheck
Netflix CEO Reed Hastings co-founded the company in 1997 with Marc Randolph, who was the company's first CEO. The two dispute the company's origins. Hastings claimed the inspiration for Netflix came from a $40 late fee he incurred for an overdue rental. Randolph says he and Hastings simply wanted to be "the Amazon.com of something," The Washington Post reported in 2014.
Sponsors of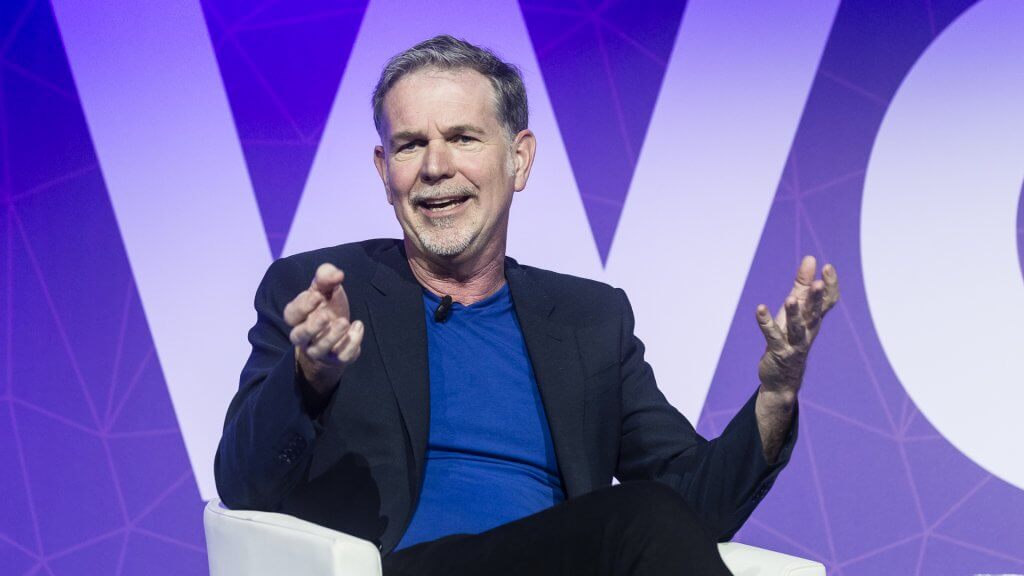 There also is not a lot of reported information about why the business partners split. According to Randolph's LinkedIn profile, he remained with Netflix until 2004.
As of June 2018, Hastings' net worth totals $4 billion. He was paid approximately $24 million in 2017 in combined salary and stock options, according to a CNN report citing a company filing. Although his 2018 base salary will be $700,000, his options will go up to $28.7 million, according to CNN.
Click to keep reading about companies like Netflix that turned problems into businesses.
More on Business
Methodology: The GOBankingRates Evaluation assesses a company's net worth based on the company's total assets, total liabilities, and revenue and net income from the last three years. Base value is established by subtracting total liabilities from total assets from the company's last full fiscal year. Income value is established by taking the average of the revenue from the last three full fiscal years, plus 10 times the average of the net profits from the last three full fiscal years, and then calculating the average of those two figures. The final GOBankingRates Evaluation number is the sum of the base value and the income value.