Can I Get a Personal Loan With a 500 Credit Score?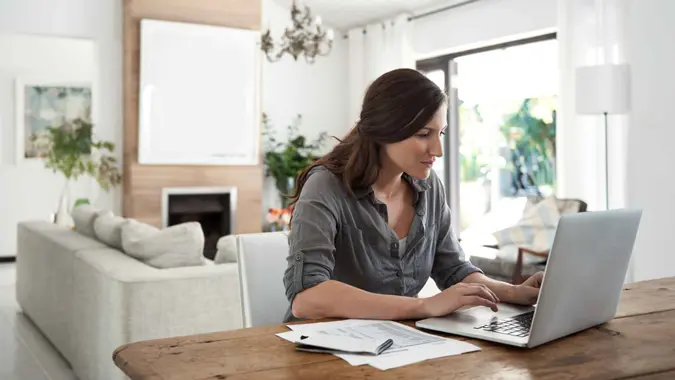 shapecharge / iStock.com
If you're in the market for a personal loan and your credit score is 500, you might be wondering if it's possible to be approved. It's not impossible, but your options are more limited. 
What Does It Mean To Have a 500 Credit Score?
Unfortunately, when your credit score falls between 300 and 579, it's rated as "very poor," according to the FICO credit-scoring model. Only 16% of Americans have a score in this range. Although it's not the lowest credit score you can have, a 500 credit score is quite a bit lower than the average credit score of 714, which is considered "good."
Having a 500 credit score means that many lenders will be unwilling to lend you money because of the financial risk you pose. According to Experian, 62% of consumers with credit scores of 579 or below are likely to have debts that are more than 90 days delinquent in the future. 
Can I Get a $10,000 Loan With a 500 Credit Score?
To get a $10,000 personal loan, you typically need a credit score of at least 620, which is in the "fair" range. But lenders' requirements will vary. According to LendingTree data on closed personal loans, the average loan amounts for consumers with credit scores from 640-679, which are considered "fair" to "good" credit, ranged from $9,300-$11,740.
Overall, the lower your credit score, the less funds you'll likely be offered. According to LendingTree data, the average amount of personal loans for people with credit scores of less than 560 was $2,482. If you have a 500 credit score, there may be lenders willing to work with you, but a $10,000 loan is highly unlikely.
What Loan Companies Work With a 500 Credit Score?
Your options for personal loans are extremely limited when you have a 500 credit score. However, Upstart will consider applicants with credit scores as low as 300. Instead of relying on a traditional credit-scoring model, Upstart evaluates the relationship between over 1,500 variables with the help of AI as part of its decision-making process. Even so, the lender has minimum credit requirements applicants must meet. For example, you can't have any currently delinquent accounts or bankruptcies that occurred within the last 12 months.
Other personal loan lenders for poor credit are OneMain Financial and LendingPoint. LendingPoint, like Upstart, considers more than your credit score when evaluating your application for a personal loan.
However, before applying for a personal loan with any lender, it's important to research and compare the terms and rates the lender offers, including any origination fees and late fees. For example, Upstart offers annual percentage rates between 4.6% and 35.99%, and borrowers with lower credit scores need to expect rates on the higher end of the range. Also, check customer reviews on platforms like Trustpilot to find out how other people have fared with the lender.
Will Traditional Banks Approve Personal Loans With a 500 Credit Score?
Unfortunately, it's unlikely that a traditional bank, such as Chase, Wells Fargo or your hometown banking institution, will be willing to approve a personal loan with a 500 credit score. A poor credit score indicates a significant financial risk, which is something banks like to avoid.
Can I Get a Personal Loan With a 500 Credit Score and a Co-Signer?
If your credit score is poor, having a co-signer might help you get approved depending on the lender. However, the co-signer must have good credit and understand that they will be responsible for making the payments on the loan if you cannot.
How To Apply for a Personal Loan With a 500 Credit Score
If you've decided to apply for a personal loan, see if the lender will let you check your rate before you officially apply and your credit report is pulled. You can potentially do this for several different lenders without any impact on your credit report to help you make a decision about which lender to go with.
Once you've decided on a lender, here's how to apply:
Gather all of the required documents, such as identification and proof of income. 
Fill out the loan application and sign it. 
If you are approved, carefully review the loan's terms and conditions.
Sign the loan documents, and make plans for repayment. 
What About Quick Loans or Bad Credit Emergency Loans?
You might be wondering if quick loans or bad credit emergency loans for a 500 credit score are a good idea. While these might be considered loans that are easy to get, payday loans, for example, could have an APR of up to 400%, which is over 10 times higher than a personal loan APR of 36%. Additionally, these types of loans are usually for low amounts, such as a few hundred dollars, and must be paid back quickly. You could easily sink yourself in a never-ending cycle of debt with these types of loans. 
Other Options for Personal Loans
Other options for personal loans include secured loans, making an arrangement with a family member or friend, applying with a credit union, or investigating peer-to-peer lending options. If you have a friend or family member who is willing to lend you the money you need, it's smart to have a written agreement that you both sign that details the date and amount of the loan, a payment schedule and any interest or fees. 
Takeaway
Although securing a personal loan with a 500 credit score is possible, it will be challenging. You will face limited options and less favorable terms than someone with fair or good credit. 
If the loan amount, terms and rates you are offered with a 500 credit score are not what you're willing to accept, you may want to hold off and work on improving your credit score. Making all of your payments in full and on time, reducing your existing debt and waiting for things like bankruptcies and charge-offs to drop off your credit report can all help give your credit score the boost it needs to get more favorable personal loan offers.  
Information is accurate as of Aug. 31, 2023.
Our in-house research team and on-site financial experts work together to create content that's accurate, impartial, and up to date. We fact-check every single statistic, quote and fact using trusted primary resources to make sure the information we provide is correct. You can learn more about GOBankingRates' processes and standards in our editorial policy.