An Ancient Rule Allows Biden To Forgive Student Loan Debt — No Matter What the Supreme Court Says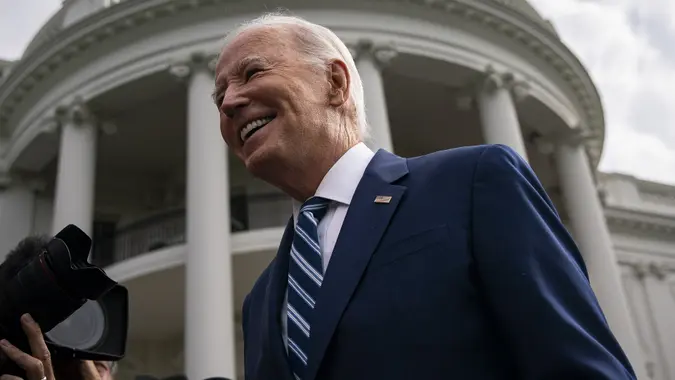 Al Drago / UPI / Shutterstock.com
As millions of Americans await the Supreme Court decision on student loan forgiveness, advocates of student debt relief explore other avenues President Joe Biden could use to achieve his goal.
During the pandemic, Biden and the Secretary of Education used authority granted by the 2003 Heroes Act to pause student loan payments due to the national emergency. They followed it up with a proposal for sweeping student loan forgiveness, with many Americans seeing $10,000 to $20,000 of their student loan debt erased, while others would have their student loan debt completely forgiven.
But the Supreme Court may block loan forgiveness before the court adjourns for the summer. As the nation awaits the decision, student loan debt advocates explore another avenue. The Higher Education Act, signed into law by then-President Lyndon B. Johnson in 1965, could provide another pathway to student loan forgiveness.
The law gives the Education Secretary the power to "compromise, waive, or release" federal student loans. Unlike the Heroes Act, the HEA has no stipulation of a national emergency to grant the president and Education Secretary the power to forgive debt.
However, invoking the HEA would not be ideal, according to Bloomberg and other sources. Jed Shugerman, law professor at Fordham University, told Bloomberg that the HEA requires a lengthy rule-making process. It's also likely to face legal opposition, which would further delay relief. Shugerman predicted that loan forgiveness would be unlikely to come until after the 2024 election.
As it stands now, the payment pause and interest waiver ends in September 2023, 60 days after the Supreme Court's ruling. Payments will resume in October 2023.
If the Supreme Court overturns loan forgiveness, the Progressive Change Campaign Committee stands ready to advocate for alternate paths, including invoking the HEA, Bloomberg reported. The group has 1 million members.
More From GOBankingRates