Student Loan Forgiveness: Could Biden's Plan To Lower Payments Lead to Further Debt?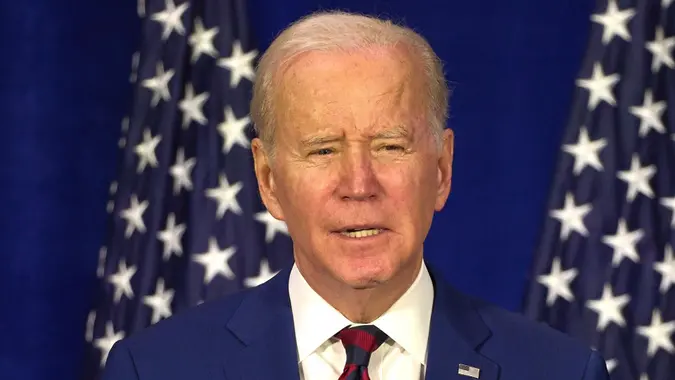 Allison Dinner/EPA-EFE/Shutterstock / Allison Dinner/EPA-EFE/Shutterstock
Although well-intentioned, President Joe Biden's proposed changes to the income-driven repayment (IDR) plan REPAYE may cause some borrowers to take on more educational debt than they would have previously. The Congressional Budget Office (CBO) recently estimated a 12% increase in student borrowing should the modified plan get implemented.
Social Security: Women Get $354 Per Month Less Than Men – Here's Why
Learn: With a Recession Looming, Make These 3 Retirement Moves To Stay On Track
The CBO acknowledged that it's challenging to predict borrower behavior in advance, but the federal agency suggests that:
Current borrowers may take out higher loan amounts because their monthly payments will be lower.
Previously hesitant students may now borrow funds to cover their education because the loan terms have improved.
Some colleges and universities may increase their tuition to capitalize on student willingness to assume more debt.
The updated IDR plan will be especially popular with borrowers if the Supreme Court strikes down Biden's student debt cancellation initiative.
If they can't get their loans forgiven, borrowers would eagerly take advantage of the updated REPAYE plan, which would:
Lower their monthly payment from 10% of their discretionary income to 5%
Increase the amount of income exempt from repayment from 150% of the federal poverty guideline to 225%
Prevent interest from accruing when their payment doesn't cover the interest due
Grant forgiveness in 10 years instead of 20 for undergraduate loan balances of $12,000 or less
Take Our Poll: Do You Think Bankruptcy Is an Acceptable Way To Escape Student Loan Debt?
The proposed plan may be more costly than anticipated for taxpayers, too. The CBO projects that the new IDR plan's price tag will be nearly double the initial estimate of $138 billion. Over the next ten years, Americans may foot the staggering bill of $230 billion (or more!).
More From GOBankingRates