Student Loan Repayments: 10 Tips To Set Yourself Up for Success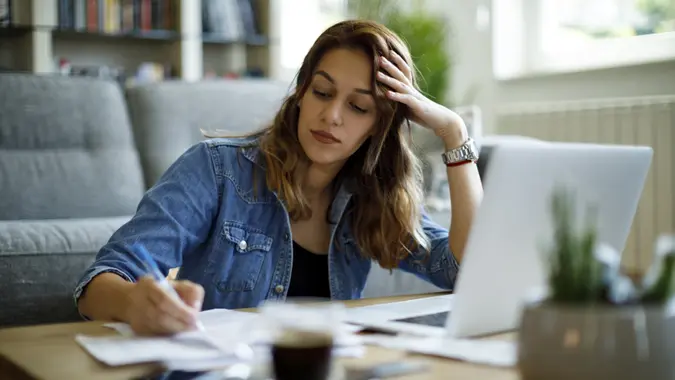 damircudic / Getty Images
Student loans might be the tool you need to get your degree. But once you graduate, it's time to start repaying those loans. While paying back your loans might not be the most exciting thing in the world, understanding the rules can help you set yourself up for success.
Let's explore what you can do to make your student loan repayment journey more seamless.
1. Get Clear About What You Owe
As you navigate your college career, you might have taken on several rounds of student loans. Each time you take out another loan, the total amount owed grows. But in some cases, your loans may have accumulated interest throughout your college years. All of this can add up to a higher loan balance than you originally anticipated.
Instead of keeping your head in the sand, take action by tallying up all of your student loans. With a clear understanding of how much you owe, you'll have a better idea of what your student loan repayment journey will look like.
2. Determine Your Grace Period
When you graduate college, it's a major period of transition. Many federal student loans provide a six-month grace period. During that grace period, you won't be expected to make any student loan payments. But after the grace period is up, you'll be expected to start making monthly payments.
Take the time to find out when your first student loan payment is due. This will give you time to prepare for your repayments.
3. Find Out Who Your Loan Servicer Is
The Department of Education doesn't directly collect your student loan payments. Instead, the Department of Education works with a handful of contractors who act as loan servicers.
As a borrower, it's critical to track down your student loan servicer. In many cases, you'll receive information directly from your loan servicer. But if you don't receive that information, you can find your loan servicer by visiting your Department of Education dashboard. Within the dashboard, you can find a section that indicates your loan servicer.
4. Let The Loan Servicer Know About Changes to Your Contact Information
When you graduate from college, it's not uncommon to bounce around for a little while. For example, you might say goodbye to your small college apartment for new digs in a city with promising job opportunities. Plus, you might switch up your primary email address if your university deactivates your .edu address.
Any time your contact information changes, let your loan servicer know. Otherwise, you might miss important information about your student loans.
5. Choose an Ideal Repayment Plan
Student loan repayment isn't one-size-fits-all. Instead, there are several different repayment plans available. While you'll likely be put on the standard 10-year repayment plan at first, you can apply to switch to an income-driven repayment plan.
Take the time to explore all of the income-driven repayment plans. When you find one that suits your situation, file the necessary paperwork to update your minimum monthly payment.
6. Learn About Deferment and Forbearance Options
Life can throw some curveballs your way. If you find yourself in a difficult financial position, forbearance or deferment might be an option.
Both student loan deferment and forbearance offer temporary payment relief. While neither is a permanent solution, either can give you some breathing room. You can use the temporary pause to get back on your feet by the time you are required to resume payments.
7. Seek Out Loan Forgiveness Options
The federal government offers several pathways to student loan forgiveness. If you have federal student loans, it's worth looking into your forgiveness options. For example, the Public Service Loan Forgiveness program offers loan forgiveness to borrowers who are employed in certain fields for at least 10 years.
For those who qualify for loan forgiveness, pursuing this option can transform your financial situation in a positive way.
8. If Possible, Accelerate Your Loan Repayment
Student loan debt can put a drain on your finances. A high minimum monthly payment can feel like a pinch on your financial security for years to come. If you have breathing room in your finances, consider accelerating your repayment journey. Making an extra payment every month can help you eliminate this financial burden as soon as possible.
If you don't have room in your budget right now, consider pursuing a more lucrative job or a side hustle to make fast progress on your student loans.
9. Always Communicate With Your Lender
If you run into financial trouble or you aren't sure about your payment obligations, don't hesitate to get in touch with your loan servicer. You can often clear up any uncertainties by asking your questions directly to the lender.
If you anticipate missing a payment, reach out to your lender as soon as possible. In some cases, the lender may be able to offer you temporary relief. But if you don't ask for a helping hand, a lender is unlikely to offer you a reprieve.
10. Stay on Top of Student Loan Payment Pauses
The federal government paused federal student loan payment obligations in 2020. After an extensive hiatus, the federal government is planning to resume student loan repayments in October 2023. Additionally, student loan interest on federal student loans will resume accruing in September 2023.
If you have federal student loans, staying on top of the payment pause can help you avoid making payments until you absolutely have to.
Final Take
Student loans present an opportunity to get your degree. But the repayment journey is often easier said than done. If you are carrying the burden of student loans, being proactive can make the process as smooth as possible.
Our in-house research team and on-site financial experts work together to create content that's accurate, impartial, and up to date. We fact-check every single statistic, quote and fact using trusted primary resources to make sure the information we provide is correct. You can learn more about GOBankingRates' processes and standards in our editorial policy.