Will the Defeat of Biden's Student Loan Plan Spell the End of Payment Pauses (or New Debt Forgiveness)?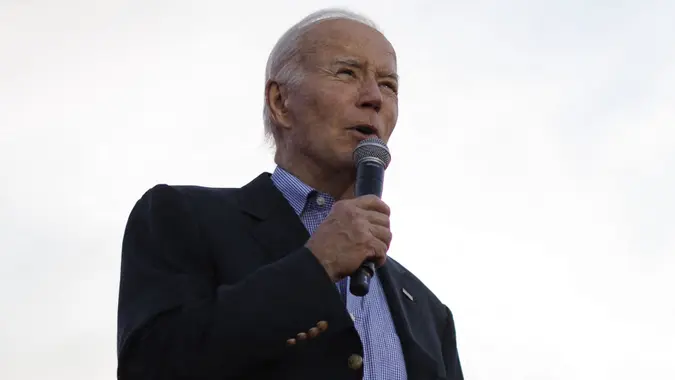 Pool / ABACA / Shutterstock.com
In May, a debt ceiling agreement was finally reached, but many compromises had to be made. One of these was to lift the student loan payment pause. "Sixty days after June 30, 2023, the waivers and modifications described in subsection (c) shall cease to be effective," the "H.R.3746 – Fiscal Responsibility Act of 2023" bill reads, in part.
However, Republicans were unable — at the time — to include a measure that would stop President Biden's student loan relief program.
That didn't make a difference for borrowers, however. On June 30, the Supreme Court — via a 6-3 decision — struck down President Biden's student loan forgiveness program, which would have canceled up to $20,000 in debt per borrower.
Just a few hours following the decision, the administration announced new steps that could help borrowers. These include a repayment plan — called the Saving on a Valuable Education (SAVE) Plan — which will cut monthly payments to $0 for millions of borrowers making $32,800 or less ($67,500 for a family of four) and save all other borrowers at least $1,000 per year, according to the Education Department. The SAVE plan will replace the existing Revised Pay-As-You-Earn (REPAYE) plan. Additional benefits will go into effect in July 2024.
In addition, the administration also said it was instituting a 12-month "on-ramp" to repayment, running from Oct. 1, 2023, to Sept. 30, 2024, "so that financially vulnerable borrowers who miss monthly payments during this period are not considered delinquent, reported to credit bureaus, placed in default, or referred to debt collection agencies."
Will Biden Push Student Loan Payment Pauses?
Now, whether Biden will (or can) institute further payment pauses is very unlikely, according to several experts.
"Under the debt ceiling bill passed this year, President Biden cannot introduce any more pauses or freeze payments for federal student loans," said Zack Geist, founder of Student Loan Tutor. "The only way that another forbearance could be introduced is if we have another global pandemic or a National State of Emergency is in effect."
Student loan interest will resume on Sept. 1, 2023, and payments — which paused during the pandemic — will be due starting in October. 
Despite calls for further pauses on student loan repayments, it seems unlikely. According to Andrew Latham, CFP and director of content at SuperMoney.com, the administration has chosen to focus on alternate forms of student loan relief.
"These include launching a process to create an alternative path to debt relief, creating a new repayment plan that promises lower payments for some borrowers, and introducing a 12-month 'on-ramp' to ease the return to repayment."
Can Biden's New Student Debt Forgiveness Plan Succeed?
Whether Biden's new plan will succeed remains to be seen. While the original relief program hinged around the HEROES Act — enacted in the wake of the Sept. 11 attacks — the Supreme Court argued that it did not provide authority to grant relief from student loans.
Meanwhile, the administration's second plan would be conducted under the auspices of different legislation — the Higher Education Act (HEA) — which gives the Department of Education the "broad authority to compromise and modify federal student loan debts" and to "enforce, pay, compromise, waive, or release any right, title, claim, [or] lien," regarding student loans.
"As the President announced, we are moving quickly to create an alternative path to provide relief through the Higher Education Act," Vice President Kamala Harris outlined in June 30 remarks posted on the White House website.
"In the short-term, borrowers struggling to make their payments will be protected from impacts on their credit for 12 months. And we are launching our new income-based repayment program, which will cut monthly payments in half for undergraduate borrowers."
Yet, some experts argue that the new plan could face similar roadblocks previously faced with the HEROES Act. Detractors could say it, too, represents an overreach.
"I have no doubt that any relief under the Higher Education Act will face a spate of lawsuits, essentially pitching the same claim — that the administration acted outside of its statutory authority," Steven Schwinn, a professor at the University of Illinois John Marshall Law School in Chicago, told Bloomberg.
More From GOBankingRates