New York City Loses 40,000 Jobs and $27.5 Billion as Amazon Drops Its Headquarters Plan
The retail giant's withdrawal negates potential revenue for NYC.
Amazon discontinued plans for a new headquarters in Long Island City, Queens.
The move was driven by a negative response from many locals.
The project was expected to create up to 40,000 jobs and generate $27.5 billion over the next 25 years.
Amazon's marriage with New York City is over before it even really started. The tech giant declared on Feb. 14 that it would no longer be building one of its HQ2 projects in the Queens borough. Although the decision marks a victory for many local activists and politicians, the long-term consequences to the city and state's coffers — not to mention the city's job market and businesses — have others wondering if this is an example of an armed minority driving away what could have been an economic boon for many New Yorkers.
How the Courting Began: Cities Offer Amazon Billions in Incentives to Win New HQ2, Jobs
Economic Impact of Loss for New York City and State Could Be Large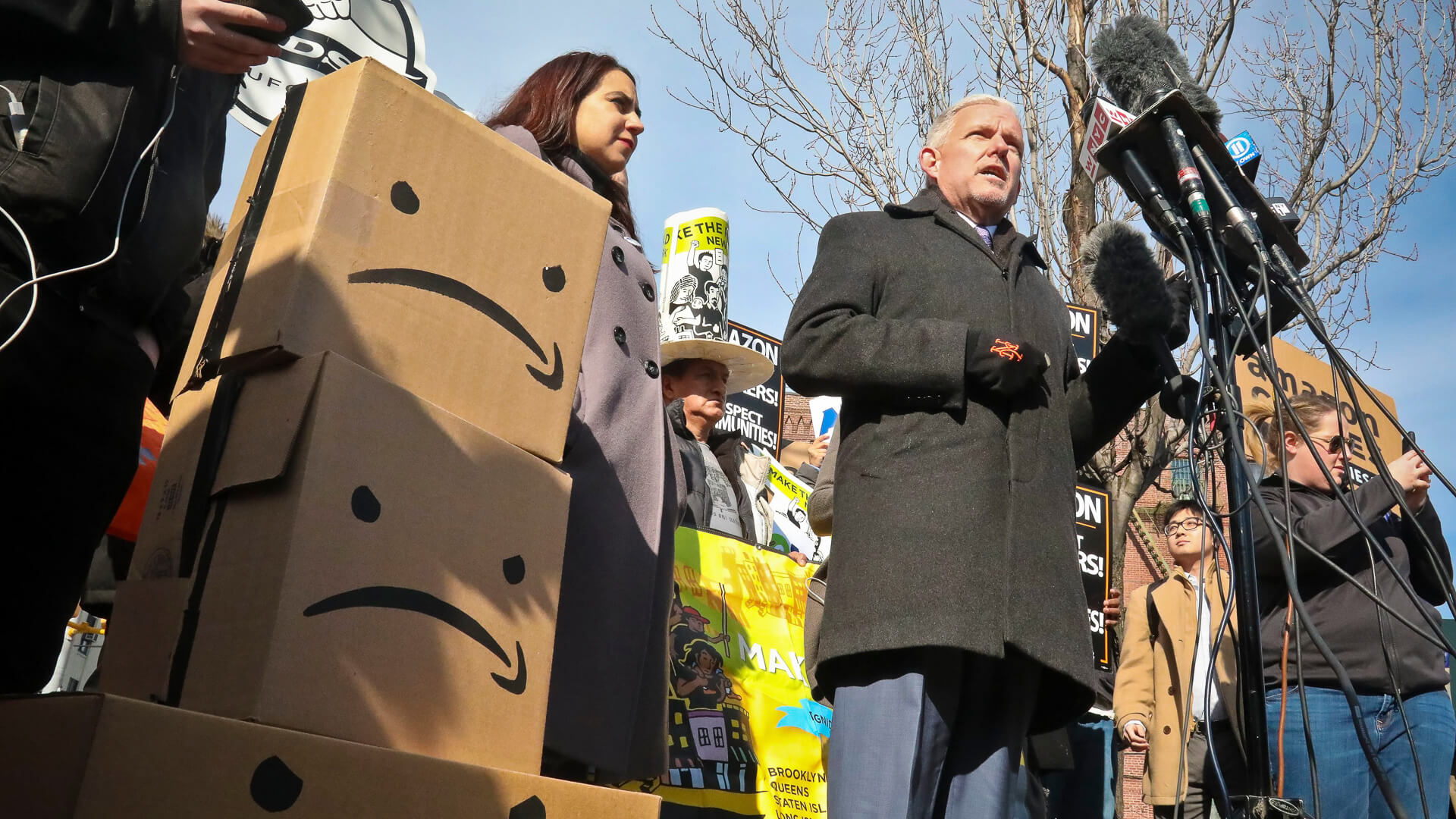 Valentine's Day often brings up images of arrows shot into people's hearts. It's usually Cupid firing love arrows into the hearts of new lovers — but in this case, local New York politicians and activists seemed to be firing not-love arrows at Amazon until it turned around and took off.
Amazon pointed out polling that showed some 70 percent of New Yorkers supporting the decision to bring Amazon to Queens in its blog post announcing the decision. And although opposition to the decision to offer some $3 billion in tax incentives to attract the company is rooted very real concerns about how an influx of highly paid tech workers would've affected the local real estate market in Long Island City, Queens, the other side of the story is a major influx of money into the local economy and the coffers of the state and local government.
As Caroline Spivac outlined in Curbed: New York, there's a lot that New York doesn't gain. For everything that was made of the $3 billion in tax incentives, it was also projected to generate an additional $27.5 billion in tax revenues over the next 25 years — a ratio of better than nine to one.
There was also the 25,000 to 40,000 new jobs it would have created with an average salary of $150,000. On top of that, Amazon planned to contribute $5 million — with matching contributions from the city and state of New York — toward workforce development in addition to helping to launch a local non-profit focused on mentoring locals for careers in tech.
Don't Miss: Amazon Jobs Aren't Always Worth the Hype — Here's Why
What's more, Amazon planned to make use of the city's Payment In Lieu of Taxes — aka PILOT — program to push as much as $650 million into local infrastructure, including building a 600-seat school and 3.5-acres of public parks.
See: How Google, Amazon and 10 More Top Companies Changed Their Home Cities Forever
Knock-On Effects of Amazon's Withdrawal Still Unclear
The question at the heart of this debate focuses on how such a large influx of workers — many likely moving into the city from elsewhere — would have affected the local economy and housing market.
Matthew Yglesias of Vox observed that the housing market in New York would most likely have been dramatically impacted by so many high-earners pushing into an area without much available living space or new units. That could have translated to soaring housing prices in an already expensive area that would have muscled out locals and contributed to an already difficult economic landscape for working-class New Yorkers.
However, the other knock-on effects of injecting so many highly-trained, well-paid tech workers into the area could have been positive. In addition to producing so much new tax revenue for local governments, these workers likely would have meant a lot more disposable income being spent at shops and restaurants in the area.
Related: 12 Cities With High Salaries and Low Costs of Living
What's more, the local economy for tech companies might have also seen a boost had the deal gone through. With so many more talented workers available, local tech companies would have a deeper labor pool to draw from. Not to mention, many of those Amazon workers might have ultimately decide to pursue their own startups over time, potentially benefiting New York City's startup economy.
It's unclear precisely how it all could've played out for Queens and New York. It looks as though they'll never know.
Keep reading about the Amazon wage hike that's worth about $400 million.
More on Business and Money
We make money easy. Get weekly email updates, including expert advice to help you Live Richer™.