The Best Entry-Level Jobs Have This One Thing in Common, Study Finds
Find out which field pays recent college grads the most.
Many college graduates are entering the job market with student loan debt. So, how much they make straight out of college can affect their ability to pay off these loans and the length of their repayment process. Although many entry-level jobs require an undergraduate degree, the salaries provided by different jobs can vary greatly.
A new GOBankingRates study determined each of the 15 highest- and lowest-paying entry-level jobs — as well as the best cities to score these jobs — based on entry-level salary data from Salary.com. If you're a recent college grad or someone who will graduate in the near future, it's important to consider which jobs pay well when starting your job search in order to set yourself up for a stable financial future.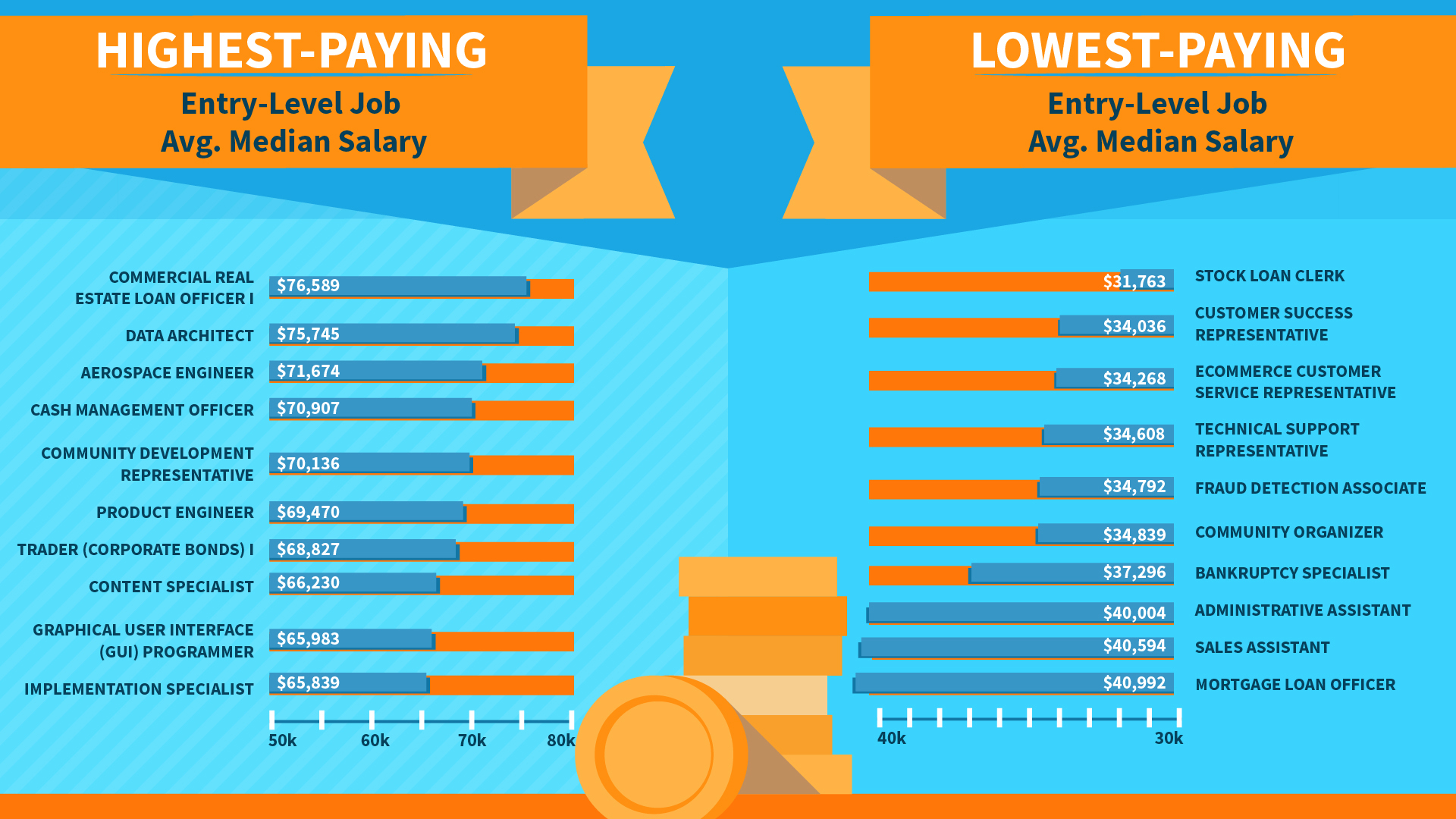 The study found the average median salary for entry-level jobs for recipients of a bachelor's degree ranged from less than $32,000 to more than $76,000 — and the best and worst jobs have some factors in common.
Many top-paying jobs are in the engineering field, with design engineer, product engineer and aerospace engineer ranking among the highest-paying entry-level jobs and proving that engineering is a career path that pays well. The other high-paying entry-level jobs continue to fit mostly into the technology field — along with some in the business field — including data architect, corporate bonds trader, graphical user interface programmer, financial associate, business intelligence specialist, software QA analyst and business development associate.
Among the lowest-paying jobs are professions in the customer service and support fields, including customer success representative, eCommerce customer service representative and technical support representative. Assistant positions also are among the jobs with the lowest salaries.
Here are the complete lists of the lowest- and highest-paying entry-level jobs.
Lowest-Paying Entry-Level Jobs
Job Title
Average Median Salary
Stock Loan Clerk
$31,763
Customer Success Representative
$34,036
eCommerce Customer Service Representative
$34,268
Technical Support Representative
$34,608
Fraud Detection Associate
$34,792
Community Organizer
$34,839
Bankruptcy Specialist
$37,296
Administrative Assistant
$40,004
Sales Assistant
$40,594
Mortgage Loan Officer
$40,992
HR Service Center Representative
$41,923
Development Coordinator
$43,682
Interior Designer
$44,289
Environmental Engineering Technician
$44,534
Geologist
$44,675
Highest-Paying Entry-Level Jobs
Job Title 
Average Median Salary
Business Development Associate
$63,458
Software QA Analyst
$63,460
Business Intelligence Specialist
$63,914
Financial Associate (Public) I
$65,125
Design Engineer
$65,637
Implementation Specialist
$65,839
Graphical User Interface (GUI) Programmer
$65,983
Content Specialist
$66,230
Trader (Corporate Bonds) I
$68,827
Product Engineer
$69,470
Community Development Representative
$70,136
Cash Management Officer
$70,907
Aerospace Engineer
$71,674
Data Architect
$75,745
Commercial Real Estate Loan Officer I
$76,589
Click through to read more about the best and worst states if you're unemployed — and want a job.
Methodology: GOBankingRates used Salary.com data on salary ranges for entry-level jobs to rank the 15 highest- and lowest-paying jobs. Once all those entry-level jobs were identified, GOBankingRates included the top three cities for each job.