Biden to Sign "Made in America" Executive Order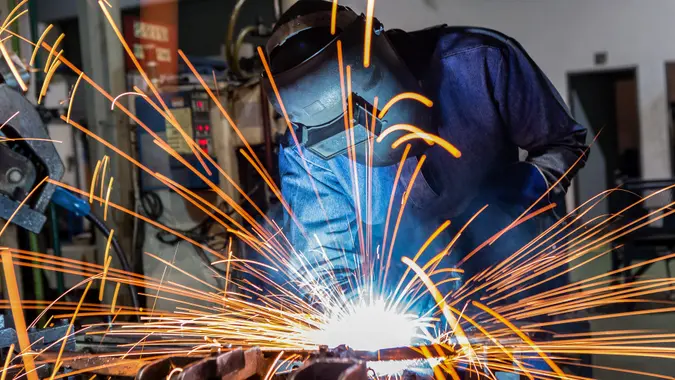 Thossaphol / Getty Images/iStockphoto
President Biden will sign a "Made in America" executive order today, aimed at strengthening "Buy American" provisions, according to a White House statement.
See: How Biden's First 100 Days Could Impact the Economy
Find: How Biden's First Week in Office Could Affect Your Bank Account
With this order, President Biden is ensuring that when the federal government spends taxpayer dollars, it spends the money on American goods, made by American workers using American-made components, according to the statement.
"This executive order fulfills President Biden's promise to make Buy American real and close loopholes that allow companies to offshore production and jobs while still qualifying for domestic preferences," the statement reads.
The order follows Biden's campaign promise to sign a series of executive actions in his first week as President "to ensure the federal government is delivering on its obligation to use taxpayer dollars to Buy American products and support American supply chains," according to the campaign website.
See: Industries Set To Bounce Back in 2021
Find: $15 Minimum Wage Would Reduce Poverty, but at What Cost?
Make Your Money Work Better for You
The executive order states that funds spent by the federal government on goods and services are a powerful tool to support American workers and manufacturers.
"Contracting alone accounts for nearly $600 billion in federal spending. Federal law requires government agencies to give preferences to American firms, however, these preferences have not always been implemented consistently or effectively," according to the statement.
See: Joe Biden's Plans for the Shocking Costs of Climate Change
Find: Biden Prioritizes Schools, Childcare, Small Business with $2.04 Trillion COVID Strategy Plan
The goal of the order would be to use that $600 billion to help domestic factories and increase hiring, according to The Associated Press, which cited anonymous sources.
The executive order will  direct agencies to close current loopholes in how domestic content is measured, and increase domestic content requirements. In addition, it will appoint a new senior leader in the Executive Office of the President in charge of the government's Made in America policy approach; increase oversight of potential waivers to domestic preference laws; connect new businesses to contracting opportunities by requiring active use of supplier scouting by agencies; and direct a cross-agency review of all domestic preferences, according to the White House statement.
Make Your Money Work Better for You
See: How Biden's First Moves as President Could Impact Your Wallet
Find: Biden's Latest Executive Orders to Target COVID Hunger Issues, Worker Protections
As part of this plan and also as stated in his campaign, President Biden is proposing to establish a 28% corporate tax rate, plus a 10% offshoring penalty surtax, on profits of any overseas production by a U.S. company for sales back to the U.S. Companies will pay a 30.8% tax rate on any such profits, according to Biden's campaign website.
Asked about these specifics during her Senate confirmation hearing last week, Treasury Secretary Janet Yellen said that the president's objective "is to create incentives for American companies to create and maintain jobs at home. President Biden's Offshoring Tax Penalty is specifically aimed at those who offshore manufacturing and service jobs to foreign nations in order to sell goods or provide services back to the American market when those jobs could have been done by U.S. workers," according to a transcript of her remarks.
More From GOBankingRates:
Make Your Money Work Better for You