Biden's Latest Executive Orders to Target COVID Hunger Issues, Worker Protections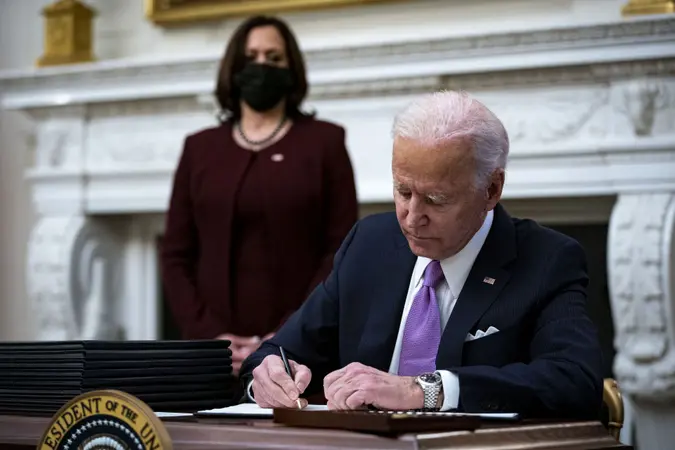 Al Drago/UPI/Shutterstock / Al Drago/UPI/Shutterstock
Today, President Biden is expected to sign two more executive orders. The first is to increase federal food assistance to families that have been hit by the pandemic recession.
See: How Biden's First Moves as President Could Impact Your Wallet
Find: Biden's Day-One Executive Orders to Include Trump Policy Reversals, Actions on COVID, Anti-Discrimination, Economic Relief
This solution comes in two parts. The first is an increase in SNAP benefits, formerly known as food stamps. The second is to increase the benefits offered through school meal programs. Both will help families get the food they need.
Expanding eligibility for SNAP Emergency Allotments to families receiving the maximum benefit (5M kids)

Increasing the value of Pandemic EBT by 15% for FRL kids (let's get more states approved…)

Reassessing the THRIFTY.

The Biden Admin is serious about child hunger.
— Dr. Lauren Bauer (@laurenlbauer) January 22, 2021
The second would allow people to receive unemployment insurance benefits if they quit their jobs because their working conditions would expose them to coronavirus.
The food assistance order is not controversial. There is a need, and the benefits would also help food producers as well as the recipients.
Make Your Money Work Better for You
See: How Biden's First 100 Days Could Impact the Economy
Find: 6 Ways Private Companies Are Stepping in for the Government
The labor conditions order is likely to be more controversial. The federal government has not established comprehensive standards for protecting workers from Covid-19 infection. Many states have passed some sorts of regulation, but they vary greatly. Employers have asked for liability protection against worker illnesses, but that was dropped from the last stimulus package. Employers are likely to protest any increase in their unemployment insurance rates without clear guidance on what they should be doing. This is more likely a negotiating tactic for a new stimulus bill than an outright change in policy.
Another break from the Trump era: Biden is signing executive orders in pen, not sharpie.

— Josh Wingrove (@josh_wingrove)

January 21, 2021
Biden is clearly sending a message: He wants decisive change from the Trump era, as fast as he can get it.
More From GOBankingRates:
Make Your Money Work Better for You