What COVID-19 Has Meant for Small Businesses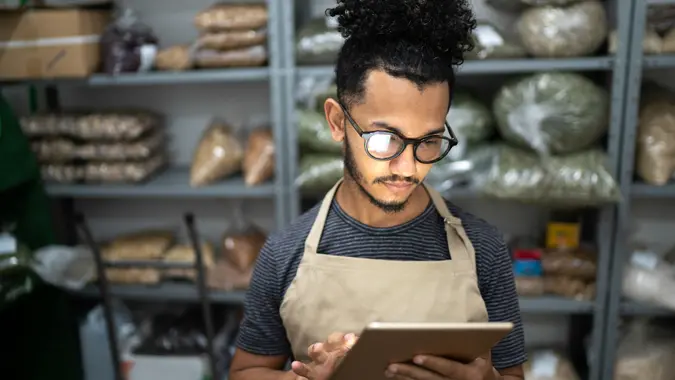 FG Trade / Getty Images
There are over 31 million small businesses across the U.S., and small businesses employed nearly half of the country's population — 47.1% of workers — as of 2017, according to the latest data from the U.S. Small Business Administration. With so many jobs on the line, it's clear why small-business closures during the pandemic could have a huge ripple effect on employment and the overall economy. And many of them have closed — at least temporarily. A survey conducted by Main Street America in late March and early April of 2020 found that 80% of small businesses had been closed for some period of time, and nearly 60% said their revenue had decreased by more than 75% since the start of the pandemic.
2021 Small Business Spotlight: Nominate Your Favorite Small Business and Share With Your Community
Fortunately, a follow-up survey conducted by Main Street America in August found that most businesses had reopened, with less than 10% of respondents stating that they had permanently closed.
"With the continuation of the pandemic, there have been many variable introductions that may have affected business owners' ability to survive," the report stated. "For example, the availability of PPP and EIDL funds, the timing of reopening or level of restrictions, and assistance from local organizations, like Main Street programs, likely affected these outcomes."
Make Your Money Work Better for You
Find Out: Where Our Economy Is One Year After Life Changed, According to Experts
But for some businesses, assistance at the federal or local level simply wasn't enough, was inaccessible or came too late. A survey conducted by Yelp at the end of August found that nearly 98,000 small businesses had permanently closed since the start of the pandemic.
What Aid Was Offered — And Who Received It?
A number of federal aid programs have been passed to help small-business owners. In early March 2020, the Coronavirus Preparedness and Response Supplemental Appropriations Act passed, which enabled the U.S. Small Business Administration to offer $7 billion in disaster assistance loans to small businesses impacted by COVID-19. Later that month, the Coronavirus Aid, Relief, and Economic Security Act was passed, which included the Paycheck Protection Program. The program allowed businesses to borrow money to cover monthly payroll costs for 2 1/2 months, and the loans are forgiven as long as the business meets certain criteria.
Exclusive: Nearly Half of All Americans Missed Rent or Mortgage Payments Due to COVID-19, New Study Reveals
Although the PPP was intended to help small businesses, data released by the government in early December of last year indicated that only half of the $522 billion allotted for the program actually went to small businesses, with the other half being distributed to larger companies, The Washington Post reported. In addition, larger companies were more likely to receive larger loans.
"This new data verifies what we have heard directly from our small-business members — that the PPP program advantaged big businesses over small and exacerbated long-standing disparities in access to credit and capital for underbanked communities," Amanda Ballantyne, executive director of the advocacy group Main Street Alliance, told The Washington Post.
Make Your Money Work Better for You
Read: 22% of Americans Who Lost Their Jobs During the Pandemic Remain Unemployed, Survey Reveals
The PPP was reopened in late December 2020 with the passage of the Coronavirus Response and Relief Supplemental Appropriations Act, allowing more businesses to apply for the loans. It also reopened the Economic Injury Disaster Loan grant program, allowing some businesses to receive up to $10,000 in EIDL grants.
The new $1.9 trillion American Rescue Plan Act passed by President Joe Biden provides further aid for small businesses. It authorizes another $7.25 billion for the Paycheck Protection Program, provides money to help states assist their small-business economies through the State Small Business Credit Initiative, provides $15 billion to the Economic Injury Disaster Loan grants program to be given to small businesses in underserved areas, especially those that are minority-owned, and gives special aid to restaurants through a nearly $29 billion grant program for direct relief, CNN reported.
As of March 7, the U.S. Small Business Administration has made 7.6 million PPP loans totaling $678.4 billion, CNN reported.
Vote: Do You Think the Minimum Wage Should Be $15? Take Our Poll
How Small Businesses Have Adapted
In addition to dealing with temporary closures and restrictions, businesses have had to grapple with how to function in this new reality — which oftentimes comes with additional expenses. Business owners have had to enact new measures to keep employees and customers safe amid the pandemic — requiring staff and customers to wear face masks, adding a hand sanitizer station at the entrance of the business and limiting the number of customers, diners or clients in their business at any given time were the most common measures implemented, the Main Street America survey found. Some changes made to adapt to COVID-19 requirements have actually been good for business, with some respondents writing in that outdoor seating has been a welcome addition for their diners.
Make Your Money Work Better for You
However, businesses have been met with challenges in their attempts to adapt. Some restaurants were unable to add outdoor seating due to space constraints or chose not to due to inclement weather in their area. And others did not have the infrastructure or staffing needed to implement contactless payments, delivery options or an e-commerce site, the survey found.
Compare: Biden's First Month vs. Trump's: Here Are the Major Numbers To Know
Businesses in Certain Industries Have Been Impacted More Than Others
The Yelp survey found that businesses that provide professional services and solo proprietors have largely been able to weather COVID-19-related restrictions. This includes lawyers, real estate agents, architects, accountants and medical offices. Health-related businesses, in particular, have largely managed to stay open, the survey found. Auto service companies have also performed well during the pandemic.
On the other hand, restaurants and retail businesses have been struggling. The Yelp survey found that 61% of restaurants that had closed "temporarily" never ended up reopening, along with 54% of bars and nightlife venues. In the retail space, 58% of small businesses had permanently closed.
Check Out: 5 Unexpected Work-From-Home Jobs You Can Do Right Now
2020 Was, Perhaps Surprisingly, a Good Year for Entrepreneurs
Although thousands of small businesses have closed, 4.5 million people have applied to open new ones over the past year. An analysis of U.S. Census Bureau data conducted by the Economic Innovation Group found that business applications were the highest on record in 2020 — up 24% from 2019. This is the opposite of what happened during the Great Recession, but that's because the economic contraction caused by the pandemic was different in a number of ways.
"Since this economic contraction was in response to a public health crisis (unlike the housing crash in 2007-09, for example), economic fundamentals remain strong for many industries and households, particularly those with higher incomes," the Economic Innovation Group report stated. "The financial system has remained healthy, housing and asset prices are buoyant, and credit has continued to flow throughout the pandemic recession. The capital sources that fuel entrepreneurship and the asset bases that cushion the risk involved have been insulated from COVID-19's economic fallout. Massive amounts of stimulus have surely helped as well."
See: What Income Level Is Considered Middle Class in Your State?
Looking Ahead
Although vaccines are rolling out, we are not quite out of the woods yet so the future for many small businesses remains uncertain. But the U.S. Small Business Administration's senior advisor Michael Roth is hopeful that the American Rescue Plan can help keep the lights on for businesses across the U.S. until we reach the other side of the pandemic.
"The American Rescue Plan Act enables the SBA to continue to lift up the cornerstones of our communities; the mom-and-pop businesses and nonprofits that provide essential services for our everyday lives, hire from within neighborhoods, and more," Roth said in a press release. "Our nation's more than 30 million small businesses are the economic engine of this country and, in alignment with the Biden-Harris Administration's focus on equitable treatment, the SBA will work tirelessly to ensure eligible borrowers will get access to this critical economic relief."
More From GOBankingRates
Last updated: March 24, 2021
Make Your Money Work Better for You